WASHINGTON -- There are least two people who love D.C.'s Metro system enough to get married on it.
Flickr user sciascia had an unexpectedly heartwarming public transportation experience this past weekend, when he saw a couple get married while riding Metrorail's Yellow Line over the Potomac River.
He caught the end of the wedding on video, and took some photos as well, all of which were posted to Flickr along with a lament for the day's choice of footwear.
According to the Flickr user's page:
I was minding my own business on the yellow line when all of a sudden, as we crossed the potomac, a wedding broke out. these are my new favorite people ever. but if I knew I'd have been going to a wedding, I wouldn't have worn flipflops.
The Prince of Petworth blog first reported on the wedding -- and, D.C. being a town of lawyers, the blog's commenters immediately engaged on questions of jurisdiction:
what do you think crossing the poto,mac had to do with it? crossing into dc or into va?

June 11, 2012 at 8:46 am Reply

emmaleigh504
Maybe they liked the view as they crossed the river.

June 11, 2012 at 9:00 am Reply

RE
Which jurisdiction/state would that fall under if it was directly over the river?

June 11, 2012 at 9:34 am Reply

kenyondweller
The river is in DC. VA starts at the shore.

June 11, 2012 at 10:24 am Reply

Anonymous
The entirety of the Potomac is in the District of Columbia. The border is the southern edge of the river

June 11, 2012 at 10:26 am Reply

Anonymous
I happen to know the beautiful couple. Crossing the Potomac had to do with DC's support of marriage equality. They preferred a particular venue in nova, but wanted to be officially married in DC.
As WTOP reported, one of the newlyweds was identified on Twitter:
Hello! I am getting hitched (and going on a fashionable holiday) and
thus will be out of the office from June 8th through June 26th. Please
continue to send messages and I will get back to you as soon as
possible!
Best wishes,
Kaarin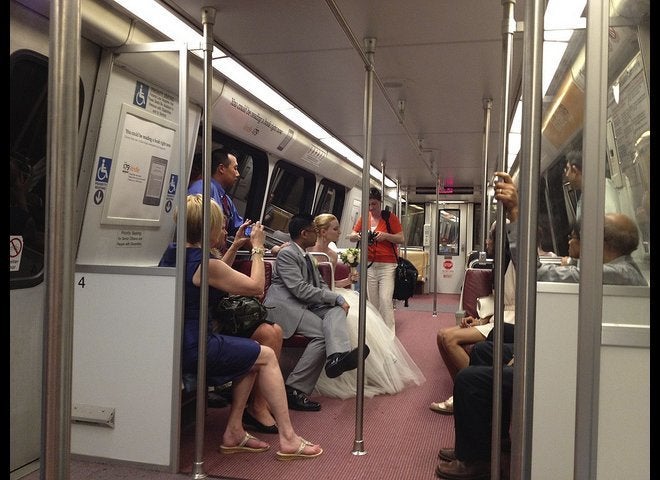 Metro Wedding
UPDATED, 6:13 p.m.: On June 26, the couple's photographer, Stacey Vaeth, emailed us some official wedding photos as well as some information about the couple's decision to marry on the Yellow Line:
The bride is Kaarin Moore, she's the owner of a local company called Closet Caucus. The groom is Navin Vembar.

They chose to get married on the yellow line, once we crossed into D.C., to show their solidarity for the District's same-sex marriage equality law. The first portion of their ceremony was performed at the Morrison House in Alexandria, after which their eight guests and I had brunch, and then we all walked to the Yellow Line, wherein we continued the ceremony and formalized their marriage once we crossed into D.C.

Related
Popular in the Community