For the bride and groom, weddings mark a beginning. But for their older guests, the joy is mingled with wistfulness about the passage of time. As someone about to celebrate 50 years since meeting her husband and a 48th anniversary, I am now sitting in the "senior section" at wedding parties, relegated to the "smile and watch" category of guests who sit at the table furthest from the music and dance floor.
I recently attended my great niece's wedding. I know that makes me sound very old, but in my husband's family there is a generational blur. I also had two great nieces and a great nephew born in the last month. But I digress. It was the musical selections, played by a loud but awesome wedding band, that made me my age. As choices of wedding reception music have evolved over the years, I have become acutely aware of growing older.
When I was married in 1968, weddings started with Frank Sinatra ballads and big band music. Boring. But my parents' generation loved it and took to the floor, humming the tunes as they danced. Near the midway point in the party, we endured a brief interlude of insipid fifties ballads. But near the end, we got some Beatles, Beach Boys, and Motown. And my parents and their friends sat and watched.
At my great niece's wedding, they skipped the Beatles and Stones. Motown came first and my peer group took to the dance floor. But not for very long. The band immediately jumped to disco, at which point my husband and I decided to hit the dessert bar and let his younger sisters relive their youth. By the time they limped back to the table, the band had moved on to loud and unfamiliar (to me) music from the time span of my kids leaving the nest to about 2010 when my granddaughters introduced me to some pretty amazing stuff.
So when the band played Uptown Funk, Can't Stop the Feeling, Shut Up and Dance, and numerous Taylor Swift songs, my spirit felt ready to join the young folks on the dance floor. Too bad my body didn't agree. My back was still in recovery mode from my Motown nostalgia performance that brought me to the dance floor two hours earlier. My husband and I looked around, and sure enough, the old folks like us were bidding the family farewell. We all knew we would pay for our brief dancing interlude the next morning.
Still, it is pretty sobering to measure the passage of time at wedding receptions. I remember my grandparents watching the celebration from the safety of their seats and my parents complaining that all music played after the 1940s was inferior and not danceable. While I refuse to reject new music and enjoy dancing to Beyonce or Meghan Trainor or even Drake, I limit myself to one song and stick to the corner of the dance floor. Then I retreat to the comfort of my table and watch.
During a break from the music when it was actually possible to talk, a man at our table asked an unusual question: What song did you dance to at your wedding? My husband and I were stumped. After all, 1968 was a long time ago. If he had asked what songs we liked to dance to back then, it would have been easy. Anything by the Beatles, Stones, or Motown, Dance to the Music by Sly & the Family Stone, Light my Fire by Jose Feliciano, People Got to be Free by the Rascals, and our two favorites: Happy Together by The Turtles and Brown Eyed Girl by Van Morrison
But that was not the question. And after much googling and trying hard to let the song pop into our minds, the best my husband and I could come up with was More, the theme from the 1962 movie Mondo Cane. Knowing my parents, I'm sure bet the band was instructed to play the Frank Sinatra version. At our wedding, the first segment of songs was not only heavily big band, but also ballads. The older generation paid for the weddings back then, so they got to stay on the dance floor much longer.
It's not that the song More wasn't a pretty melody. And the lyrics were meaningful. Who could quarrel with a song that proclaimed:
More than you'll ever know, my arms long to hold you so,
My life will be in your keeping, waking, sleeping, laughing, weeping,
Longer than always is a long long time, but far beyond forever you're gonna be mine.
I know I've never lived before and my heart is very sure,
No one else could love you more.
And yet, if we got to choose, we would have picked Brown Eyed Girl and driven our elders from the dance floor. But now we are the generation watching the fun. Sigh. But at least we still like to Dance to the Music. Or as Justin Timberlake tells us in Can't Stop the Feeling:
All those things I shouldn't do
But you dance, dance, dance
(I can't stop the feeling)
Yes, I know I shouldn't be lured by Justin's song. My back will hurt. My legs will cramp up. But even if it's just for a bit, even if I am at the oldest generation table, it's so much fun to keep dancing.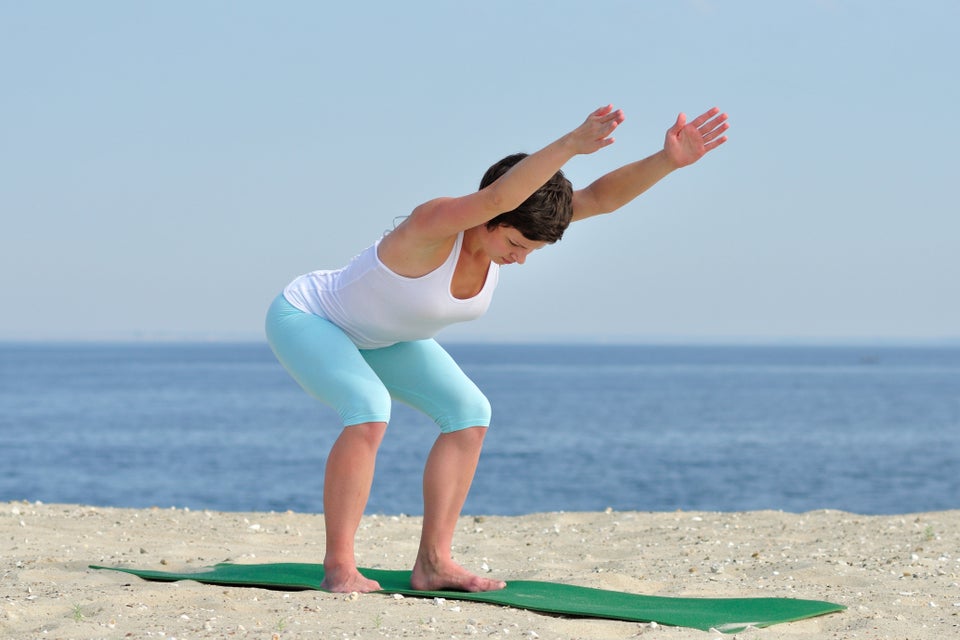 8 Exercises to Reduce the Effects of Aging
Popular in the Community