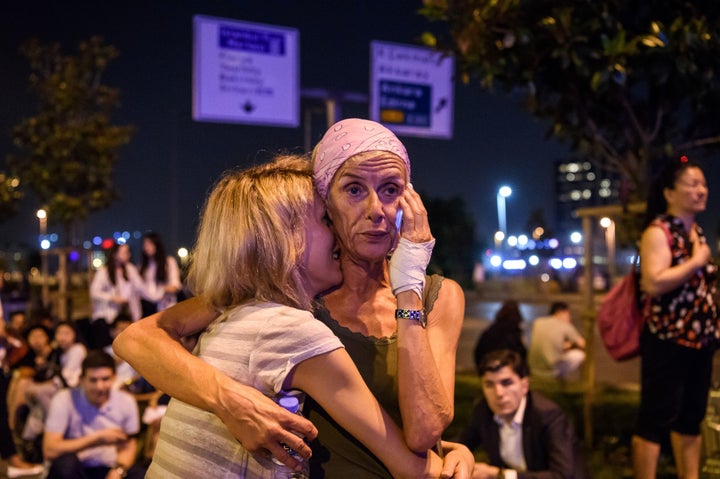 TOP STORIES 
DEATH TOLL RISES TO 41, 239 WOUNDED IN ATATURK AIRPORT TERRORIST ATTACK Turkey's Prime Minister Binali Yildirim says early reports indicate ISIS is behind the three suicide bombers who attacked Istanbul Ataturk Airport. Here's a graphic of how the attacks were executed. And this surveillance video caught the terrifying moment of one of the explosions. [Nick Robins-Early and Sophia Jones, HuffPost] 
'TIMELINE OF TERROR' This attack is the latest in a series of bombings to hit Turkey over the past year. [NBC]
CLINTON, TRUMP DELIVER POLICY SPEECHES Hillary Clinton laid out her stance on tech, while Donald Trump promised to "rip up trade deals"and refuse to be bullied by China. [USA Today]
VENEZUELAN FOOD CRISIS CONTINUES TO ESCALATE "On any day, in cities across this increasingly desperate nation, crowds form to sack supermarkets. Protesters take to the streets to decry the skyrocketing prices and dwindling supplies of basic goods." [WaPo]
FINAL BENGHAZI REPORT RELEASED And as The New York Times points out, the largest detail discovered throughout the entire investigation is Clinton's private email server. [Michael McAuliff, HuffPost]
IT'S ABOUT TO GET HARDER TO BE AN UBER DRIVER "Uber Technologies Inc. has developed new technology to track when drivers of the ride-hailing app go too fast, cut corners or brake harshly by monitoring the sensors in their smartphones." [WSJ | Paywall]
TOYOTA RECALLS 3.37 MILLION CARS FOR AIR BAG ISSUES Including Prius, Corolla and Lexus models. [HuffPost]
For more video news from The Huffington Post, check out this morning's newsbrief.
WHAT'S BREWING
BECAUSE SUMMER TV ALREADY HAS YOU DOWN Here's when all your favorite TV shows come back this fall. [Variety]
SO WHAT HAPPENS WHEN YOU STEAL CRYPTOCURRENCY? Turns out you give people about a month to find you before you can cash it out. [Buzzfeed]
'THE DAY MY BROTHER TOOK A LIFE AND FOREVER CHANGED MINE' "Before Moochie was a murderer, he was something of a savior inside our single-wide, tin-can of a trailer home. He was the son who had protected my mother from an abusive, alcoholic husband." [The Marshall Project]
WATCH OUT PAID LAWYERS "An artificial-intelligence lawyer chatbot has successfully contested 160,000 parking tickets across London and New York for free, showing that chatbots can actually be useful." [The Guardian]
WHY IT MATTERS THAT EVERNOTE JUST STARTED CHARGING Nothing is free. [HuffPost]
ONLY ONE OF THESE IS A REMBRANDT We guessed wrong, which is particularly embarrassing considering the other image is made of stock images. [Wired]
WHAT'S WORKING 
BEFORE YOU GO
Calling all HuffPost superfans!
Sign up for membership to become a founding member and help shape HuffPost's next chapter