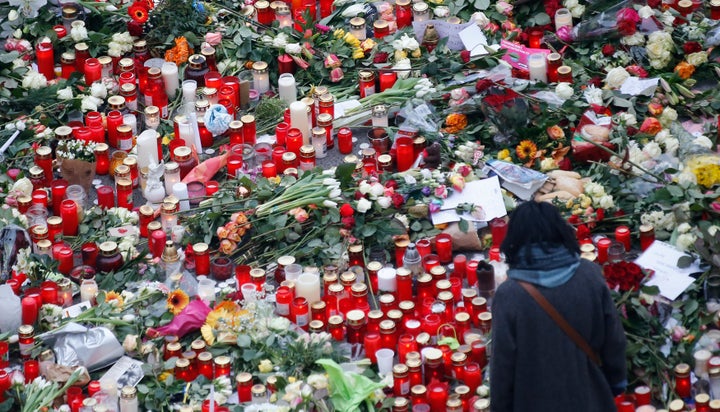 TOP STORIES
Good morning everyone! Just wanted to let you know that The Morning Email will return Thursday, Dec. 29 after the holiday season. And on that note, we wanted to take a moment to reflect on what a wonderful readership we have here! Thanks so much for making The Morning Email part of your daily routine, and we look forward to the emails to come in 2017. 
MANHUNT UNDERWAY IN GERMANY German authorities are looking for a Tunisian man after finding a document under the front seat of the truck used to kill 12 people and injure dozens more at a Berlin Christmas market. The news comes after authorities released the initial suspect they had taken into custody, and ISIS has claimed responsibility for the attack. World leaders have reached out in solidarity to Germany. And here's what the attack on Berlin and assassination of the Russian ambassador to Turkey mean about the state of terrorism today. [Reuters]
THE FINAL TALLY Hillary Clinton won the popular vote by almost three million more votes. And experts did not like what they saw in the newly released unsealed FBI warrant that rocked the final days of the election. [Nick Wing, HuffPost]
HUFFPOST TO HOST DNC CHAIR DEBATE JAN. 18 Which will be moderated for our Editor-in-Chief Lydia Polgreen and our Washington Bureau Chief Ryan Grim. [Ryan Grim and Kate Sheppard, HuffPost]
PRESIDENT BARACK OBAMA MOVES TO PERMANENTLY PROTECT ARCTIC AND ATLANTIC From offshore drilling. [Chris D'Angelo, HuffPost]
DEATH SENTENCES ON THE DECLINE IN THE U.S. There were only 20 executions this year, and the number of new death sentences in 2016 is expected to be 30. [Reuters]
UBER SEES $800 MILLION LOSS IN THIRD QUARTER That snazzy IPO may be a bit farther out of reach. [WSJ | Paywall]
DOZENS DEAD FOLLOWING EXPLOSION IN FIREWORKS MARKET OUTSIDE MEXICO CITY This is the third time in just over a decade that the popular market has had a major explosion. [Reuters]
WHAT'S BREWING
YOU HAVE BEEN EATING CHICKEN WINGS WRONG This. Is. Life-Changing. [HuffPost]
SO MUCH FOR GOING HOME FOR CHRISTMAS Almost 40 percent of young adults already live with a parent, sibling or relative ― the highest percentage in 75 years. [WSJ | Paywall]
TUPAC IS HEADED TO THE ROCK AND ROLL HALL OF FAME As is Pearl Jam. [HuffPost]
THE OBITUARIES THAT CONFRONT KILLER DRUG USE "As the death toll from the opioid crisis mounts, families are increasingly weaving desperate warnings into the obituaries of loved ones about the horror that can result when people abuse painkillers, heroin, and synthetic drugs such as fentanyl." [STAT]
HOLD ONTO YOUR STETHOSCOPES Zach Braff is stirring up "Scrubs" reunion rumors. [HuffPost]
SO J. LAW HAS NAMES FOR ALL THE CELEBRITIES SHE HATES And now we really, really, really want to know who the "Lady in Red" is. [Vulture]
'A PARASITE ATTACKED THIS DAD'S BRAIN AND DESTROYED HIS FAMILY' Inside the long-reaching effects of sleeping sickness. [HuffPost]
OBAMA LOVES 'INSECURE' AS MUCH AS WE ALL DO And you have to see star and creator Issa Rae's reaction to the news. [HuffPost] 
BEFORE YOU GO
The Huffington Post's Morning Email team aims to get you the top news, along with entertainment, lifestyle stories and other absurdity that you need to get through your workday — all with a dash of signature Morning Email snark.
Like The Morning Email? Send it to a friend! Does somebody keep forwarding you this newsletter? Get your own copy. It's free! Sign up here.
Check out HuffPost Politics and HuffPost Breaking News newsletters for more of the good stuff.
Calling all HuffPost superfans!
Sign up for membership to become a founding member and help shape HuffPost's next chapter