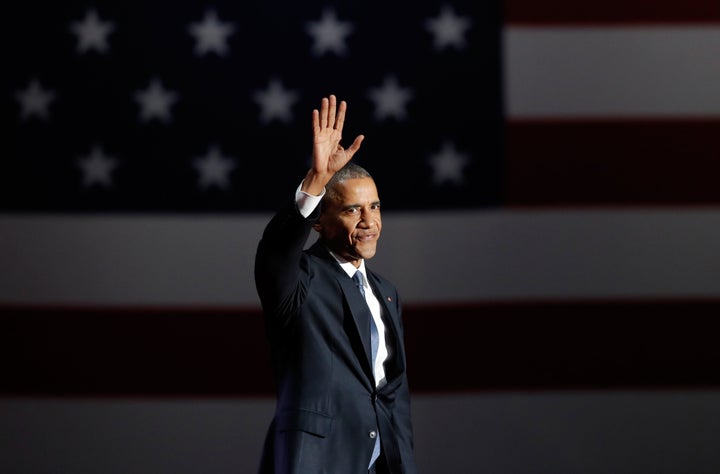 TOP STORIES
(And want to get The Morning Email each weekday? Sign up here.)
'DEMOCRACY CAN BUCKLE WHEN WE GIVE INTO FEAR' President Barack Obama gave a farewell address to remember in Chicago Tuesday night. Check out the full remarks, along with photos, of the historic address. His family ― missing Sasha because she had to study for a test ― got emotional watching, as did Vice President Joe Biden when the president called him a brother. [Marina Fang, HuffPost]
HOW TO UNDERSTAND THE NEW BOMBSHELL REPORT ON RUSSIA AND TRUMP On Tuesday, CNN reported that top intelligence officials had briefed the president and president-elect on "compromising personal and financial information about Trump." Buzzfeed went a step further, and published a 35-page dossier of the alleged intelligence info. As Nick Baumann writes, "these claims have been reported before, they aren't independently verified, and even the man who originally broke the story has warned readers to treat them cautiously." Russia has since denied the validity of the information, and Buzzfeed is defending its decision to publish unverified information. [Nick Baumann, HuffPost]
TRUMP HAS PICKED A VACCINE SKEPTIC TO LEAD A PANEL ON 'VACCINE SAFETY' Robert F. Kennedy, a prominent skeptic of mandatory vaccines, will lead a new commission on "vaccine safety and scientific integrity." [Christina Wilkie and Arthur Delaney, HuffPost]
DYLANN ROOF SENTENCED TO DEATH The man who killed nine black churchgoers at a Charleston Bible study in 2015 is the first to be sentenced to death for federal hate crimes. [Sebastian Murdock, HuffPost]
SPIKE IN ORGAN DONATIONS LINKED TO OPIOID CRISIS Organ donations rose 9 percent from 2015 to 2016, reaching a peak high. [Erin Schumaker, HuffPost]
DEBUNKING 5 MYTHS ABOUT SYRIA From conspiracy theories about the White Helmets to the validity of President Bashar Assad's election. [Nick Robins-Early, HuffPost]
'SMOKING WILL KILL A THIRD MORE PEOPLE IN 2030 THAN IT DOES NOW' In case you need another reason to quit. [Reuters]
WHAT'S BREWING
THE ONION IS GETTING INTO THE MOVIE BUSINESS This is not a drill. [HuffPost]
WHAT WE WANT THE OSCAR NOMINATIONS TO LOOK LIKE After finally seeing "Arrival" last night, if it doesn't get a few The Morning Email will be very, very unhappy. [HuffPost]
'WINDS OF WINTER' IS COMING Seriously. Maybe as soon as this year. Not to get your hopes up. [Vulture]
ADS ARE COMING TO A FACEBOOK VIDEO NEAR YOU Remember when YouTube didn't have ads? We'll soon be saying that about Facebook. [Re/Code]
THE GUY WHO ANNOUNCED EVERY INAUGURATION SINCE 1957 Is devastated he has been fired for Trump's. [HuffPost] 
CLARE HOLLINGWORTH, THE JOURNALIST WHO BROKE THE NEWS OF WORLD WAR II, HAS DIED She was 105, and boy did she live a life after "the journalistic scoop of the century." "Hollingworth was never so happy, she often said, as when she was roaming the world equipped with little more than a toothbrush, a typewriter and, if need be, a revolver ... In 1989, though nearly 80 and nominally retired, Hollingworth, attired in a safari suit, her working uniform of choice for 60 years, was spotted in Tiananmen Square shinnying up a lamppost for a bird's-eye view of the government's violent crackdown against civilian protesters." [NYT]
BEFORE YOU GO
~ This conference on pandemic preparedness is a must-watch that will likely leave you with nightmares.
~ Fox News secretly settled a sexual harassment case against Bill O'Reilly.
~ Jet Blue flights for $39? Take us with you?
~ These pets might be sadder than everyone that Obama is leaving office.
~ Hold onto your seatbelts: Ed Sheeran will be appearing on James Corden's "Carpool Karaoke."
~ The "inconvenient truth" that Meryl Streep drew attention to ― about Hollywood and disability.
~ Oscar-winner Natalie Portman says Ashton Kutcher made three times what she did for "No Strings Attached."
~ Two of our favorite actors, Emma Watson and Miles Teller (seriously both of you, call us any time) are probably not so thrilled that they once could have starred in "La La Land."
~ Speaking of the epitome of magical realism, "La La Land" cleaned upBAFTA nominations (and our new favorite "Arrival" proved it's coming in hot with nine of its own. We're still clearly reeling from seeing this last night).
~ Aly Raisman and Simone Biles are big fans of their images in the upcoming Sports Illustrated Swimsuit Issue.
~ The twins from "The Bachelor" now have their own TV show, giving anyone hope that "twin" can be your profession.
~ Mariah Carey is having a rough 2017, as her Hollywood star was vandalized.
~ A lot of your favorite movies ― "Good Will Hunting" and "Titanic" ― turn 20 this year. Check out the list and try not to feel old.
~ Congrats to Aziz Ansari, who will become the first South Asian host for "SNL" on Jan. 21.
The Huffington Post's Morning Email team aims to get you the top news, along with entertainment, lifestyle stories and other absurdity that you need to get through your workday — all with a dash of signature Morning Email snark.
Like The Morning Email? Send it to a friend! Does somebody keep forwarding you this newsletter? Get your own copy. It's free! Sign up here.
Check out HuffPost Politics and HuffPost Breaking News newsletters for more of the good stuff.
Calling all HuffPost superfans!
Sign up for membership to become a founding member and help shape HuffPost's next chapter