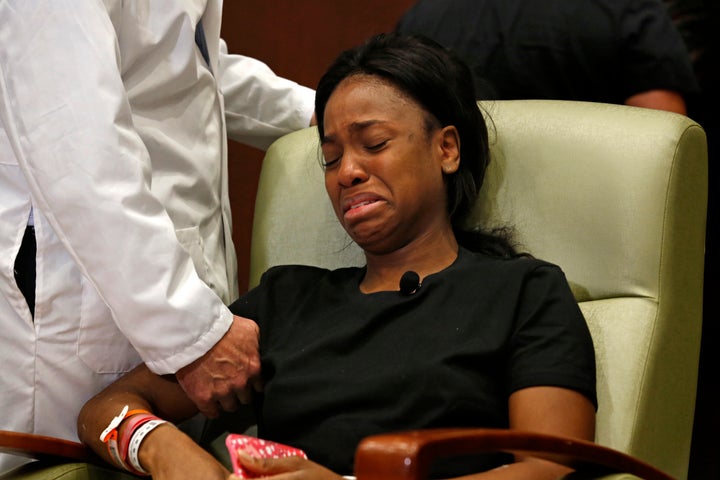 TOP STORIES
'THE GUILT OF BEING ALIVE IS HEAVY' Survivors and medical personnel spoke out Tuesday, detailing their fight to stay alive in Orlando. Investigators are zeroing in on what Omar Mateen's wife knew about his plans to attack and the reasoning behind Mateen's visits to gay chat rooms. In the political sphere, President Barack Obama and Republicans condemned Donald Trump's vow to ban Muslims. [Jen Bendery, Laura Barron-Lopez and Elise Foley, HuffPost] 
HOW TO FIND A TERRORIST AMONG 10,000 CASES "Every day, in F.B.I. offices around the country, agents leaf through classified counterterrorism documents on American citizens one last time. They reread informant reports and review surveillance logs. And then they close the case and walk away. It is a weighty decision, one that supervisors closely review. But with up to 10,000 F.B.I. terrorism investigations open at any given time, there is little time for hand-wringing." [NYT]
YOU CAN BUY AN AR-15 FASTER THAN YOU CAN GET THROUGH THE DMV It took 38 minutes to buy the weapon in Orlando, Florida. It took slightly longer than expected due to background check delays since people are buying more of them after the shooting. [Damon Beres and Roque Planas, HuffPost]
RUSSIAN HACKERS ATTACK DNC, MAKE OFF WITH OPPO ON TRUMP They also went after Donald Trump and Hillary Clinton's campaigns. [WaPo]
NET NEUTRALITY WON BIG Your right to stream Netflix and not get charged extra for it was upheld Tuesday. [Dana Liebelson and Cristian Farias, HuffPost]
THE FINANCIAL FREAKOUT AS A POTENTIAL BREXIT NEARS "As investors digest the possibility that the largest marketplace on earth may be days away from a messy alteration, they have been yanking money out of riskier storehouses like stocks and putting it into safer instruments like bonds. The British pound and London stocks have been falling in frenzied trading." [NYT]
AN ALLIGATOR DRAGGED A TWO-YEAR-OLD OUTSIDE A DISNEY WORLD HOTEL UNDERWATER The boy has yet to be recovered. [Dominique Mosbergen, HuffPost]
THE FDA ISN'T HAPPY WITH WHOLE FOODS "The FDA said in the letter -- dated June 8 -- that it found various items, including pesto pasta, mushroom quesadillas, egg salad and couscous, were in areas where 'condensate' was leaking from ceiling joints, a doorway and condenser fan. The FDA inspector cited many other violations, such as failure to sanitize food prep surfaces, dirty dishes near food, sinks without hot water for hand-washing and a worker who sprayed an ammonium-based sanitizer on 'an open colander of salad leafy greens.'" [CNN]
For more video news from The Huffington Post, check out this morning's newsbrief.
WHAT'S BREWING
TWITTER JUST THREW SOME MONEY AT SOUNDCLOUD A cool $70 million. [Recode]
IN CASE OF NUCLEAR WARFARE, DON'T WORRY You can still drink the beer when the bombing stops. [VinePair]
THE INFLUENCE OF CRISTIANO RONALDO'S FATHER "Beneath it all, Ronaldo remains the driven son of a broken soldier; boys like that often grow up trying to be more important than the next drink." [ESPN]
HELLO, FONT NERDS Prepare to geek out over Google Fonts. [Google Fonts]
DON'T GET POISON IVY IN YOUR EYES It'll work out, but photos like this are not fun. [Buzzfeed]
WE KNEW THOSE BERNIE SANDERS IMPRESSIONS WOULD PAY OFF Larry David will be back for a ninth season of "Curb Your Enthusiasm" on HBO. [HuffPost]
WHAT'S WORKING
WALL STREET JOURNAL ADS TALK CLIMATE CHANGE COVERAGE "Beginning Tuesday and running until the end of the Republican National Convention in July, the most widely circulated print newspaper in the United States will run a series of ads calling out its own bias against climate change." [HuffPost]
For more, sign up for the What's Working newsletter.
BEFORE YOU GO
REAL LIFE. REAL NEWS. REAL VOICES.
Help us tell more of the stories that matter from voices that too often remain unheard.