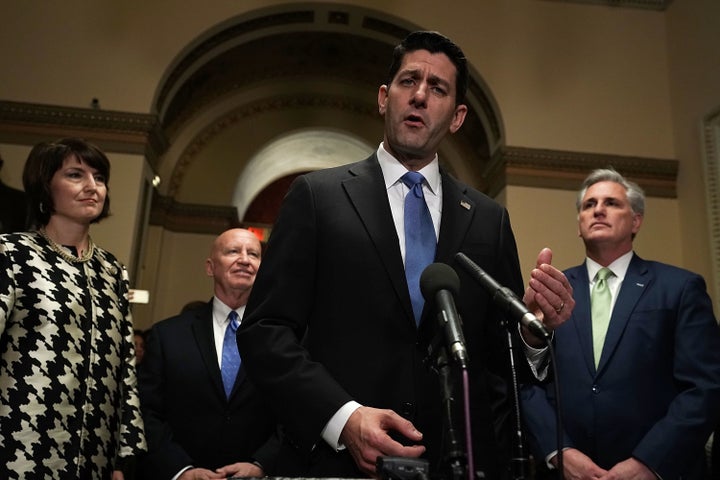 TOP STORIES
(And want to get The Morning Email each weekday? Sign up here.)
The Morning Email will return from its holiday hiatus January 2. We hope you all have a wonderful holiday season and happy New Year! 
HOUSE EXPECTED TO PASS NEW TAX BILL The House of Representatives today will revote on the GOP's tax bill after provisions it approved Tuesday were struck down by the Senate parliamentarian. Elizabeth Warren and other Democratic leaders excoriated the bill as it neared passage, saying, "Let's call this out for what it is: Government for sale." Public support for the tax bill is 10 percent lower than it was for Obamacare ― which haunted Democrats in 2010. And here's what your taxes will look like under the new plan. [HuffPost] [Tweet | Share on Facebook]
THE ALTERYX DATA SECURITY FAILURE LEAVES 123 MILLION AMERICAN HOUSEHOLDS' DATA UP FOR GRABS  "If you're an American, your information probably was exposed." [HuffPost]
​OVER 9,000 CIVILIANS DIED IN BATTLE FOR MOSUL Which is a civilian casualty rate 10 times higher than previously reported. [AP]
DEMOCRATS SPLIT OVER OPPOSING GOVERNMENT FUNDING BILL THAT DOESN'T PROTECT DREAMERS And the GOP only needs a few to pass the bill. [HuffPost]
FORMER 'SILICON VALLEY' STAR T.J. MILLER ACCUSED OF SEXUAL ASSAULT AND HARASSMENT A woman told The Daily Beast that the actor had punched her while assaulting her in college, and adult film star Dana DeArmond alleged he had sexually harassed her. [HuffPost]
TALK ABOUT EVERY VOTE COUNTING A recount shows Democrat Shelly Simonds beating GOP incumbent David Yancey by just one vote in the state's District 94, which means there will be a 50-50 split in Virginia's House of Delegates. [HuffPost]
'U.S. LIFTS FUNDING BAN ON STUDIES THAT ENHANCE DANGEROUS GERMS' "The concern with 'gain-of-function' research is that while the work may produce useful insights about how a pathogen might naturally evolve and become more deadly, laboratory-enhanced pathogens could be used for biowarfare or bioterrorism if they fell into the wrong hands." [Reuters]
WHAT'S BREWING
E! NEWS HOST CATT SADLER QUITS AFTER LEARNING SHE MAKES A LITTLE OVER HALF WHAT HER MALE CO-HOST EARNS And has for years. [HuffPost]
CONGRATS TO MINDY KALING! On the birth of her first child, a baby girl named Katherine. [HuffPost]
PARIS NOW HAS A NUDIST RESTAURANT And its name is... wait for it... O'Naturel. [HuffPost]
JOHN LEGEND WILL BE HEADLINING NBC'S 'JESUS CHRIST SUPERSTAR LIVE IN CONCERT!' Now we might actually tune in for that one. [HuffPost]
'I TRIED TO KEEP TRACK OF EVERY TIME I FELT GUILT ABOUT  EATING FOR A WEEK' Jamie Feldman walks you through her relationship with food. [HuffPost]
IF, LIKE US You're binging "The Crown" and feeling like all your dreams about the royals are lies, check out these photos of Prince Philip and Queen Elizabeth through the years. Maybe it's not all lies. Maybe. [HuffPost]
BEFORE YOU GO
Calling all HuffPost superfans!
Sign up for membership to become a founding member and help shape HuffPost's next chapter