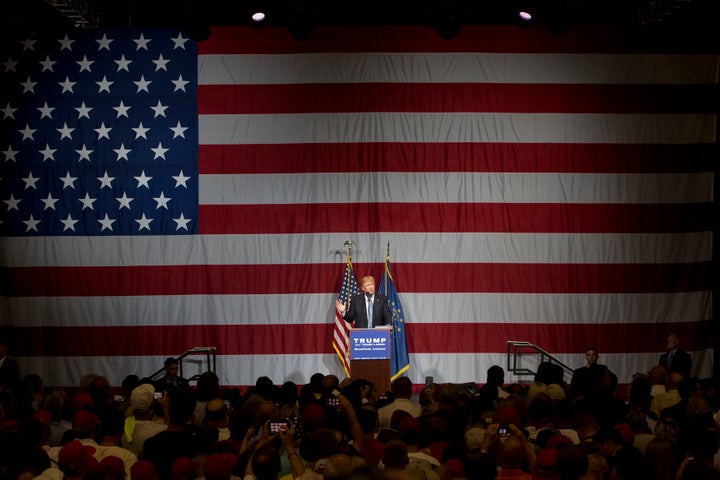 TOP STORIES
BREAKING DOWN THE 'LAST-DITCH EFFORT' TO STOP DONALD TRUMP The Wall Street Journal lays out how blocking his nomination can be done. [WSJ | Paywall]
VP RUMBLINGS Elizabeth Warren is speaking the first night of the Democratic convention, which would seem to indicate she won't be picked for vice president. Newt Gingrich has resigned his Fox News contributor position. And here's why there's a "dash of hopefulness" in VP speculation. [Jason Linkins, HuffPost]
ISIS'S REACTION TO MILITARY DEFEAT "Even as it launches waves of terrorist attacks around the globe, the Islamic State is quietly preparing its followers for the eventual collapse of the caliphate it proclaimed with great fanfare two years ago." [WaPo]
THE AMERICAN LEAGUE WON THE ALL-STAR GAME LAST NIGHT Meaning Cleveland is probably hosting game one of the World Series. [CBS Sports]
TRUMP: RBG'S MIND 'IS SHOT' The GOP candidate called for Supreme Court Justice Ruth Bader Ginsberg's resignation after she criticized him this week. [Ed Mazza, HuffPost]
COURT TESTIMONY ALLEGES PATERNO KNEW OF CHILD MOLESTATION "Joe Paterno was aware of sexual abuse by Jerry Sandusky as far back as 1976 and some assistant coaches knew in subsequent decades, according to alleged victims' depositions that were unsealed Tuesday." [ESPN]
OH HEY, JUPITER NASA has released the first photo taken of the planet from the space craft Juno while in its orbit. [Nick Visser, HuffPost]
DOW HITS RECORD, SURPASSING LAST MAY And global stocks continue to climb higher. [WSJ | Paywall]
For more video news from The Huffington Post, check out this morning's newsbrief.
WHAT'S BREWING
WE SINCERELY HOPE THIS POKEWALK CONCEPT IS NOT REAL For the sake of humanity, this app that allows other people to catch Pokemon for you better be making fun of us all. [Pokewalk]
AN ALL-GAY BACHELOR-ESQUE SHOW IS COMING TO A TV NEAR YOU And it's hosted by Lance Bass. [Buzzfeed]
JENNIFER ANISTON: I'M FED UP "From years of experience, I've learned tabloid practices, however dangerous, will not change, at least not any time soon. What can change is our awareness and reaction to the toxic messages buried within these seemingly harmless stories served up as truth and shaping our ideas of who we are." [HuffPost]
THE FBI HAS ALMOST HALF A MILLION IRIS SCANS From arrestees. [The Verge]
THE JOBS THAT'LL SURPRISINGLY HAVE YOU MAKING OVER 100K From pilots to special agents. [Glassdoor]
TECHNOLOGY AND THE TRUTH "Social media has swallowed the news ― threatening the funding of public-interest reporting and ushering in an era when everyone has their own facts. But the consequences go far beyond journalism" [The Guardian]
WHAT'S WORKING 
VIRGINIA BANNED CHILD MARRIAGE "A new law in Virginia has made marriage under age 18 illegal. The legislation aims to curb forced marriages, statutory rape and human trafficking by preventing abusers from evading legal charges by marrying victims." [HuffPost]
For more, sign up for the What's Working newsletter.
BEFORE YOU GO
REAL LIFE. REAL NEWS. REAL VOICES.
Help us tell more of the stories that matter from voices that too often remain unheard.