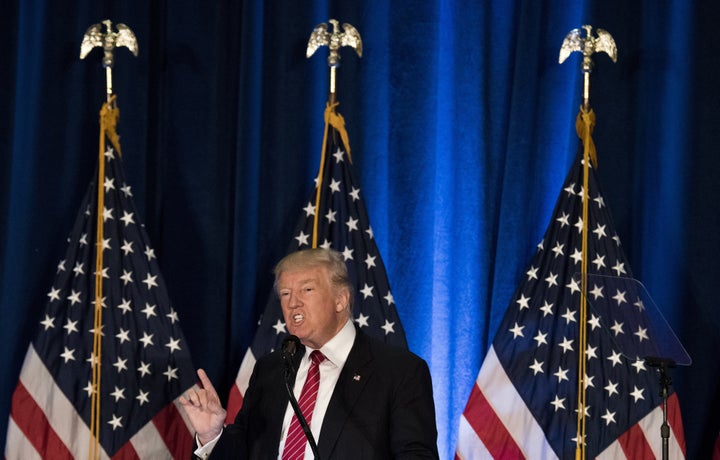 TOP STORIES
TRUMP SHAKES UP TOP STAFF Donald Trump has hired Steve Bannon, executive chairman of the conservative website Breitbart News, to be his campaign CEO. Kellyanne Conway, who is a Republican pollster and Trump team adviser, will be his new campaign manager. The election is 82 days away. [Christina Wilkie, HuffPost]
SIMONE GETS HER FOURTH GOLD AND MAKES HISTORY Simone Biles pulled off a fantastic floor routine to take her fourth gold and became the only U.S. gymnast with the honor. Kerri Walsh Jennings' hopes for a fourth gold were dashed in the semifinals of beach volleyball. And check out what to watch today, as well as how to follow along with HuffPost's Olympic coverage. [Chloe Angyal, HuffPost]
U.S. OFFICIALS WORRY NSA HAS BEEN COMPROMISED After high power espionage tools from the NSA's elite units appeared online. [WaPo]
INSIDE THE LOUISIANA DISASTER ZONE "The devastating floods that have engulfed the area since last week may not be of biblical proportions, but to some displaced residents, the flooding feels like another plague visited on a region already weary from a year of natural disaster, civil unrest and deadly shootings." [David Lohr and Kim Bellware, HuffPost]
THE NUMBER OF WOMEN IN JAIL HAS SKY ROCKETED "The study found that the number of women held in the nation's 3,200 municipal and county jails for misdemeanor crimes or who are awaiting trial or sentencing had increased significantly ― to about 110,000 in 2014 from fewer than 8,000 in 1970." [NYT]
FLORIDA STATE UNIVERSITY STUDENT IN CUSTODY AFTER STABBING Police said Austin Harrouff was found trying to eat his victim's face. [Ed Mazza, HuffPost]
ATTENTION SWIRLS AROUND NATE PARKER'S 1999 RAPE CASE As the Oscar buzz grows around Parker's "Birth of a Nation," which he wrote and starred in, so too does renewed interest in his acquittal in college of rape. [NYT]
For more video news from The Huffington Post, check out this morning's newsbrief. 
WHAT'S BREWING
WE FOUND CARMEN SANDIEGO An exclusive HuffPost interview with the woman behind the mystery. [HuffPost]
IS THIS THE NANCY KERRIGAN MOMENT IN SOUTH KOREAN GOLF? This intrigue involves a dropped suitcase, an injured tailbone and the women South Korea could send to compete in the Olympics. [Slate]
IN THIS WEST VIRGINIA CITY, 26 PEOPLE OVERDOSED ON HEROIN WITHIN FOUR HOURS Here's how they all survived. [HuffPost]
THE BEST OF THE OLYMPIC SPIRIT These two runners crashed into each other, and instead of reacting to being in last-place, they stopped to help each other. [HuffPost]
WHAT ARE YOUR #FAV7FILMS All the celebs have been sharing. [Vulture]
HAVING A BIG BRAIN DOESN'T ALWAYS WORK OUT Sorry, folks. [BBC]
WHAT'S WORKING 
BEFORE YOU GO
Calling all HuffPost superfans!
Sign up for membership to become a founding member and help shape HuffPost's next chapter