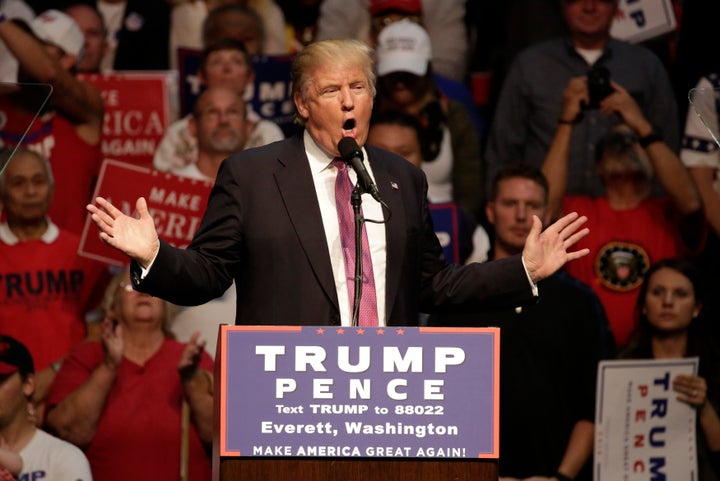 TOP STORIES
DONALD TRUMP SET TO MEET WITH MEXICO'S PRESIDENT Before giving a major immigration speech Wednesday, the GOP nominee will meet with President Enrique Pena Nieto, who once compared Trump to Hitler and Mussolini. Twitter had a field day with the news. [Reuters]
ISIS #2 KILLED "Islamic State militant group spokesman Abu Muhammad al-Adnani has been killed in Aleppo, the organization's Amaq News Agency said in a statement on Tuesday. Adnani was one of the most high-ranking figures in ISIS. In addition to his role as propaganda chief, he was thought to have been in charge of the group's external terror operations." [Nick Robins-Early, HuffPost]
MCCAIN, WASSERMAN SCHULTZ, RUBIO WIN PRIMARIES John McCain and Marco Rubio's fights were easier than Debbie Wasserman Schultz's. [Laura Barron-Lopez, HuffPost]
NASA HAS SOME BAD NEWS ABOUT GLOBAL WARMING "The planet is warming at a pace not experienced within the past 1,000 years, at least, making it 'very unlikely' that the world will stay within a crucial temperature limit agreed by nations just last year, according to Nasa's top climate scientist." [The Guardian]
YOU MAY RECOGNIZE THE NEW 'BACHELOR' Nick Viall, who was the runner-up on "The Bachelorette" twice, will now be the one giving out the roses. Talk about finding love in a hopeless place. [Leigh Blickley, HuffPost]
111 FEDERAL PRISONERS GRANTED CLEMENCY Bringing President Barack Obama's commutations for the month to 325, a record high. [Ryan Reilly, HuffPost]
INSIDE THE CIA'S VENTURE CAPITAL FIRM "Like the agency that founded it, the CIA-funded venture-capital firm operates largely in the shadows. In-Q-Tel officials regard the firm as independent, yet it has extremely close ties to the CIA and runs almost all investment decisions by the spy agency. The firm discloses little about how it picks companies to invest in, never says how much, and sometimes doesn't reveal the investments at all." [WSJ | Paywall]
For more video news from The Huffington Post, check out this morning's newsbrief. 
WHAT'S BREWING
CHRIS BROWN ARRESTED FOR ASSAULT With a deadly weapon after he allegedly threatened a woman with a gun. [HuffPost]
WATCH OUT FOR THE NEW TWITTER VIDEO ADS "The social network previously sold pre-roll video ads before content uploaded by a selection of publishers, and shared a portion of that revenue with them. Now that video revenue program, called the Amplify Publisher Program, is being extended to individual creators." [WSJ | Paywall]
THE PERFUME AD EVERYONE IS TALKING ABOUT Turns out hiring Spike Jonze as a director pays off. [No Film School]
DON'T HOLD YOUR BREATH ON THAT EXTRATERRESTRIAL SIGNAL NEWS It's probably not E.T. phoning home. [Vox]
GISELE, ADRIANA LIMA, KARLIE KLOSS AND KENDALL JENNER DOMINATE TOP PAY FOR MODELS But Gisele's earnings are eons past the others at $30.5 million. [Forbes]
'RAISING MY HIV FAMILY' "When one Romanian doctor became 'father' to 16 HIV-positive orphans in 1999, many thought there was no hope for them ― or for the thousands of other children infected. What followed was something of a miracle." [Digg]
WHAT'S WORKING
Calling all HuffPost superfans!
Sign up for membership to become a founding member and help shape HuffPost's next chapter