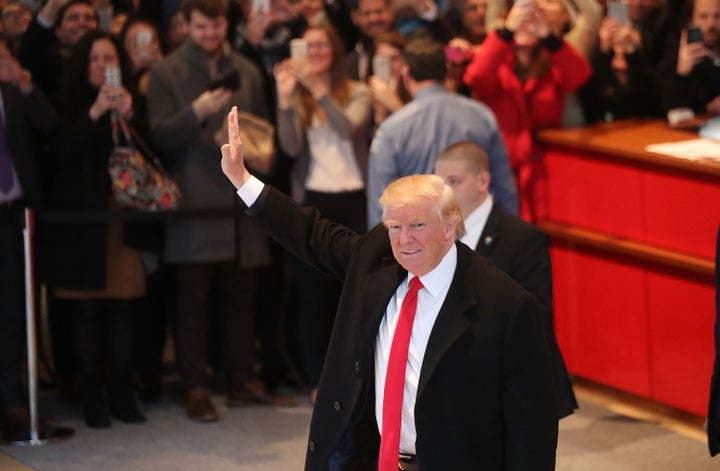 TOP STORIES
The Morning Email will return Monday after the Thanksgiving holiday weekend. Have a wonderful turkey day everyone!
DONALD TRUMP TAPS OTHER TOP PICKS South Carolina Gov. Nikki Haley is the next U.N. ambassador, Trump has offered Ben CarsonHousing & Urban Development secretary ― even after that infamous statement last week ― and is said to be leaning toward Mitt Romney for secretary of state. And here's how the transition is exactly like Trump campaigned. [Ryan Grim and Sam Stein, HuffPost]
WHAT THE NEXT YEAR WILL LOOK LIKE IN A TRUMP PRESIDENCYFor a glimpse, take a read of the transcript of his meeting with The New York Times Tuesday. The president-elect walked backed his claims that he would prosecute Hillary Clinton and chastised the media for being rough on him. And here's why the debate over Obamacare matters. [NYT]
JUDGE BLOCKS OBAMA'S OVERTIME REFORM A federal judge placed an injunction on President Barack Obama's signature overtime protection plan, which would have gone into effect next week for over 4 million Americans. [Dave Jamieson, HuffPost]
YIKES Facebook built a censorship tool in order to re-enter the Chinese market. [HuffPost]
ACTIVISTS: CLINTON SHOULD CHALLENGE ELECTION RESULTS "A group of computer scientists and election lawyers are urging Democratic presidential nominee Hillary Clinton to challenge her election loss, saying they have evidence the results in three key battleground states were compromised." Clinton was spotted Tuesday shopping for books in Rhode Island. [Marina Fang, HuffPost]
THESE BABIES DEVELOPED MICROCEPHALY AFTER BIRTH Experts say "waves of children" could be diagnosed at later developmental stages with the severe brain damage that can result from a Zika infection. [NYT]
WHAT'S BREWING
TURNS OUT 'EAT YOUR VEGETABLES' STUCK WITH US Millennials have baby boomers beat when it comes to healthy shopping on the veggie front. [HuffPost]
EVEN WHEN YOU'RE ELLEN You still need an ID to get into the White House. She and a few other cool folks ― Bruce Springsteen, Michael Jordan and Bill and Melinda Gates, to name a few ― received the Presidential Medal of Freedom Tuesday. [HuffPost]
BREAKING DOWN JUST HOW TRUE All those "based on a true story" movies really are. [Information is Beautiful]
INSIDE THE DARK PATHS TO AN MLB CONTRACT FROM CUBA From escaping kidnappings to living in squalid conditions, here's what some of the MLB's top players did to get to the top. [CNN]
TWO DAYS UNTIL THE 'GILMORE GIRLS' REVIVAL So here's an essay honoring the true hero of the show ― Paris Geller. As well as all the speculation over what the mysterious final four words could be. [Vulture]
NOTHING LIKE MINI-MUSICALS Especially with James Corden, Billy Eichner and Anna Kendrick (and yes, her new book of essays is obviously worth reading. We're 100 pages deep and that was while crammed into an airplane seat for Thanksgiving travel). [HuffPost] 
BEFORE YOU GO
The Huffington Post's Morning Email team aims to get you the top news, along with entertainment, lifestyle stories and other absurdity that you need to get through your workday — all with a dash of signature Morning Email snark.
Like The Morning Email? Send it to a friend! And does somebody keep forwarding you this newsletter? Get your own copy. It's free! Sign up here.
Check out HuffPost Politics and HuffPost Breaking News newsletters for more of the good stuff.
Calling all HuffPost superfans!
Sign up for membership to become a founding member and help shape HuffPost's next chapter