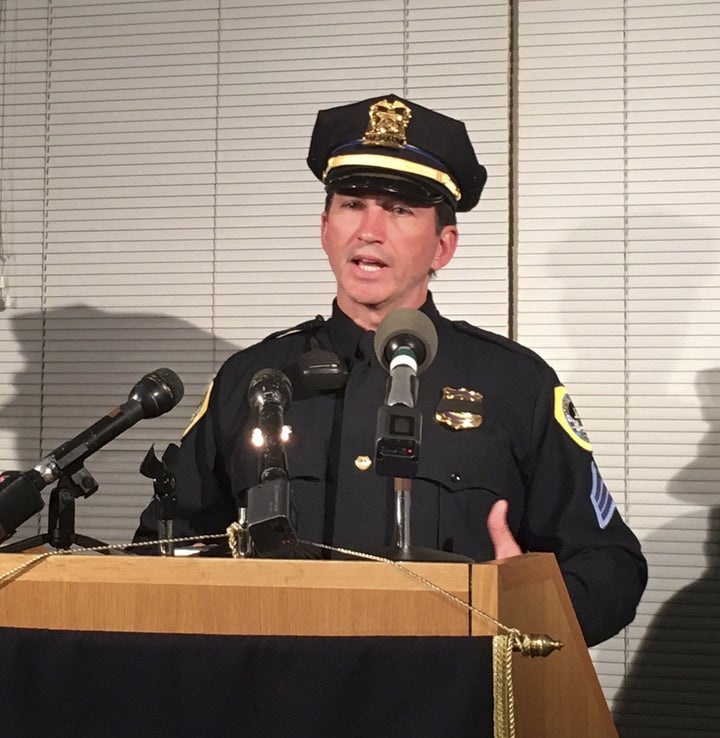 TOP STORIES
TWO IOWA POLICE OFFICERS KILLED 'AMBUSH-STYLE' The two officers were shot in their separate patrol cars. The suspect is still at large. [Alana Horowitz-Satlin, HuffPost]
SIX DAYS TO GO... Here's why the poll that shows Donald Trump aheadis an outlier ― for now. Paul Ryan ended up still voting for Trump after all of that hand-wringing. Global stocks are falling due to "election jitters." The Philadelphia transit strike could make it harder for people to vote. And low black voter turnout so far could hurt Hillary Clinton. [Natalie Jackson, HuffPost]
THE GOP HOPES THE CLINTON EMAIL SCANDAL WILL BETTER THEIR SINKING SENATE CHANCES As HuffPost Pollster shows the Republicans only have a 17 percent chance of holding the majority. [Michael McAuliff, HuffPost]
ANALYSIS OF MH370'S WING SHOWS PLANE WAS SPIRALING FAST AT TIME OF THE CRASH In a "death dive." [Reuters]
NIGERIA INVESTIGATES CLAIMS SOLDIERS AND POLICE RAPED BOKO HARAM SURVIVORS Who were fleeing from the terrorist group. [Reuters]
MAUREEN DOWD: WHEN HILLARY AND DONALD WERE FRIENDS "Trump realized that golf was his entree if he wanted to pal around with Bill Clinton, whom he considered a kindred spirit in some ways — a great man who attracted jealous haters." [NYT]
THE CHICAGO CUBS HAVE A CHANCE TO WIN THEIR FIRST WORLD SERIES IN 108 YEARS TONIGHT You can bet Bill Murray will be there. And as a reminder, here's what the world looked like the last time the Cubs won the World Series. [Reuters]
WHAT'S BREWING
BECAUSE HALLOWEEN IS NOW A DISTANT MEMORY Here's how to get ahold of the Butterball Turkey Talk-Line ― via text or phone. Although, all-time favorite call goes to President Bartlet. [HuffPost]
OK, TIM KAINE You might have some Joe Biden chops in you after all, based on your first Spotify playlist. [Vulture]
PRINCE HARRY'S REPORTED NEW AMERICAN GIRLFRIEND HAS MET PRINCE CHARLES We would like to point out we have also met Prince Charles, but sadly not in the context of dating his son. That story involves spotting his security detail and him making fun of some of the books we were holding for our Elements of Political Theory class. Totally the same thing. [People]
THE HISTORY OF CHAIN LETTERS Before they became obnoxious Facebook statuses. [Mental Floss]
THE U.S. SECRETARY OF TRANSPORTATION ON WHAT IT'LL LOOK LIKE IN FIVE YEARS "By 2021, we will see autonomous vehicles in operation across the country in ways that we [only] imagine today … My daughter, who will be 16 in 2021, won't have her driver's license. She will be using a service." [The Verge]
AN ODE TO BAZ LUHRMANN'S 'ROMEO AND JULIET' Can you believe that zany Leonardo DiCaprio and Claire Danes' masterpiece is 20 years old? [HuffPost]
BEFORE YOU GO
~ A woman farted during a surgical procedure and lit herself on fire. You couldn't make this up.
~ The photos of The Melbourne Cup, which appears to be a drunker version of the Kentucky Derby, cannot be missed. 
~ Taylor Swift is back to her ghost-writing ways, and this time it was for a single for Little Big Town titled "Better Man." Yes, you should read into that.
~ Scientists believe they may have further proof a skeleton found on a remote Pacific island in 1940 could have been Amelia Earhart.
~ And of course Starbucks holiday cup has a political message.
Calling all HuffPost superfans!
Sign up for membership to become a founding member and help shape HuffPost's next chapter