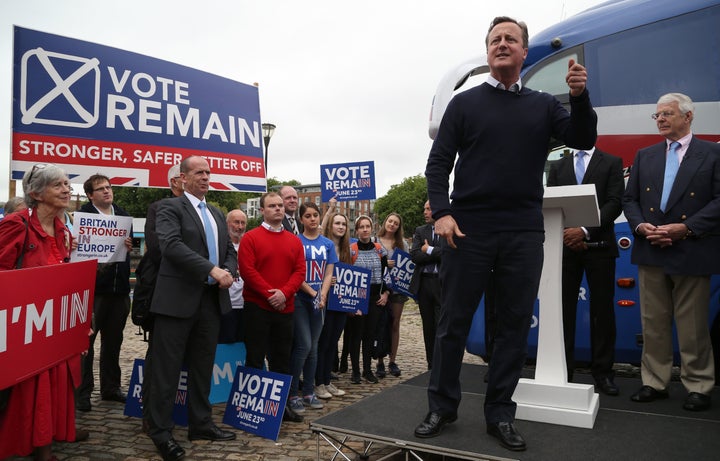 TOP STORIES
UNDERSTANDING BREXIT Check out the HuffPost primer on why the vote no one can call yet matters tomorrow. Here's why the U.K.'s potential exit from the European Union jeopardizes Prime Minister David Cameron's legacy. Families are split down the middle on how they'll vote. And if the U.K. stays, change is still coming to the European Union. [Jesselyn Cook, HuffPost] 
CONVENTION CITIES BRACE FOR PROTESTS How Philadelphia and Cleveland are preparing for potential mass protests. [NYT]
HILLARY CLINTON'S VP SHORTLIST Elizabeth Warren, Tim Kaine and Julian Castro lead the pack. [WaPo]
'HOW DO YOU STOP A FUTURE TERRORIST WHEN THE ONLY EVIDENCE IS A THOUGHT?' "Across Europe and the United States, law enforcement officials are struggling to reckon with attackers like [Larossi] Abballa and Omar Mateen, whose shooting rampage this month at a gay nightclub in Orlando, Fla., left 49 dead. They are men who clearly seemed to be building toward violent acts, and whose names had surfaced in terrorism investigations, but who avoided crossing legal lines that could tip off the authorities until it was too late." [NYT]
RORY MCILROY BECOMES LATEST ATHLETE TO WITHDRAW FROM RIO Over Zika concern. [Reuters]
THE RAPE CULTURE IN THE AUSTRALIAN MILITARY "Teenage recruits were raped by staff and forced to rape each other as part of initiation practices in the Australian military going back to 1960, a public inquiry heard on Tuesday." [CNN]
INSIDE THE DANGEROUS RESCUE MISSION UNDERWAY AT THE SOUTH POLE A U.S. researcher has fallen seriously ill at the South Pole, prompting a rescue flight during the region's winter of extreme cold and no light. [CNN]
For more video news from The Huffington Post, check out this morning's newsbrief.
WHAT'S BREWING
SENATE REACHES BACK IN TIME TO HELP FIND RUSSIAN SPIES "Congress is pushing the White House to revive a Cold War-era committee to crack down on Russian spies, underscoring just how uneasy Washington is about its adversaries in Moscow." [Buzzfeed]
BEHIND THE DISORDER THAT MAKES YOU PULL YOUR HAIR OUT Understanding Trichotillomania. [Racked]
OUR GRIPS ARE GETTING WEAKER Apparently millennials don't shake hands as firmly, pointing to yet another round of think pieces on how they're doing it all wrong. [Quartz]
LOOKED AT YOUR FACEBOOK PROFILE RECENTLY? Make sure you aren't accidentally broadcasting all of your work experience. [HuffPost]
'I KNOW WHAT I READ THAT SUMMER' A writer's ode to Lois Duncan's haunting influence on her life. [The New Yorker]
HOW TO BREAK UP WITH YOUR WORK FRIEND "Sometimes though, your work friendship may have run its course and you need to find a way to end it. The reasons why can vary, from moving to a management position, to interests or lifestyles that grow apart. But whatever the reason, here's what you need to consider if you're trying to dump a work friend." [Fast Company]
WHAT'S WORKING 
1 IN 5 UNIVERSITY OF CALIFORNIA STUDENTS GO HUNGRY "Cal State officials believe they've uncovered a crisis, and are holding a conference this week to discuss strategies to address it." [HuffPost]
For more, sign up for the What's Working newsletter.
BEFORE YOU GO
Calling all HuffPost superfans!
Sign up for membership to become a founding member and help shape HuffPost's next chapter