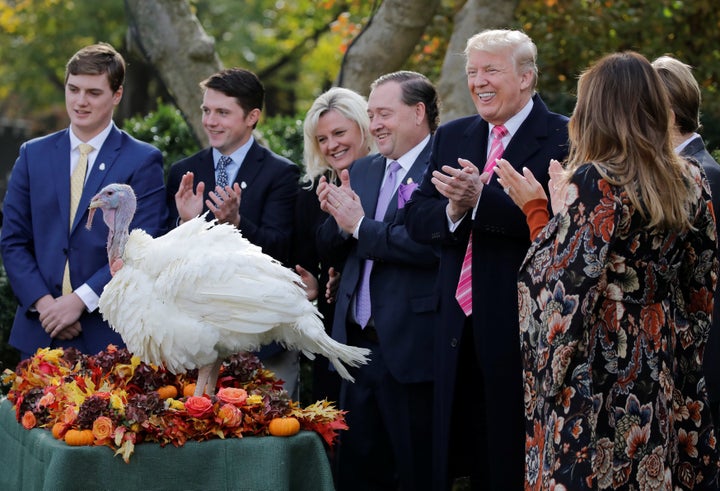 TOP STORIES
(And want to get The Morning Email each weekday? Sign up here.)
The Morning Email will return Monday, Nov. 27, after the holiday! We wish you a wonderful Thanksgiving, and please know we are very thankful for each and every one of you!
INSIDE THE FCC'S PLAN TO REPEAL NET NEUTRALITY "In a major win for the telecom industry, Federal Communications Commission Chairman Ajit Pai announced plans Tuesday to scrap net neutrality regulations that require internet providers to treat all content equally. Since being designated FCC chair by President Donald Trump in January, Pai has prioritized gutting the net neutrality provisions enacted by the Obama administration in 2015." [HuffPost] [Tweet | Share on Facebook]
DONALD TRUMP HAS BROKEN HIS SILENCE ON ROY MOORE "He says it didn't happen, and you know, you have to listen to him also." [HuffPost]
'WHEN THE SCARS OF A MASS SHOOTING AREN'T LEFT BY BULLETS' Inside the hidden burden of what it means to survive a mass shooting. [HuffPost]
SEN. LISA MURKOWSKI SAYS SHE WON'T OPPOSE THE TAX PLAN OVER ITS ELIMINATION OF THE OBAMACARE MANDATE Following her summer vote on health care. [HuffPost]
THAT TIME UBER PAID HACKERS $100,000 To keep the fact that 57 million accounts had been disclosed a secret. [HuffPost]
CHARLIE ROSE HAS BEEN FIRED By CBS and PBS. Gayle King and Norah O'Donnell spoke movingly about the horror of the allegations against him while co-hosting the "CBS This Morning" broadcast without Rose. And a HuffPost reporter speaks out about her own experience with the legendary journalist's blurred lines. [HuffPost]
THE LATEST WAVE OF NEW ALLEGATIONS SPAN MEDIA, ENTERTAINMENT AND THE OLYPMICS The head of animation for Disney and Pixar has taken a leave of absence amid sexual harassment complaints. Olympic gymnast Gabby Douglas says team doctor Larry Nassar sexually abused her, too. And Backstreet Boy Nick Carter has been accused of rape. [HuffPost]
INSIDE CONGRESS' OWN SEXUAL HARASSMENT PROBLEM Matt Fuller and Amanda Terkel report on a scourge in Washington. And here's why it's harder to take down sex abusers in Washington than in Hollywood. [HuffPost]
ZIMBABWE'S PRESIDENT ROBERT MUGABE RESIGNS The world's oldest serving president agreed to step down after 37 years in power. [HuffPost]
WHAT'S BREWING
'THE UGLY BUSINESS OF DEFENDING FREE SPEECH IN 2017' "This job is not one you go home and brag about at Thanksgiving dinner. I don't get to go home and regale my family with stories of defending the Westboro Baptist Church. It's Nazis and funeral protesters, and it's tough." [HuffPost]
CELEBRITIES ARE PAYING TRIBUTES TO DAVID CASSIDY With memories of the star after he died at 67. [HuffPost]
HAIL TO THE QUEEN Beyonce is the highest-paid woman in music. [HuffPost]
ALL OF THE PACKING TIPS For those of you who have yet to break out your suitcase for your flight tonight. [HuffPost]
GRINDR IS ROLLING OUT NEW OPTIONS FOR TRANS AND GENDER NON-CONFORMING USERS The dating and social networking app now offers customizable gender identity and pronoun fields. [HuffPost]
THIS OLYMPIAN'S MORNING ROUTINE IS SO GOOD, SHE WAKES UP WITHOUT AN ALARM For comparison, we set three alarms ― including one that has wheels to roll away. [HuffPost]
CONGRATS TO CHRISSY TEIGEN AND JOHN LEGEND Who announced they were expecting baby No. 2 in the most adorable of ways. [HuffPost]
BEFORE YOU GO
Calling all HuffPost superfans!
Sign up for membership to become a founding member and help shape HuffPost's next chapter