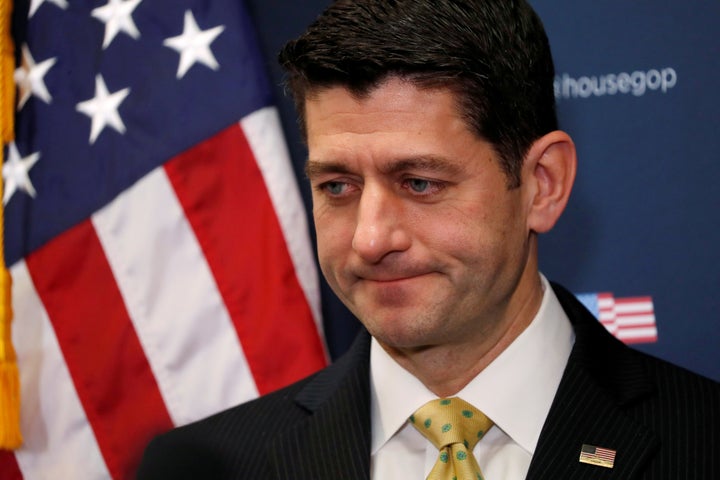 TOP STORIES
(And want to get The Morning Email each weekday? Sign up here.)
I'm headed to Mississippi for a reporting trip, so the wonderful Ariel Edwards-Levy is stepping in once more to cover Thursday and Friday! Will see you all again Monday.
AS A POTENTIAL SHUTDOWN LOOMS, REPUBLICANS ARE NEGOTIATING WITH THEMSELVES The current proposed plan would "extend government operations for another month, fund the Children's Health Insurance Program for six years as a lure for Democrats and try to win GOP support by delaying some taxes on health insurance plans." [HuffPost] [Tweet | Share on Facebook]
EX-CIA OFFICER ARRESTED FOR RETAINING INFORMATION Such as the names and identities of covert employees and spy recruits. Jerry Chun Shing Lee is suspected in the collapse of the U.S. spy network in China. [Reuters]
STEVE BANNON REPORTEDLY INVOKED EXECUTIVE PRIVILEGE And refused to answer congressional questions in the Russia probe, according to Rep. Adam Schiff (D-Calif.), the ranking member of the House Intelligence Committee. However, he was subpoenaed by Special Counsel Robert Mueller last week. [HuffPost]
DEMOCRATS SCORE SPECIAL ELECTION UPSET IN WISCONSIN REPUBLICAN STRONGHOLD FOR STATE SENATE SEAT The 10th Senate District went solidly for Trump in 2016. [HuffPost]
22 ATTORNEYS GENERAL HAVE SUED THE FCC FOR ENDING NET NEUTRALITY "An open internet ― and the free exchange of ideas it allows ― is critical to our democratic process. The repeal of net neutrality would turn internet service providers into gatekeepers ― allowing them to put profits over consumers while controlling what we see, what we do, and what we say online." [HuffPost]
'LITTLE GIRLS DON'T STAY LITTLE FOREVER' Former USA Gymnastics doctor Larry Nassar was confronted by over a dozen of his victims in court Tuesday. And Chrissy Teigen offered to pay a potential $100,000 fine from USA Gymnastics if McKayla Maroney discussed her abuse at Nassar's hands. [HuffPost]
WASHINGTON STATE QUARTERBACK DEAD OF APPARENT SUICIDE Tyler Hilinski, 21, was expected to be the starting quarterback for the upcoming season. [HuffPost]
HOW THE CALIFORNIA PARENTS 'HOME-SCHOOLED' THEIR KIDS ― WHO WERE FOUND IN SHACKLES Education experts argue the lack of home-school oversight needs to change. [HuffPost]
WHAT'S BREWING
HOW THE WORLD IGNORES THE DISEASES OF POVERTY "Over 1 billion of the world's poorest people have at least one of these illnesses." [HuffPost]
EMMA GRAY ON AZIZ ANSARI "If the #MeToo movement is going to last, we need to renegotiate the sexual narratives we've long accepted." [HuffPost]
SELENA GOMEZ'S MOM WARNED HER ABOUT WORKING WITH WOODY ALLEN And says that warning fell on deaf ears. A growing number of stars, including Timothée Chalamet, Rebecca Hall and Griffin Newman, have donated their salaries from the upcoming "A Rainy Day In New York." [HuffPost]
SERENA WILLIAMS ADDRESSES THE 'OUTPOURING OF DISCUSSION' SURROUNDING BLACK WOMEN AND CHILDBIRTH "These aren't just stories: according to the CDC, black women are over 3 times more likely than White women to die from pregnancy- or childbirth-related causes," Williams said. "We have a lot of work to do as a nation and I hope my story can inspire a conversation that gets us to close this gap." [HuffPost]
CONGRATS TO KIM KARDASHIAN AND KANYE WEST Who announced they welcomed their third child, a baby girl, via surrogate. [HuffPost]
WHY AMERICAN RESTAURANTS SERVE WATER WITH ICE IN THE WINTER Turns out the whole ice-thing is a strictly American luxury. [HuffPost]
BEFORE YOU GO
Calling all HuffPost superfans!
Sign up for membership to become a founding member and help shape HuffPost's next chapter