PHILADELPHIA ― The Democratic Party is endorsing a "pathway" to marijuana legalization for the first time this election. And at the Democratic National Convention last week, marijuana activists celebrated with a colorful display of strength.
Cannabis consumers and reform advocates marked the start of the convention on July 25 with a protest march down Philadelphia's Broad Street toward the Wells Fargo Center where the convention was taking place. Led by the Washington-based organization DCMJ, Philadelphia's chapter of the National Organization for the Reform of Marijuana Laws, and local groups like the Panic Hour, they carried a 51-foot inflatable joint with the words "De-schedule cannabis now" ― a call to remove the drug from the Controlled Substances Act, the federal law criminalizing it.
Perhaps more remarkably, the Philadelphia police tweeted a picture of it approvingly.
The gigantic joint also made an appearance at a similar Cannabis Pride Parade to cap off the convention on July 28.
As the Philadelphia police's tweet suggests, the city of brotherly love was a fitting place for marijuana smokers to wave their flag ― or joint, as the case may be. The city decriminalized possession of small amounts of marijuana in October 2014, effectively allowing ordinary consumption to go unabated.
At a "DNC Marijuana Welcome Party" organized by the Panic Hour on the night of July 25 at Connie's Ric Rac, a dive bar in the Italian market, several dozen attendees appeared to be taking full advantage of the city's newly lax enforcement in the bar's outdoor ticket booth area and on the sidewalk in front of it. It had the smell and look of a 4/20 celebration in Boulder, Colorado, complete with oversize joints and heavy-duty bongs.
These were not the buttoned-up lobbyists of the Marijuana Policy Project or your local ACLU. They were unabashed tribunes of marijuana culture ― and they were not afraid that the eclectic crew would undermine their cause, which many on hand could debate with an articulate command of the most arcane policy details.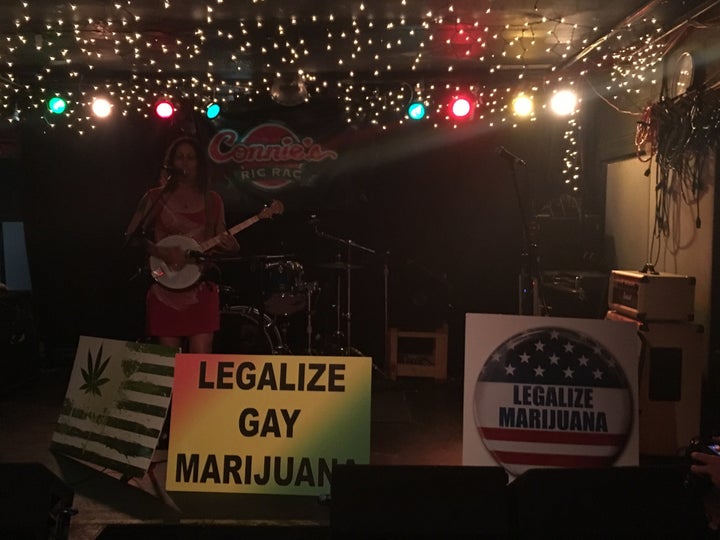 Inside, there was a slightly tamer vibe, with a handful of convention delegates sipping beers. "Philly NORML" T-shirts were on sale at a table near the bar's entrance. N.A. Poe, a comedian and local marijuana celebrity who runs the Panic Hour, and Chris Goldstein, the communications director for Philly NORML and a columnist for Philly.com, made some introductory remarks on a stage decked out with pro-marijuana signs, including one that said "Legalize gay marijuana."
Then Emily Yates took the stage, the first in a series of musical and comedy acts that night. The California-based progressive activist was in town to show support for Sen. Bernie Sanders (I-Vt.).
She performed a Star Wars-themed antiwar banjo ballad with the refrain, "I wish I knew more about Star Wars than real wars."
While the July 25 party was nominally tied to the DNC, it is one of many celebratory "Philly smoke sessions" organized by Poe and other mainstays of Philadelphia's marijuana subculture. Those in the know often receive last-minute notifications on social media of the get-togethers' whereabouts. 
Still, there were more than a few signs that the July 25 party was different. Poe and Goldstein looked like the proud parents of a child that had finally grown up.
The fact that it is on the platform is such progress.

N.A. Poe, Philadelphia marijuana activist
The two men were leaders of a small group of marijuana legalization activists who were arrested three years ago in a marijuana smoking protest at Philadelphia's Independence Mall.
Since the mall is federal park land, they faced federal charges. For Goldstein, getting caught with a half of a joint meant several days in jail, a fine of $3,000 and two years of federal probation, which required him to get permission to cross state lines.
Goldstein also could not smoke marijuana for two years, depriving him of a key relaxation valve. He picked up drinking after years of abstaining and increased his cigarette consumption.
"I was told by many lawyers that I had much more intense scrutiny than offenders that they had on armed robbery offenses on probation," Goldstein recalled.
Goldstein, who is also an editor at the marijuana culture-themed Freedom Leaf magazine, views his advocacy as an extension of his Quaker faith, with its emphasis on social justice. He has helped collect data for the national ACLU on racial disparities in marijuana arrests in Philadelphia.
Goldstein and Poe were delighted that the Democratic Party platform calls for marijuana to be removed from the category of "Schedule I" drugs ― a classification reserved for the most harmful illegal substances like heroin, which have no potential medical uses. Such a move would have the stated goal of "providing a reasoned pathway for future legalization," according to the party platform, with states leading the way with their own decriminalization experiments.   
"The fact that it is on the platform is such progress," Poe said.
But they will not stop until marijuana is legalized nationwide.
"We have been modeling this movement after the LGBT movement for so long," Poe said. "This is a civil rights movement."
"We want our equal rights and our justice as cannabis consumers," he added. "And we don't want people in jail for a plant, because let's face it, that's absurd."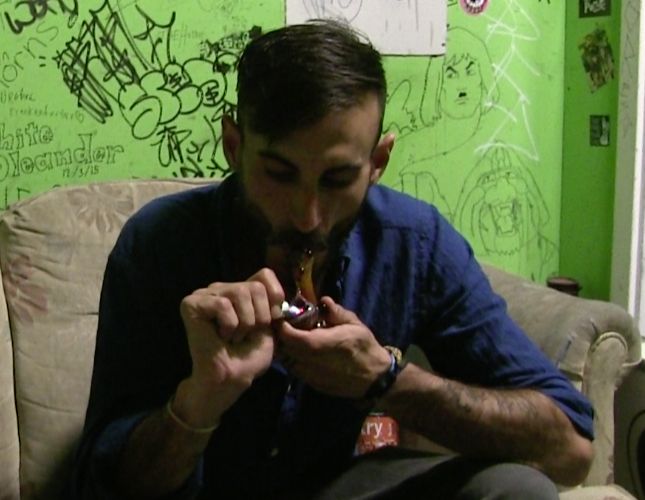 Goldstein hopes the platform language will embolden congressional Democrats, who are already hard at work on legislation that would remove marijuana from the federal Controlled Substances Act. Back in November, Sanders introduced a bill that would decriminalize pot at the federal level, allowing states to decide how to treat the drug. Reps. Earl Blumenauer (D-Ore.) and Jared Polis (D-Colo.) introduced similar legislation in the House of Representatives in February 2013.
The Democratic Party platform "gives them a good mandate to move forward," Goldstein said.
Goldstein worries, however, that the lack of a bipartisan consensus for decriminalizing marijuana endangers its chances of success.
"I'm grateful that the Democrats are doing it," he said. "I wish the Republicans would too, because there are plenty of marijuana-smoking conservatives in America that want to pay less money for their weed."
In the meantime, Poe hopes that parties and other events will help ease the stigma associated with smoking and consuming the plant.
Poe believes advertising cannabis' success as a remedy for childhood epilepsy and as an aid for veterans with post-traumatic stress disorder is already combatting some of the plant's negative associations. Another way they fight stereotypes is by collecting charity donations at marijuana-related events and showing themselves to be upstanding members of the community.
We're "trying to get people to come out of the cannabis closet ― come and hang out and say, 'Hey, I smoke weed and I'm a good person,'" Poe said. "It doesn't necessarily mean you're an idiot because you smoke marijuana anymore. A lot of people do."
REAL LIFE. REAL NEWS. REAL VOICES.
Help us tell more of the stories that matter from voices that too often remain unheard.
BEFORE YOU GO
PHOTO GALLERY
Decades Of Bill Clinton At The DNC