"Weed Firm," which hit the App Store earlier this month, is probably the closest you can get to being a drug dealer without actually breaking the law.
(Story continues below.)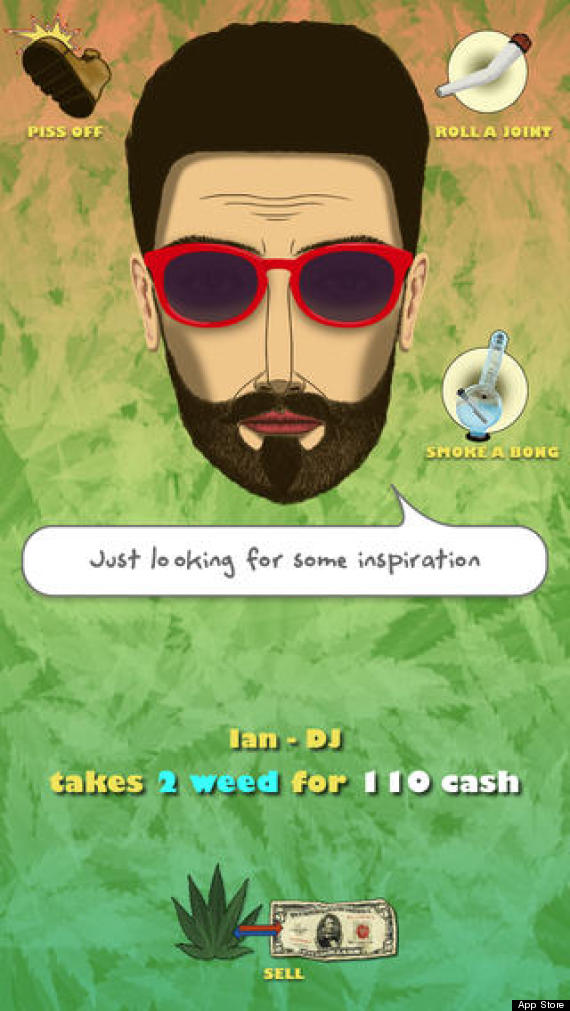 A screenshot of a customer interaction in "Weed Firm."
"Follow the story of an expelled botany sophomore Ted Growing as he inherits a growing operation and expands it," the game's website reads. "Learn to grow weed, plant new varieties to increase your yields, expand your customer base and interact with the characters to become the biggest weed dealer in town. Complete tasks to open new shelves in the store and become a more efficient and prosperous weed grower and seller."
According to the game's trailer, players can take their-in game profits and purchase more growing materials, including a vinyl player that helps things grow faster; they can also blow all their cash on a digital stripper. Along the way, players also have to watch out for crooked cops or violent gang members. Customers can even come by the player's customizable virtual apartment to pick up their weed and, if the gamer offers them a joint first, it'll affect their behavior.
Developer Manitoba Game insists it condones the actions depicted in "Weed Firm" only within the context of the simulation.
"The creators of this game do not encourage the cultivation or use of cannabis. The plot of this game is solely a work of fiction and should be viewed only as such," the game's disclaimer reads.
You hear that, narcs? Fiction.
UPDATE: May 21 -- Apple has removed "Weed Firm" from the App Store. Manitoba Games notes on its website that the choice "was entirely Apple's decision, not ours." The developer also vowed to resubmit the game after making some tweaks.
Support HuffPost
The Stakes Have Never Been Higher
Related
Popular in the Community