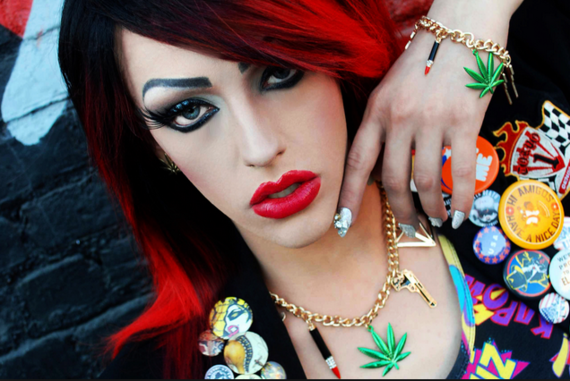 Originally published on Citizine.tv, intro by Lanee Lee & Alethea Cho...
Walking down Santa Monica Blvd in West Hollywood, you notice a fabulously colorful figure coming towards you with legs for days, a tiny waist and gorgeous locks. Then, you catch a whiff of a wildly intoxicating scent: Cali-bud mixed with Ru Paul's Glamazon perfume.
"OKURRR!" she exclaims as she snaps her fingers.
Yep, it's the one and only 420 Queen. Helloooooo, lovely Laganja Estranja.
And with a name like Laganja Estranja, it's no big surprise that former RuPaul's Drag Race contestant launched a brazen marijuana-themed jewelry and fashion line shortly after her Ru debut.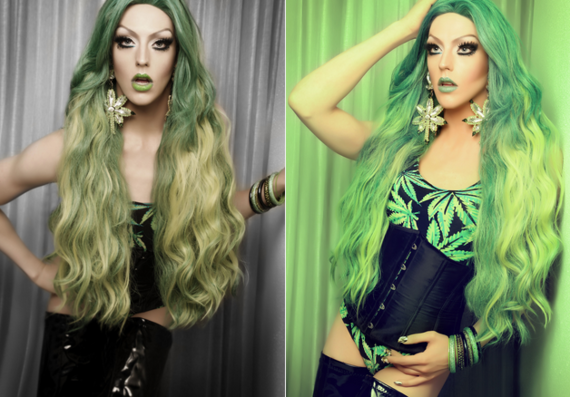 But that's hardly the extent of Laganja's weed obsession. The budding star not only sells weed-themed merchandise, she lives, breathes and sings 420.
In honor of the 420 holiday, who better to ask than the world's ultimate Mary Jane on all things dope? Read on as she lights up the marijuana scene in Los Angeles and beyond:
The Hepburns Collective
Multiple Locations
Laganja Estranja: The Hepburns make an exclusive selection of products with solventless ice water hash. Their products are available in LA at Buds & Roses Collective, La Luna Collective, Greenly, Alternative Herbal Health Services and Pasadena Landmark Research Collective.

Mr. Greench
Los Angeles
LE: When in DTLA, I would suggest checking out Mr. Greench Co-op.
Solstice
Seattle
LE: Solstice in Seattle is my favorite go-to outside of California for extracts, pre-rolls, and the cutest socks!
Paraphernalia

The Venice Beach Boardwalk
Venice
LE: Not only is the boardwalk a great location, there are lots of small glass shops with character and culture. Last time I was shopping in Venice, I bought a Nectar Collector vape -- a totally cool way of taking fat dabs while feeling like a butterfly.
Munchies
Philadelphia
LE: Munchies has the most amazing artisan glass. I was gagged! They sell Illadelphs and some of the most intricate pieces I've seen curated in a shop with an incredibly helpful and friendly staff!
Miss Mary Jane Co.
Denver
LE: Check out Miss Mary Jane for their sickening apparel for the stoner girl! (Available online or in Denver at Oasis Cannabis Superstore) And naturally, at LaganjaEstranja.com, worldwide, for sickening #stash.
To find out how she is celebrating 420 and for 5 more of her weed recommends, click HERE to read the rest of the interview.
For more HuffPo reads about Laganja, head HERE.
Popular in the Community