Unfortunately, we still live in an age when a series about a movie theater that starts selling marijuana alongside popcorn is too taboo for television.
Fortunately we live in an era when the definition of television is rapidly evolving.
Welcome to Cinedopes, a four-episode series that debuted on YouTube this season. It's about two guys -- one is "dime bag weed dealer" Tim who inherits a theater, the other is aspiring lawyer Blake -- who put their heads together and realize that opening the world's first theater/dispensary is a visionary endeavor.
"This is definitely for YouTube," says creator/writer Brian Drolet, who plays the theater's owner, Tim.
He insists the show, available on YouTube's TotalAnarchyTV channel, and produced with partner Ben Gleib, was never afraid of television, though. Rather, Drolet says, YouTube is where it's at for the target audience, the marijuana majority, these days.
"We didn't go that route because of fear of pushback," he tells The 420 Times. "It was more just, everything is going online, so why not just create something and let the people decide if they like it or not?"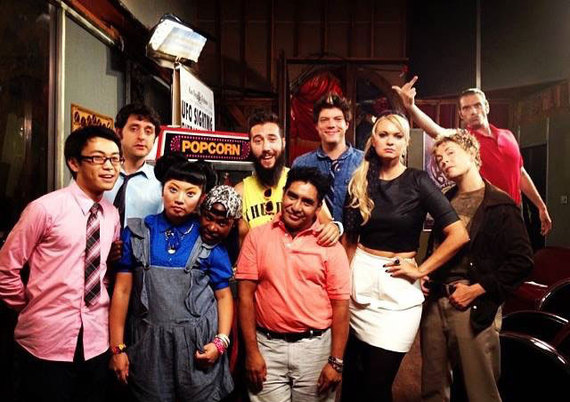 The series follows Tim and Blake as they run a weed-powered movie house. Elizabeth, described by producers as a "gorgeous ex-con," works there. Villain Kurt Bullman runs the massive, 36-screen multiplex across the street. Comedic YouTube star MaxNoSleeves (Max Weisz) also works in the venue Ben took over.
Weisz says that the cool thing about Cinedopes is that it doesn't have to rely on suspension of disbelief to draw you into a world where cannabis is thoroughly enjoyed at the movies. America's legalization revolution has nearly put us in those theater seats, eyes blazing red.
"The thing that I'm really proud of is we really wanted this to be grounded in reality," Weisz says. "We really approached it from the standpoint of marijuana becoming legalized in states and really being a topic of conversation in the political world, So, it broaches the question, if we are legalizing marijuana, why can't theaters offer it?"
Another aspect of Cinedopes that might also set it apart from stoner comedies -- Up in Smoke, Half Baked -- is that the cast and crew included many practicing medical marijuana patients, the producers say.
"Some of our cast members have gotten high together," Drolet said. "And there were times when the reality gets so weird that you don't really necessarily know what part is real or what part might be stoned exaggeration. My whole life of knowing artists, it was extremely normal to smoke and then do whatever you're going to do creatively."
Will we ever get to see it on television, even on premium cable? It's not impossible, Drolet said, but for now the producers are happy with the medium they chose.
"We certainly had the option of taking meetings and pitching it and trying to sell it to a network or a cable network," he said. "But we're excited so many people will see it in one place where it's easy to share, and where it really seems the future is."
The creative freedom on YouTube is light years away from what would have been allowed on even the most liberal networks. That's a fact.
"I think the process would have inevitably been drawn out if we had gone the TV route," Drolet said. "We didn't have those people over our shoulders telling us yes or no."
To bad for the ailing the television industry, though. Cinedopes has come along as marijuana culture is reaching a fever pitch in the United States. Colorado and Washington fully legalized it and then started selling it successfully in 2014. California is likely to follow suit in 2016.
"The green community will embrace this comedy," Drolet says. "Hopefully by season two weed is legalized in California. If not we will ... move production to Colorado."
Wait, is smoking weed on-set really instrumental to putting this show together? Scott Roughgarden, the executive producer, wasn't totally forthcoming on that point.
"There was no marijuana usage on set," he insisted. But then he back-peddled a little. "I mean, there was no marijuana use that I was aware of. I'm not going to deny it. Whatever they were doing, I didn't see any marijuana smoking."
One of the awesome things about Cinedopes, though, is that you don't have to worry about who's looking over your shoulder as you enjoy it at home with your favorite medicinal accoutrement.
Support HuffPost
The Stakes Have Never Been Higher
Related
Popular in the Community