Today is the birthday of Austrian-born photojournalist Arthur Fellig, better known by his professional moniker, Weegee. The 20th century artist is famous for his stunning back-and-white photographs of American crime scenes. If he were still alive today, he would turn the grand old age of 114.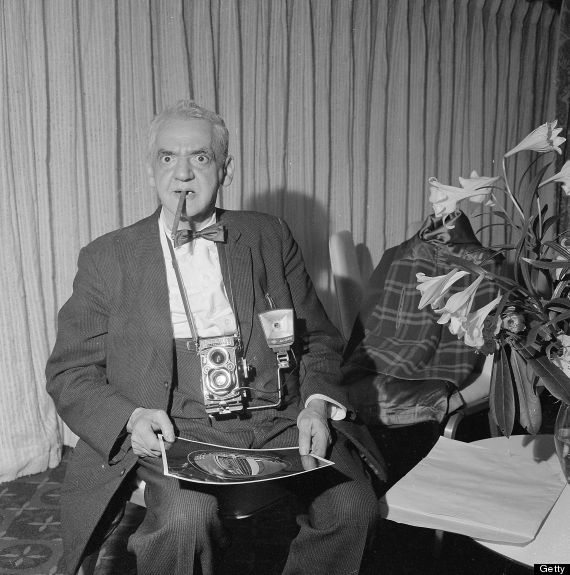 American photographer Weegee in 1963 with a photograph he took of the newly opened London Hilton Hotel. (Photo by Moore/Fox Photos/Getty Images)
Weegee adopted his curious nickname during his early years as a street photographer. With his carefully tuned police radio and a portable dark room in his car, he had earned a reputation for being somewhat clairvoyant when it came to locating and photographing the scene of a crime before other journalists. So his colleagues dubbed him Ouija, after the fortune-telling game. Fellig opted for a more phonetic spelling of the nickname, but it stuck throughout his career, even when he branched into less morbid branches of editorial and film.
His photographs worked as a porthole into both the gritty and glitzy sides of urban night life in New York, Weegee's home after immigrating to the states with his family in 1909. Focusing on murder and calamity at first, his bold, tabloid-style images captured the fast-paced violence and depressed humanity of post-prohibition Manhattan, operating with an opportunistic sensibility that allowed him to shoot deeply uninhibited photographs. Focusing his lens on the individuals in frame, he caught the faces of shocked policemen and crime scene onlookers, as well as various celebrities away from the spotlight.
Scroll through the images below for a peek at Weegee's photos and let us know your thoughts on the late photographer in the comments.
Calling all HuffPost superfans!
Sign up for membership to become a founding member and help shape HuffPost's next chapter
BEFORE YOU GO