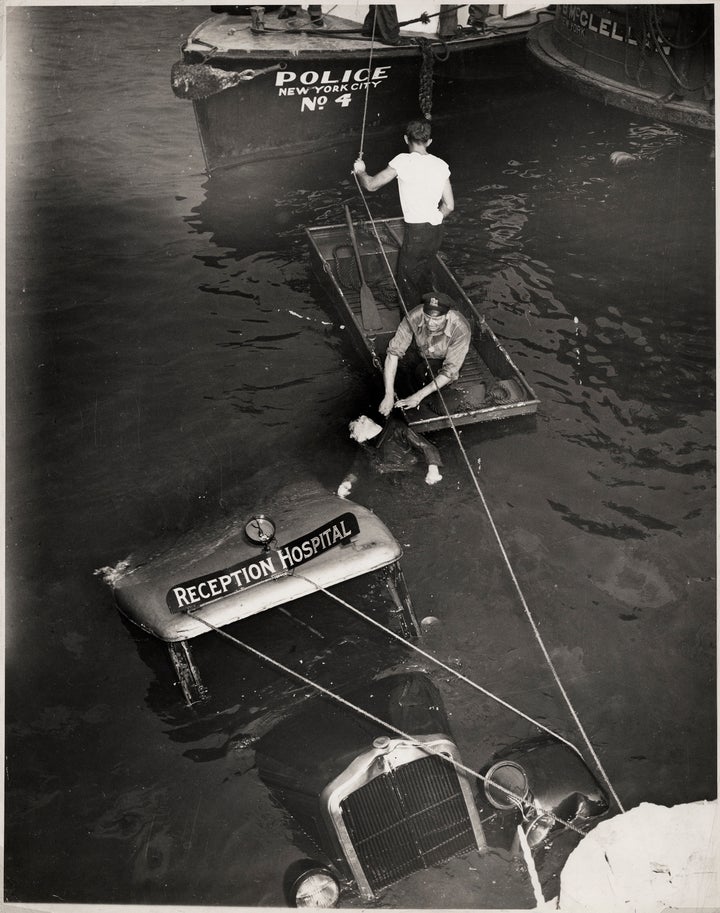 Arthur Felig, AKA Weegee (a bastardization of Ouija, as in the board--a pseudonym chosen for his almost clairvoyant ability to arrive at crime scenes before the police) may be Gotham's most storied photojournalist.
After a short and miserable tenure as a Hollywood paparazzi, Weegee returned to his native New York as a freelancer for numerous publications including the Daily News and Daily Mirror in the 1930s and 40s.
His photos, ideal for those tabloids in which they were featured, offer a look at a lost, gritty and crime-ridden New York replicated in countless film noirs. And Weegee's speciality? Murder.
"The easiest kind of a job to cover was a murder," he once said. "The stiff would be laying on the ground. He couldn't get up and walk away or get temperamental."
His job was also his obsession. The New York Times describes his remarkable method:
Like a boy scout, he was always prepared. He prowled the streets in a car equipped with a police radio, a typewriter, developing equipment, a supply of cigars and a change of underwear. He was a one-man photo factory: he drove to a crime site; took pictures; developed the film, using the trunk as a darkroom; and delivered the prints.
REAL LIFE. REAL NEWS. REAL VOICES.
Help us tell more of the stories that matter from voices that too often remain unheard.