On October 3, 2014, "This American Life" producer Sarah Koenig began telling a very specific story. She introduced public radio listeners to a man named Adnan Syed, who may or may not have been wrongly convicted of killing his former girlfriend, an 18-year-old Baltimore resident named Hae Min Lee, back in 1999.
The rest is... Well, you know the rest by now.
As we wait for the conclusion of Koenig's podcast investigation, it's impossible not to think about America's current fascination with crime. As well as its past. We were reminded of an early 20th century icon, enraptured by the crisis and conflict of New York City's crime scenes. Arthur Fellig, or Weegee as he's pseudonymously known, was one of the most famous street photographers of the 1900s, who captured decades of violence with his stunning, monochromatic eye. He was obsessed with crime years and years before Koenig. And, probably, years and years before you.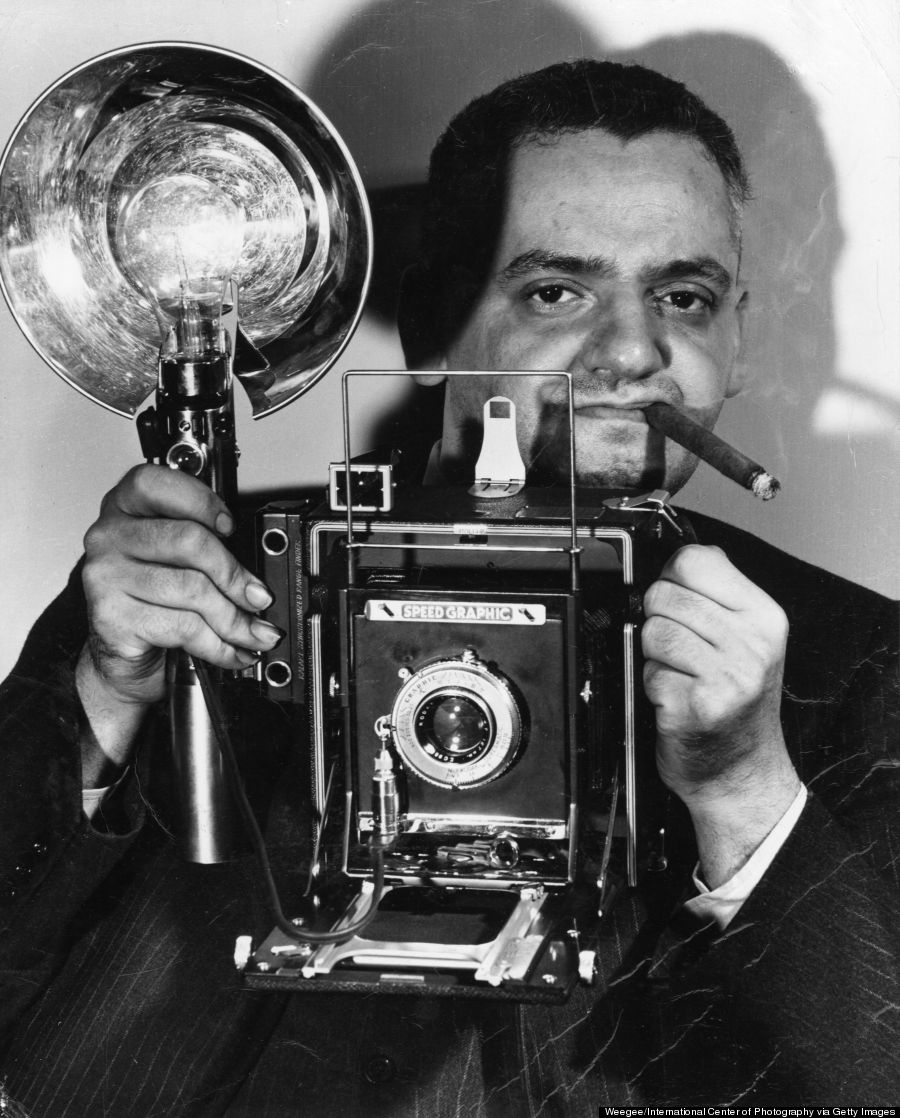 Polish-born American photographer Arthur Fellig (1899 - 1969) with his Speed Graphic camera. He was known by the police as 'Weegee' for his ouija-like prescience of crime scenes and disasters. In fact he kept a radio in his car tuned to the police frequency, and was often able to reach the scene before the police themselves. (Photo by Weegee(Arthur Fellig)/International Center of Photography/Getty Images)
Fellig was born in Austria in 1899, emigrating to the United States in 1910. In his early career, he spent time as an assistant to a commercial photographer and a dark-room technician, but it wasn't until 1935 that he threw himself into freelance photography. He chose to work at night, racing to the scenes of crimes to snap the first photographs of murders, collisions and thefts for newspapers across New York City.
Working with his signature Speed Graphic camera, his images were seedy, but captivating. One aspect of his work that set him apart was that he caught glimpses of the officers digesting evidence and the onlookers attempting to peek through barricades, all the while standing before corpses and crashes. The expressions of these people were not necessarily sensational in their own right, but the landscapes functioned as behind-the-scenes footage. All of a sudden, the viewer was privy to a police investigation, fixated not only on the tragic, almost ungraspable elements of a crime scene, but the very human qualities too.
What is the police chief thinking? What is that eye witness feeling? Even in black-and-white, it was easy to insert ourselves into his photography. We became a part of the drama.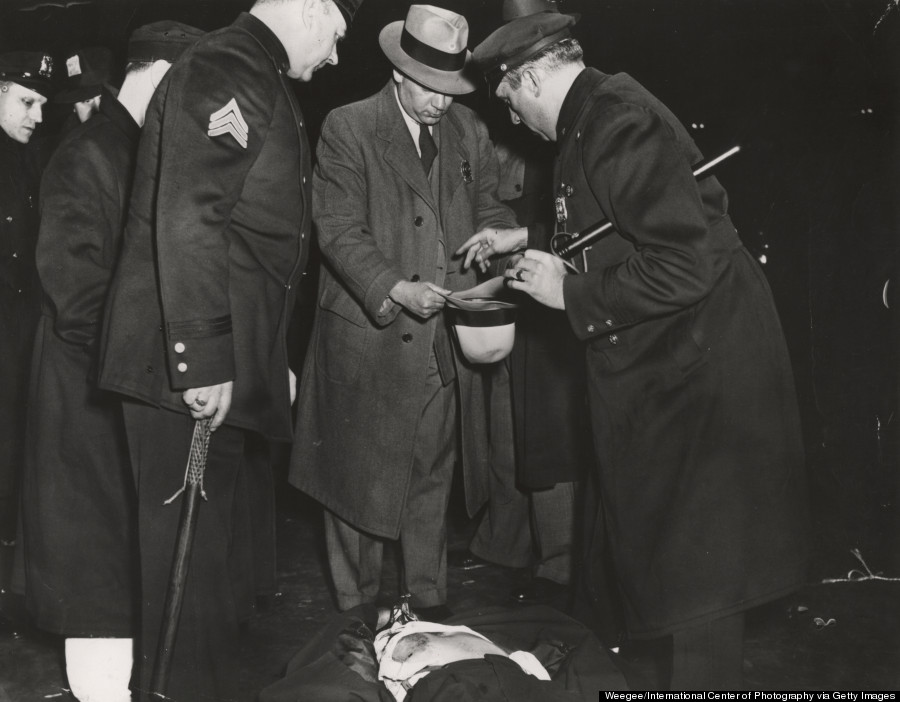 A dead man is lying on the street, as uniformed police officers, holding night sticks, and a man holding a hat stand above the dead body, New York, December 1941. (Photo by Weegee(Arthur Fellig)/International Center of Photography/Getty Images)
And isn't that, after all, what makes Koenig's "Serial" so alluring? Hasn't she, in the process of telling Syed's story, transformed millions of radio fans into self-possessed detectives? We believe, in some small way, the answers that could help put this very real, and very devastating saga to rest are within our reach. Koenig might not provide it for us, but perhaps we'll stumble upon the clues ourselves.
"For all of the work [Koenig's] done over the past year, each installment gets us no closer to a definitive truth, at least thus far," Stephanie Merry wrote in The Washington Post Blog. "That helps to explain the fanaticism."
Later in life Weegee went on to cover the celebrity world, an ominous transition from one form of sensation to another. (Especially given the fact that "Serial" fans are not shy about their desire for a "Hollywood" ending.) He also produced a beautiful collection of abstract imagery, from nudes to kaleidoscopic figures. But his early career, and his dark body of work, is often what we can't help but remember. See a selection of that work below.
This article was originally published in 2014.
Calling all HuffPost superfans!
Sign up for membership to become a founding member and help shape HuffPost's next chapter
BEFORE YOU GO