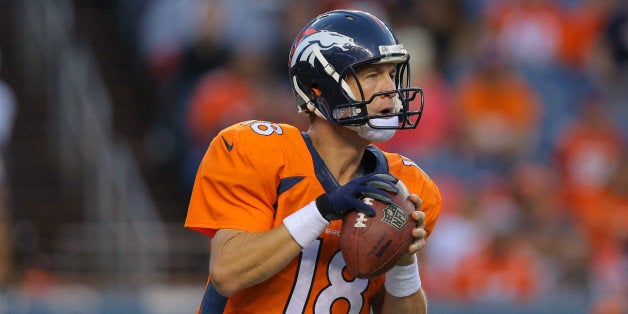 The Predictalator has run every Week 1 2014 NFL game 50,000 times. This allows us to rank all players based on their expected fantasy football output in the upcoming game. Below we present the up-to-date top three at each fantasy position for the week, a sleeper likely to have a breakout game (generally chosen as the best $/FP value on daily fantasy sites), a player to avoid (the worst $/FP value) and some injury situations to monitor heading into the week.
Quarterbacks
1. Peyton Manning 29.9 FPs (DEN vs. IND) - Peyton Manning may be projected to fall well short of last season's record-setting season and he may not have Wes Welker for this week, but he is still Peyton Manning. The Broncos' passer and our vote for greatest quarterback of all-time enters Week 1 projected to score four more fantasy points than any other player.
2. Drew Brees 25.1 FPs (ATL vs. NO) - Brees is and will be another favorite of the Predictalator, yet his case is particularly strong this week as he gets to stay inside on turf with an upgraded receiving corps that includes first round pick Brandin Cooks, and face what we currently rank as the 29th "most" efficient (fourth least efficient) passing defense in the league. The Falcons allowed more than eight yards-per-pass last season and do not expect to be markedly better. The fact that Atlanta has more offensive weapons this season actually helps Brees as well since this is likely to turn into a shootout.
3. Jay Cutler 24.7 FPs (CHI vs. BUF) - Buffalo lost its best member of the secondary (Jairus Byrd) to New Orleans and its best linebacker (Kiko Alonso) to injury. With one of the best skill position groups in the NFL, everyone healthy, a second year in offensive-guru Marc Trestman's system and great weather, the timing of this matchup for the Bears is perfect.
Breakout Candidate: QBs in Tennessee/Kansas City Game - Jake Locker as the 12th best quarterback in our rankings for the week (19.6 FPs) presents the best overall value at the position, but Alex Smith at #8 this week is actually projected to put up slightly better numbers. Both are worth consideration for starting in a sneaky candidate for an exciting, dramatic shootout in Week 1.
Must Avoid: Cam Newton 17.0 FPS (CAR @ TB) - It's fairly likely that Cam Newton ranks outside of the top five fantasy quarterbacks in the league for the season for the first time in his career - and game one may be the worst of it. Even ignoring the uncertainty of Cam's broken ribs, Newton has never completed a meaningful pass to a receiver on his own team and the starting offensive line only had 38 of a possible 80 starts in 2013. Lovie Smith inherited a really good defense, especially at generating pressure from inside. It could be a long day for Cam Newton (and his fantasy owners - just #24 in our QB rankings).
Running Backs
1. LeSean McCoy 21.4 FPs (PHI vs. JAC) - Our top overall fantasy player for 2014, McCoy is one of just two running backs projected to rush for over 100 yards this week. His backup (for the running game), Chris Polk is banged up and the team is taking on the defense we ranked 32nd (last) in our talent evaluations before the year. Expect a heavy dose of McCoy to put up monster numbers in Chip Kelly's fast-paced offense.
2. Jamaal Charles 21.2 FPs (KC vs. TEN) - Charles and McCoy were mainstays in this section last season and open as the clear best two running back options for Week 1. Tennessee should have a much better offense this season, but its defense should be headed in the other direction. As alluded to, a shootout is expected. The closer the game in that case, the more work for the top offensive player on the field.
3. Matt Forte 19.3 FPs (CHI vs. BUF) - Interestingly, the gap between Forte and the next best running back for the week, DeMarco Murray, is three points, a considerable margin in fantasy football. With the Bears likely to have their way with Buffalo's banged-up defense, Forte could easily emerge as the Week 1 fantasy MVP. We project more than 135 total yards and a touchdown.
Breakout Candidate: Andre Ellington 14.3 FPs (ARI vs. SD) - Do not expect Ellington to be this valuable for very long. He actually ranks worse this week (#9) than he does at running back for the season (#8) in our projections. Ellington averaged 6.5 yards-per-touch on 157 touches last season. While matching that efficiency is not likely, he should be more productive overall with 20-25 touches-per-game (especially early in the season when he can sustain that).
Must Avoid: Bishop Sankey 6.9 FPs (TEN @ KC) - Everything that was noted about the Tennessee @ Kansas City game does not apply to Bishop Sankey. Sankey is essentially third on the depth chart in Tennessee right now behind Shonn Greene on running downs and Dexter McCluster on passing downs (think: Chris Polk in Philadelphia behind LeSean McCoy and Darren Sproles). He is our 41st ranked running back for the week and the least value in daily fantasy from a $/Fantasy Point standpoint.
Wide Receiver
1. Demaryius Thomas 14.9 FPs (DEN vs. IND) - Though not the biggest beneficiary of Wes Welker's suspension, Thomas, who was already our second best wide receiver for the fantasy season, should get one or two more targets than initially anticipated to top all receivers in fantasy points.
2. Brandon Marshall 14.5 FPs (CHI vs. BUF) - We really like Chicago's offense this week. Cutler and Forte have already been highlighted and now Marshall shows up second at his position. It gets scarier for Bills' fans. Alshon Jeffery is our #4 receiver for the week.
3. Calvin Johnson 13.8 FPs (DET vs. NYG) - MEGATRON
Breakout Candidate: Rueben Randle 11.1 FPs (NYG @ DET) - The most likely breakout wide receiver to be this year's Alshon Jeffery, Randle will have a similar role to the Packers' Jordy Nelson within Ben McAdoo's pass happy offense. Randle is a top ten receiver for this week as the team finds itself in a shootout with the equally pass-happy Lions on Monday night. This is not to slight Victor Cruz. Both receivers crack our top ten for the week (Randle is more likely to score TD, yet should trail in targets and yardage). Helping Randle's case is the expectation that the Giants will run a high percentage of plays with three receivers, yet do not have a great third option at the position.
Must Avoid: Tavon Austin 5.3 FPs (STL vs. MIN) -Austin ranks just 64th at wide receiver for Week 1. Quarterback concerns, a decent defense (especially at secondary which matters if/when Austin is in the slot) and worry about his role take all of the value out of Austin. At this point, he may just be a situational spark used on special teams and with gadget plays.
Tight End
1. Jimmy Graham 15.4 FPs (NO @ ATL)
2. Julius Thomas 12.8 FPs (DEN vs. IND)
3. Rob Gronkowski 9.6 FPs (NE @ MIA)
Breakout Candidate: Travis Kelce 7.3 FPs (KC vs. TEN)
Must Avoid: Greg Olsen 6.1 FPs (CAR @ TB)
Kickers
1. Phil Dawson 11.0 FPs (SF @ DAL)
2. Cody Parkey 10.1 FPs (PHI vs. JAC)
3. Chandler Cantanzaro 9.3 FPs (ARI vs. SD)
Breakout Candidate: Randy Bullock 8.8 FPs (HOU vs. WAS)
Must Avoid: Graham Gano 5.5 FPs (CAR @ TB)
Defense
1. Tampa Bay Buccaneers 11.8 FPs (TB vs. CAR)
2. Pittsburgh Steelers 10.2 FPs (PIT vs. CLE)
3. New York Jets 8.8 FPS (NYJ vs. OAK)
Breakout Candidate: New England Patriots 8.7 FPs (NE @ MIA)
Must Avoid: San Francisco 49ers 0 FPs (SF @ DAL)

Injuries to Watch
1. Rob Gronkowsi - Questionable with knee injury. The biggest question marks of Week 1 is one of the biggest question marks of the entire fantasy season. Gronkowski says he is going to play, but the team is not saying one way or the other. In the projections noted above, we expect him to play about half of his normal downs, yet specifically on most downs when the Patriots are in the red zone. His expected performance from that is still as a top three tight end. Those who drafted Gronkowski should have drafted a top backup. He plays in the early games on Sunday so a substitution can be made easily if he is out. If Gronkowski is plays, keep him in the lineup as he will only play if the team thinks he can make an impact.
2. Wes Welker - Out with suspension. Regardless of his excuse or what really happened, Welker is out this week. We know that. What that means for everyone else on the team is that Emmanuel Sanders will see plenty of snaps in the slot, making him a tremendous candidate for a breakout performance Week 1 and Demaryius and Julius Thomas will each get a couple more targets. We recommend, however, staying away from Cody Latimer and Andre Caldwell. Caldwell is listed ahead of Latimer on the depth chart. Both will likely get into the mix this week, with neither a strong option at this point.
3. Michael Crabtree - Questionable with calf. 49ers quarterback Colin Kaepernick's numbers in his career are markedly better with Crabtree on the field as compared to off. Crabtree is 15 months removed from tearing his Achilles, yet still sits out practices to deal with weakness in his foot and calf. Dallas and San Francisco are expected to get into a shootout this week, which should make all relevant Cowboys and 49ers fantasy standouts. If Crabtree misses the game, however, Kaepernick would take a hit.
REAL LIFE. REAL NEWS. REAL VOICES.
Help us tell more of the stories that matter from voices that too often remain unheard.