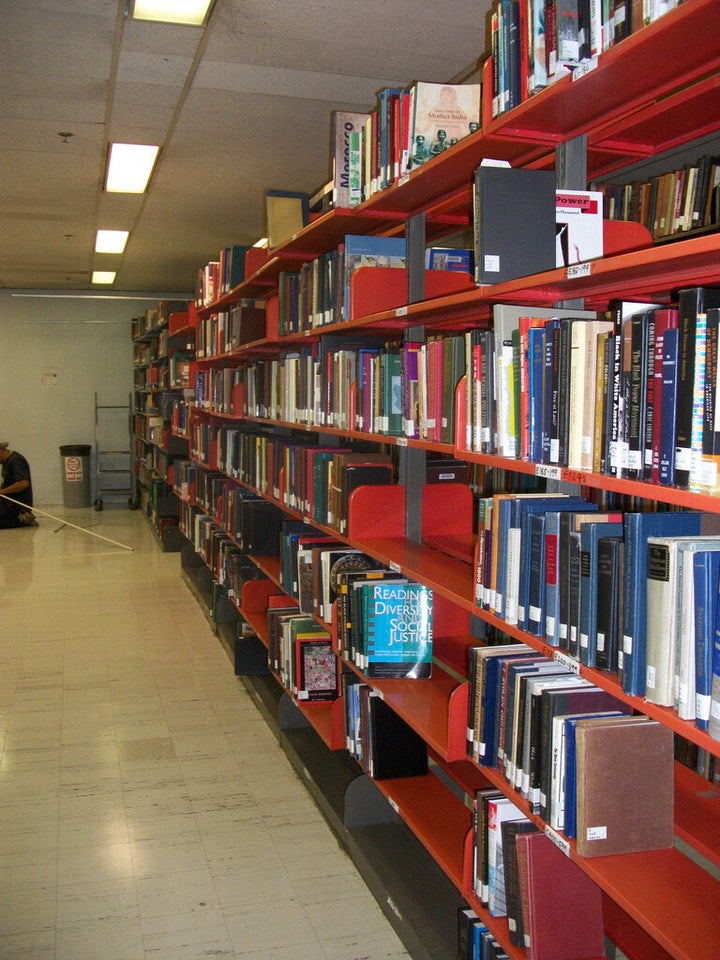 My uncle calls the mayor of Paris, Texas, and arranges for me to have lunch with him on Tuesday, on my way to Oklahoma City from Dallas.
I say goodbye to my uncle and aunt, and head for Dallas. As that skyline comes over the horizon, right on cue, the Dallas theme music starts playing in my head. Even today, decades later, the show and the city are completely entwined in my consciousness.
My talk is in A Real Bookstore, which is a delightful and bold independent bookstore.
I eat in Red Lobster and then head into the night, towards Paris, Texas. I know nothing about this place, except for that film from the early 90s. I'm driving into the city limits relatively fast, when suddenly I notice a speed sign which indicates a dramatic reduction in the limit. I hit the brakes, just at the same time as I notice a parked police cruiser observing me. This could so easily have turned into a nightmare: malicious arrest, a brutal prison farm, no contact with the outside world -- just like that first episode of Charlie's Angels.
I ask the Hertz NeverLost for a Days Inn. I'm exhausted.
I receive an e-mail in the morning, which advises me that I am a free man. In Paris. How ironic. That's my favorite Joni Mitchel song. The pain in my chest flares up again.
I'm late for lunch with the Mayor, but he's still in surgery. He comes out eventually, and takes me to lunch at a modest but charming Texan diner. Everyone seems to know him and he takes the time to engage and chat with people.
Dr. Arjumand Hashmi is a Muslim, Pakistan-born heart surgeon who is also the Mayor of Paris, Texas. He ran in the election last year, and focused solely on the issues, avoiding any negative campaigning, and without an expensive media drive. The same was not true of some of his opponents, who played up the issue of his religion. Some voters asked him if he would impose Shariah law on the city, and build a mosque using public funds.
He tells me that he engaged on a very personal basis with the electorate, and won the election with more votes than all the other candidates put together.
With two full-time jobs -- Mayor and cardiologist -- he gets up at 3:30 a.m. every day. He also works out a lot. For relaxation, he plays checkers on the internet. There is only one opponent who has ever beaten him -- a 14-year-old boy who is doing his Master's degree at Princeton.
Don't you just hate these people?
This is so counter-intuitive -- that a Muslim could be elected Mayor in such a town (where there are only two Muslim families, so it wasn't the Muslim vote). I'm still processing this, but it's undeniably uplifting and evokes a huge sense of optimism.
I drive to Oklahoma City, where my event is at the Mayflower United Church of Christ. Afterwards, at Red Lobster, the waitress asks me if I'm a doctor.
"Because your order is so healthy and you remind me of Dr Oz."
For her compliment, I give her complimentary signed copy of my book.
I arrive at Tulsa in the early hours, and find a Days Inn.
In the morning, I call down to the front desk and buy an extended checkout to 3 p.m., for an extra $25.
"When are you going to pay the $25, sir?"
"I'll do it when I check out."
"You need to pay now, sir."
"Okay, I'll be down shortly."
I don't bother to go down immediately. Having done my rigorous morning exercise, I'm in the shower when the aggressive banging on the door begins at precisely 11 a.m. It's persistent and he won't stop. Naked and dripping wet, I go to the door and shout, "What?!" An impatient and discourteous voice tells me that I have to be out by 11 a.m. I tell him that I have an agreement for a late checkout. I call down to the front desk to tell them to ask Housekeeping to stop banging on my door.
"When are you going to pay, sir?" "As soon as I put my clothes on."
At the front desk, an overweight white woman is telling the desk clerk something about the money being on its way imminently.
"It needs to be here in an hour, ma'am, or we will have to move you out."
Suddenly, I realize I'm not in a hotel as I'm used to the concept, but in a cynical and unsympathetic, privately-run homeless shelter.
It's a hot, sunny blue-sky day, which seems to enhance the peaceful, elegant beauty of the whitewashed All Souls Church. I have dinner here, and then do my narrative performance before a wonderful and supportive audience.
Afterwards, I chat awhile with Randy Lewis, an African-American Unitarian student minister. He is wonderfully supportive and effectively gives me counseling. I leave feeling better about myself -- owning, not denying, the pain in my chest.
Tulsa to Albuquerque is my longest single segment, at over 650 miles. I want to cover as much distance as possible tonight.
Eventually, I pull into Elk City, and call the motels listed by the Hertz NeverLost. Surprisingly, Elk City seems to be totally sold out. Finally, I find an available room in a no-brand motel. When I get there, the place looks very modest indeed.
At the front desk, I present my American Express card.
"We don't take American Express. I need to see your ID."
I glance back at the glass door, which has at least three American Express stickers on it.
"But you have American Express on your door."
"We had a problem with them."
I go back out to the Raptor and retrieve my attaché case, in which I keep my Visa card. (Foreign Travel 101: keep your credit cards in different places.) This attaché case is very smart and elegant (I bought it from Selfridge's on Oxford Street) and it says a lot about me. I place the attaché case on a table in the reception area, and start work on the security protocols required to open it.
While I am doing this, he repeats, "I need to see your ID."
I have a bad feeling about this... a place that has had "a problem" with American Express, and where there is a cynical impatience to see my ID, even though I have a smart and elegant attaché case from Selfridges...
"I hear you, Higher Self."
I make an excuse and get out, take off in my Raptor and proceed to Erick, where I gratefully check into a Days Inn.
The New Mexico landscape is stunning. The sun blazes down from a deep blue sky. I wonder how it is possible to live an ordinary life, go to work and so on, against this permanent backdrop. Wouldn't you spend all day staring at the mountains in awe?
My event is at the Page1One Bookstore -- New Mexico's largest independent. Again, I have a real rapport with the audience, who are wonderfully warm and supportive.
After Red Lobster, I get as far as Gallup, NM, in the early hours of the morning, and find a Days Inn. In my room, I sit down in a chair to answer a few e-mails on my iPad, and promptly fall asleep. "Wow -- I paid good money to sleep in a chair."
I start my day in the swimming pool, and no-one else is using it. It's a nice change from my hotel room calisthenics.
I'd love to see the meteor crater near Flagstaff AZ, but there isn't time. I hurry on through the desert, under the unrelenting sun. My event in Scottsdale is in the Chapparal Suites resort, and is hosted by the Arizona Council for International Visitors (AZCIV), which is the local World Affairs Council. Afterwards, the Director, Doug Bruhnke, has some kind of document to present to me. I'm hoping that it's an honorary doctorate, but it turns out to be a Certificate of Appreciation. I do appreciate it.
The drive towards Tucson, AZ, continues against a beautifully bleak landscape. My iPod, connected to the Raptor's sound system, provides some diversion. There are actually two kinds of love song -- the songs about being in love and the songs about when your heart is broken. Clearly, I am now in the latter category. I have an Isley Brothers playlist which has only one song -- "This Old Heart of Mine." Foolishly, I play it, and it repeats indefinitely.
But if you leave me a hundred times A hundred times I'll take you back.
My miserable mood is compounded when I discover that the Unitarian church in Tucson, which is my venue, is at the end of a dirt road ("No outlet") up the side of a dusty hill - it looks like a big wooden shack, and there are only two cars in the parking lot. This is going to be such a waste of time.
It turns out that there is a proper church inside the 'shack', and something miraculous happens. People come. Lots of people. It's one of my best audiences. One man says that he drove a hundred miles to attend this event.
Because I am delayed getting the projector set-up, I don't have time to change out of my shorts, tee-shirt and sandals. And it doesn't matter. I apologize to them and they all laugh. It's so hot, anyway. They give me so much positive energy, it is one of my liveliest sessions ever. The discussion goes on for ages, and every book I brought in with me is sold. This was such a turnaround from my initial expectations.
On my way to San Diego, I pull into Yuma AZ, in the early hours and find a motel. It's another no-name, and the cost is only $55. The room is very basic and tired, with miscellaneous furniture and, innocuously, a gigantic television which must have been state-of-the-art fifteen years ago. The A/C isn't working, which is unacceptable in Arizona, and one of the bath towels has yellow stains, also unacceptable - but it's so late, I just want to sleep a few hours and get out of here.
During the night, uncomfortable and restless in the heat, and somewhat melancholy, I e-mail Anna Maria in Venice to get some sympathy. She knows about my personal sadness and always says wonderful things to make me feel better about myself.
Anna Maria replies very quickly to say that she was awoken in the early hours by a massive earthquake, which shook her home so much, she thought it was going to collapse. She is still trembling with shock. Uncharacteristically, she doesn't give me any sympathy at all.
I leave this dive of a motel and head for San Diego, taking in the brutal, rocky desert all around. I have some organic apples left in the car, and I'm not sure if I'm supposed to dump them in advance, or surrender them at the border of California.
"I'm fed up with women, Higher Self. The moment you show them love, respect and commitment, they make themselves icy and distant. They are so shallow and superficial."
Stop this nonsense, Imran. This is your sadness speaking. Remember that Maclean's magazine described you as "a feminist." Although that's Canadian -- I'm not sure it counts.
See the 50-city U.S. tour plan on the website.