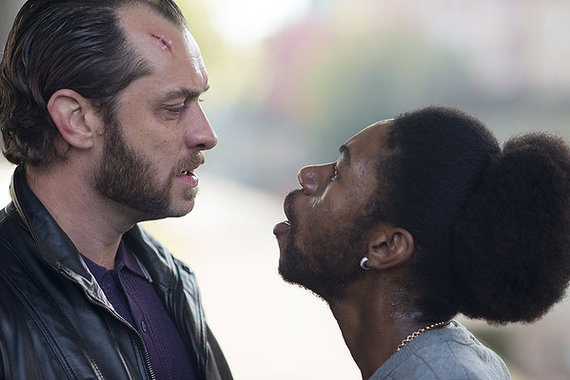 Maybe it's because the studio movies at this time of year are so universally dreadful, but I find myself drawn to the smaller films that bite and snarl and generally have bad manners: Bad Words, The Raid 2 and, this week, Dom Hemingway.
Written and directed by Richard Shepard (The Matador), Dom Hemingway offers us Jude Law in the kind of performance we rarely see from an actor who seems too polite to offer it. Indeed, when we first glimpse the title character, he is in prison, proudly declaiming the universal superiority of his penis to all others. There's a visual kicker to that joke that truly sets the tone for the film, but let's not spoil that.
Dom is a London safecracker, set free after a 12-year prison stint. He took the fall for his boss, Mr. Fontaine (Demian Bichir); his sentence cost him his wife, who divorced him to marry another man, then died of cancer. Dom has a daughter he barely knows - and an appetite for debauchery that seems bottomless. He and his best mate Dickie (Richard E. Grant) travel to the French countryside, where Mr. Fontaine will award Dom his share of the job for which he was busted: several hundred thousand Euros.
But nothing is ever simple for Dom, whose motor-mouth and self-destructive impulses pop him in and out of trouble. Shepard's script gets a little digressive at times but is never less than entertaining, thanks to pointed dialogue and a world-beating performance by Law, who turns Dom into a force of nature akin to a tsunami. It's wildly funny, delightfully stylized and brutally violent at times. You'll never be bored.
The same can't be said for Captain America: The Winter Soldier, a bit of franchise plumping from the Marvel stable. It's an improvement over 2011's Captain America: The First Avenger, but, at almost two-and-a-half hours, it's easily an hour too long.

This review continues on my website.
REAL LIFE. REAL NEWS. REAL VOICES.
Help us tell more of the stories that matter from voices that too often remain unheard.