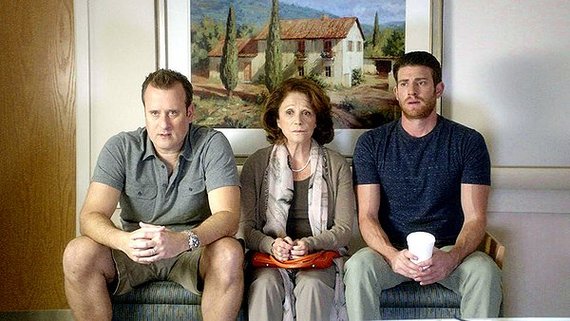 Even as the brain-dead Godzilla is somehow getting a pass in its early reviews, you can bet that Million Dollar Arm is going to get savaged by the same critics, who are uncomfortable with movies that deal, ultimately, with feelings instead of ideas (or, in the case of Godzilla, ideas that critics imagine the movie is about).
But Million Dollar Arm, while not perfect, is more than just a feel-good sports movie about overcoming obstacles (though it is, in fact, that). Thanks to a script by Tom McCarthy and restrained direction by Craig Gillespie (Lars and the Real Girl), Million Dollar Arm is less a movie about sports (in this case, baseball) than a film about one man's transformation from sports agent to human being.
Which is quite a leap, given the state of J.B. Bernstein's soul at the film's start. As played by Jon Hamm (based on a real person), Bernstein is a fast-talking agent whose career has plateaued and whose future looks dim if he can't sign a big client soon. He handled athletes like Emmitt Smith and Barry Sanders in their prime -- but hasn't attracted a new superstar in years.
So he hits on an idea: He'll go to India and find a cricket player who can pitch in the major leagues of American baseball. He'll conduct the search via an Indian reality show and bring the winners back to the U.S. to get them a major-league audition.
The two athletes he winds up with, Dinesh (Madhur Mittal, Slumdog Millionaire) and Rinku (Suraj Sharma, Life of Pi) are athletes who can throw the ball consistently at 80 mph or more. But, as Bernstein discovers later, neither are cricket players. And, because baseball wasn't played in India (at least not in 2008, when this took place), they possess none of the fundamental baseball skills that most American kids have by the age of 8.
But Gillespie's film isn't about the players' baseball education; it's about Bernstein growing a soul and learning to see his clients as people -- rather than walking paychecks. McCarthy's script has an emotional honesty and a spareness to its expression that make it seem sincere rather than schmaltzy. And while some will undoubtedly criticize the film for focusing on Bernstein's story instead of the two young players, it is in fact a movie about Bernstein, played with a blend of humor and surprising vulnerability by Hamm.
He has a great supporting cast to play off his slow-burn, including Alan Arkin as an aged baseball scout and the delightful Lake Bell, as a neighbor who becomes a (not unexpected) love interest. Throw in Aasif Mandvi (as Bernstein's partner) and Bill Paxton (as the visionary baseball coach who works with the newcomers) and that's a formidable lineup.
If Gillespie overplays the music and the suspense-film editing when the film reaches its climax, well, it's the climax. What did you expect? Count on this: Million Dollar Arm will lift your spirits and choke you up at the same time.
It's wrong to describe A Short History of Decay as an Alzheimer's comedy, but writer-director Michael Maren manages the nifty tonal trick of telling a tragic tale and somehow making you feel hopeful about its characters. There is humor, to be sure, in this assured feature debut, but the material isn't kidding around about the inevitable facts about aging that we all must face - first with our parents, then with ourselves.
Bryan Greenberg, an underrated young actor, plays Nathan, a writer struggling to start his career in Brooklyn when he gets two pieces of bad news in one day. First, his girlfriend (Emmanuelle Chriqui) announces that she's breaking up with him and wants him to move out. Then his brother calls from Florida to tell him that his father has had a stroke, brought on by his stress at dealing with the onset of Alzheimer's for Nathan's mother.
So Nathan heads for Florida, where he learns first-hand how lucid his mother (a marvelous Linda Lavin) can and can't be, even as he tries to wrangle his curmudgeonly father (Harris Yulin, equally good) to keep him on the rest-and-recuperation track. For Nathan, that means staying with them and shifting his focus from being their offspring to assuming the role of caregiver.
Yet Maren does this without hammering the point. Even the arrival of Nathan's older brother (a very funny Benjamin King) is played lightly; yes, it turns out that older brother, a lobbyist in Washington for the banking industry, doesn't have it all together, the way everyone assumes. He and Nathan fall back into old roles with a natural wit and the sense of discovery that siblings can have about each other, even at that advanced age.
A Short History of Decay has the potential to be one of those break-out sleepers that finds its audience, the way Raymond de Felitta's City Island did a couple of years ago. It's a satisfying little film that keeps surprising you with its ability to tell recognizable truths in an original and human way.

This review continues on my website.
Popular in the Community