Welcome to "Moving Image," our roundup of the best photos from around the world this week.
The following images tell the story of the past seven days' most compelling events, capturing happenstance moments and monumental occurrences all over the globe.
Our picks for this week are:
1. This adorable girl and 1,600 styrofoam pandas.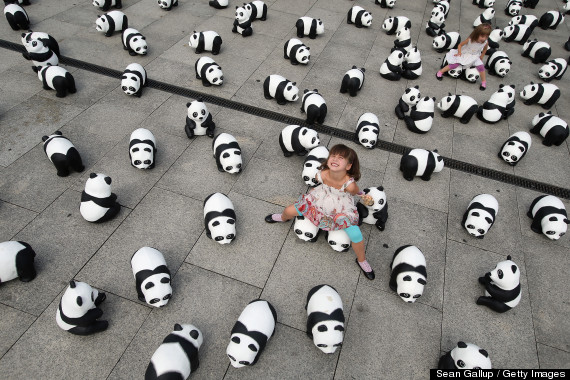 Elaia, 6, and her sister Lusitta, 4, play among 1,600 styrofoam panda bear sculptures in Germany. The bears are on display courtesy of the World Wildlife Fund in an attempt to draw attention to the fact that only 1,600 panda bears remain in the wild. (Sean Gallup / Getty Images)
2. A harrowing photo of a Mao Mao Nyatura fighter in the Democratic Republic of the Congo. A Mao Mao Nyatura fighter stands at a hilltop base in Kiseguro, around 90km north of Goma, in the east of the Democratic Republic of the Congo in this picture taken on August 3, 2013. (Phil Moore / AFP / Getty Images)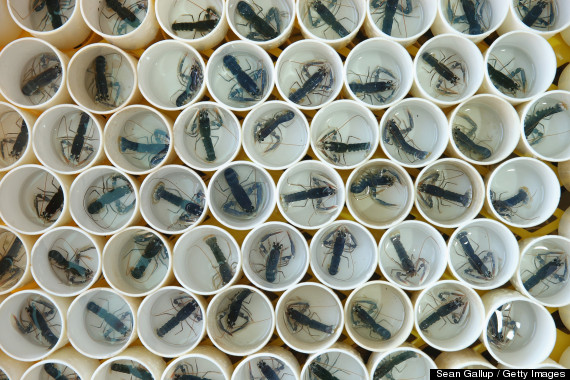 Baby European lobsters (Homarus gammarus) from the Helgoland Biological Institute lie in cups before scientists released them into the North Sea on August 3, 2013 in Germany as part of an effort to repopulate the lobster population around Helgoland. (Sean Gallup/Getty Images)
4. These devoted people watching the crescent moon.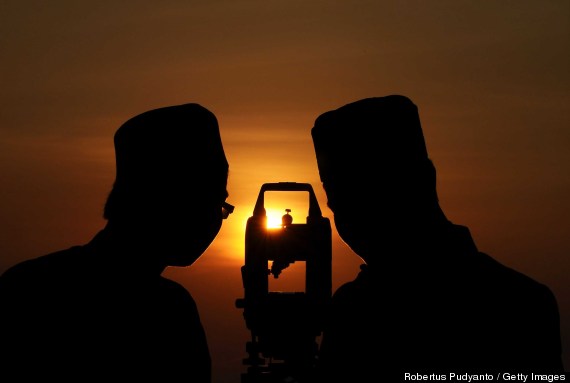 Indonesian Muslims hold a Rukyatul Hilal to see the new crescent moon that determines the end of Ramadan at Condro Dipo Hill on August 7, 2013 in Gresik, Indonesia. (Robertus Pudyanto / Getty Images)
5. These packed travelers.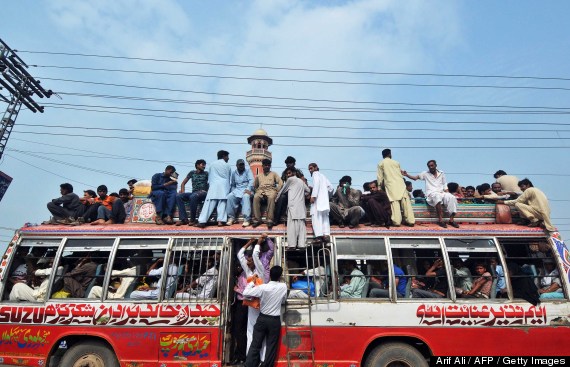 Pakistani Muslims travel on an overloaded bus as they head to their hometowns ahead of the Muslim festivities of Eid al-Fitr, in Lahore on August 7, 2013. (Arif Ali / AFP / Getty Images)
6. These competitive swimmers. Competitors dive in to start a Men's 1500m freestyle heat at the FINA Swimming World Championships in Barcelona, Spain, Saturday, Aug. 3, 2013. (Daniel Ochoa de Olza / AP)
7. An image of the Atomic Bomb Dome. The Atomic Bomb Dome is silhouetted at sunset in Hiroshima, western Japan, Monday, Aug. 5, 2013. Hiroshima marks the 68th anniversary of the world's first atomic bombing Tuesday. (Shizuo Kambayashi / AP)
8. This photo of summer in India. An Indian man jumps to cool off from a residential building partly submerged in the flooded River Ganges after heavy monsoon rains in Allahabad, India, Saturday, Aug. 3, 2013. (Rajesh Kumar Singh / AP)
9. This photo of summer in China. Visitors cool off at a water theme park in Shanghai, China, Thursday, Aug. 8, 2013. Hot weather has set in with temperatures rising up more 40 degrees Celsius (104 degrees Fahrenheit) in Shanghai. (Eugene Hoshiko / AP)
10. These paper lanterns. A man watches paper lanterns for the repose of the souls of the atomic bombing victims in the Motoyasu River near the Atomic Bomb Dome in Hiroshima, western Japan, Tuesday, Aug. 6, 2013. (Shizuo Kambayashi / AP)
11. This striking photo of a students group in Myanmar.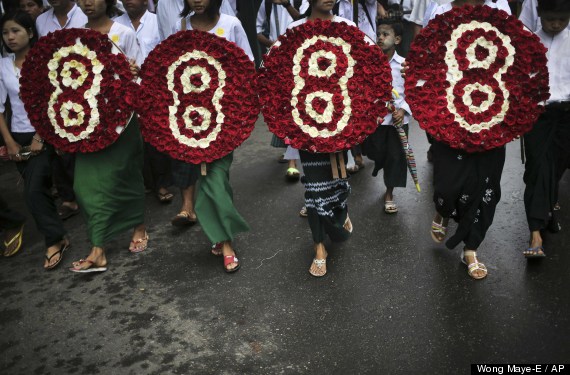 Members of Myanmar's prominent 88 generation students group hold symbolic wreaths during a march in downtown Yangon, Myanmar, Thursday, Aug. 8, 2013. (Wong Maye-E / AP)
12. This glimpse of Pakistani paramilitary. A Pakistani paramilitary soldier poses for a photographer at a checkpoint after authorities reopen a road in Bara, a town in the Pakistan Khyber Tribal region along the Afghan border, Saturday, Aug. 3, 2013. (Mohammad Sajjad / AP)
13. This fencing snapshot. A multiexposure image of Julia Beljajeva, right, of Estonia winning against Emese Szasz of Hungary in the semifinal of women's individual epee competition at the World Fencing Championships in Budapest, Hungary, Thursday, Aug. 8, 2013. (Tibor Illyes / MTI / AP) A photograph of goats on a lawn sign directs reporters to where goats will be released at Congressional Cemetery in Washington, Wednesday, Aug. 7, 2013. More than 100 goats will be taking over Washington's Historic Congressional Cemetery to help clean up brush in an area away from the graves. (Charles Dharapak / AP) President Barack Obama arrives to speak to U.S. troops and their families at Marine Corps Base Camp Pendleton, Calif., Wednesday, Aug. 7, 2013. The visit to the Marine Corps base is Obama's final stop on a two-day West Coast trip that included the rollout of his principles for overhauling the nation's mortgage finance industry. (Jacquelyn Martin / AP)
16. This frightening shot of a wildfire in California. A small plane flies over a wildfire burning near Banning, Calif., on Thursday, Aug. 8, 2013. About 1,500 people have fled and three are injured as the wildfire in the Southern California mountains quickly spreads. Several small communities have evacuated. (Jae C. Hong / AP)
Let us know your favorite photos in the comments section and check back next week to see new images.
This story appears in Issue 61 of our weekly iPad magazine, Huffington, in the iTunes App store, available Friday, August 9.
PHOTO GALLERY
Moving Image 2013: The Year's Best Photos
Calling all HuffPost superfans!
Sign up for membership to become a founding member and help shape HuffPost's next chapter