Welcome to "Moving Image," our roundup of the best photos from around the world this week.
The following images tell the story of the past seven days' most compelling events, capturing happenstance moments and monumental occurrences all over the globe.
Our picks for this week are:
1. This silhouetted diver celebrating an international LGBT event in Spain. People enjoy the water park day during an international gay and lesbian event in Vilassar de Mar, Spain, Tuesday, Aug. 13, 2013. The special international event has attracted many thousands of visitors. (Manu Fernandez/AP)
2. This perfectly framed skier.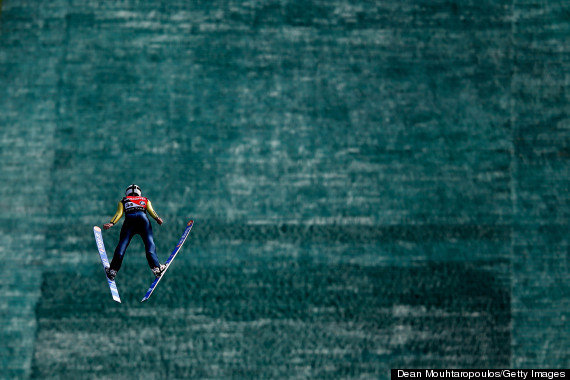 Julia Clair of France competes in the FIS Ski Jumping Grand Prix Ladies Training Session on August 14, 2013 in Courchevel, France. (Dean Mouhtaropoulos/Getty Images)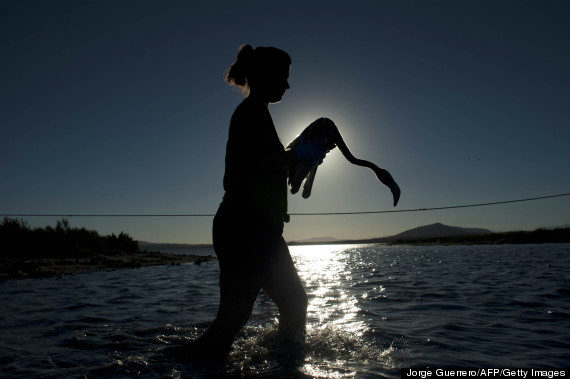 A volunteer carries a flamingo chick at the Fuente de Piedra lake, 70 kilometres from Malaga, on August 10, 2013, during a tagging and control operation of flamingo chicks to monitor the evolution of the species. (Jorge Guerrero/AFP/Getty Images)
4. This epic snapshot of a Bavarian finger wrestling competition.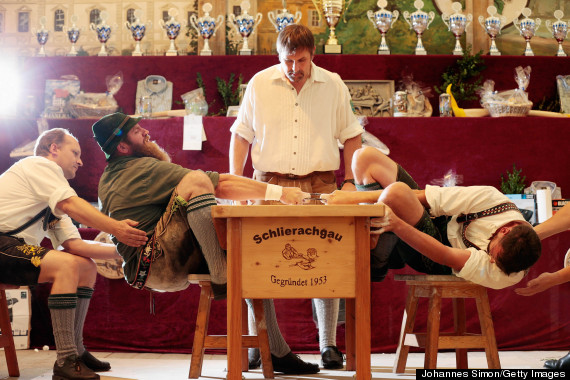 New Bavarian middle weight champion Toni Bader (L) of Oberammergau and vice champion Korbinian Fischer of Bad Kohlgrub fight during the first leg final during the 60th annual Bavarian finger wrestling championships (also known as Fingerhakeln) on August 11, 2013 in Feldkirchen-Westerham, Germany. (Johannes Simon/Getty Images)
5. This young juggler from Afghanistan.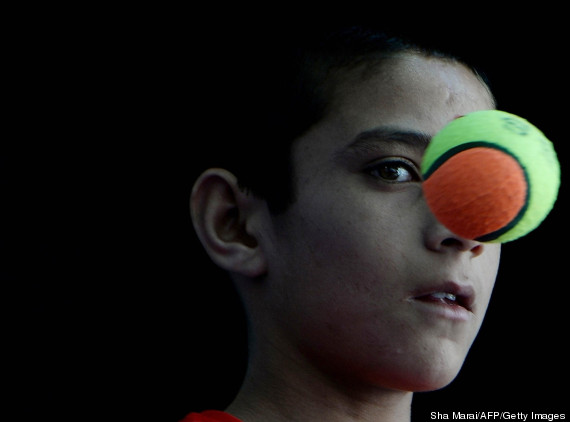 A young juggler performs during the 8th Afghanistan Juggling Championships in Kabul on August 14, 2013. His eyes red from concentration, Ahmad Zekria, 13, stumbled from the stage in triumph after keeping four balls spinning through the air for 33 minutes. (Sha Marai/AFP/Getty Images)
6. This glimpse of the traditional motorbike pardon in France. Who knew?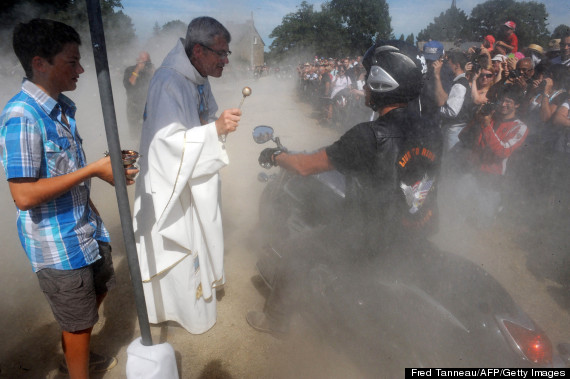 A priest blesses a motor biker on August 15, 2013 in Porcaro, western of France, during the traditional motorbike pardon on Assumption Day. (Fred Tanneau/AFP/Getty Images)
7. These football fans taunting a Smurf.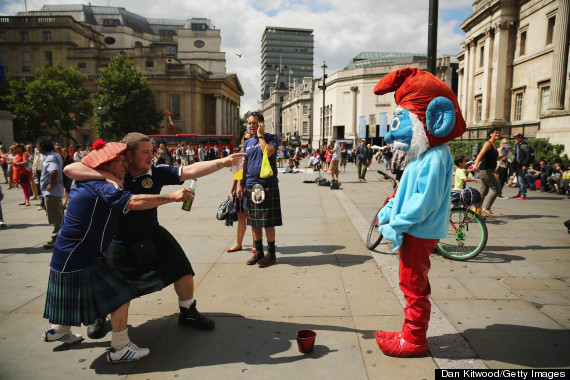 Two Scotland fans try to tempt a smirf to react in Trafalgar Square ahead of their international friendly match against England tonight on August 14, 2013 in London, England. Scotland and England will meet at Wembley stadium tonight for their first international in 14 years. (Dan Kitwood/Getty Images)
8. This shot of Britain's biggest metal festival.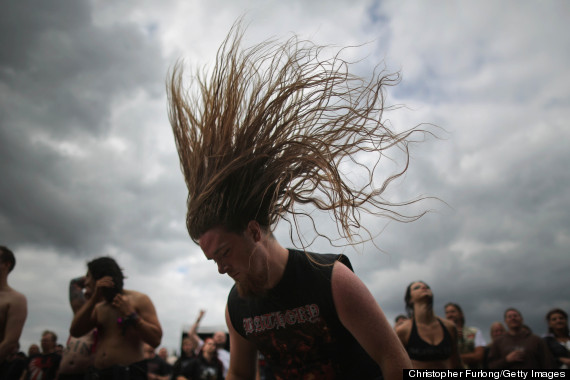 Heavy metal fans mosh, head bang and dance as they watch bands at the Bloodstock Outdoor Heavy Metal Festival on August 10, 2013 in Walton Upon Trent, Derbyshire, England. (Christopher Furlong/Getty Images)
9. This photo of Chinese Valentine's Day. Women look at messages of love and Qixi festival decorations on display at a shopping mall in Beijing, China Tuesday, Aug. 13, 2013. According to Chinese calendar, today marks the day of Qixi festival, known as Chinese Valentine's Day. (Andy Wong/AP)
10. This stunning dancer. Dancer Myriam Deraiche is supported by fellow Cirque Eloize troupe members while performing at New York State's Food Festival at the Empire State Plaza on Wednesday, Aug. 14, 2013, in Albany, N.Y. (Mike Groll/AP)
11. David Oliver relishing a victory. United States' David Oliver, right, celebrates after winning the men's 110-meter hurdles final at the World Athletics Championships in the Luzhniki stadium in Moscow, Russia, Monday, Aug. 12, 2013. (Martin Meissner/AP)
12. This terrifying image of protests in Egypt. A police vehicle is pushed off of the 6th of October bridge by protesters close to the largest sit-in by supporters of ousted Islamist President Mohammed Morsi in the eastern Nasr City district of Cairo, Egypt, Wednesday, Aug. 14, 2013. (Aly Hazzaa/El Shorouk Newspaper/AP) People paddle their boat during the sunset near the village of Toroni, northern Greece, Wednesday, Aug. 14, 2013. Weather forecasters predict hot weather across the country over the next few days. (Darko Vojinovic/AP)
14. This seal and sea lion habitat. Sisters Devan Curtis, 2, and Aliyah, 7, from Santa Barbara, Calif., explore the 211,000 gallon Seal and Sea Lion Habitat at the Aquarium of the Pacific in Long Beach, Calif., Wednesday, Aug. 14, 2013. (Damian Dovarganes/AP)
Let us know your favorite photos in the comments section and check back next week to see new images.
This story appears in Issue 62 of our weekly iPad magazine, Huffington, in the iTunes App store, available Friday, August 16.
PHOTO GALLERY
Moving Image 2013: The Year's Best Photos
REAL LIFE. REAL NEWS. REAL VOICES.
Help us tell more of the stories that matter from voices that too often remain unheard.