Welcome to "Moving Image," our roundup of the best photos from around the world this week.
The following images tell the story of the past seven days' most compelling events, capturing happenstance moments and monumental occurrences all over the globe.
Our picks for this week are:
1. This image of rainfall in Rio de Janeiro.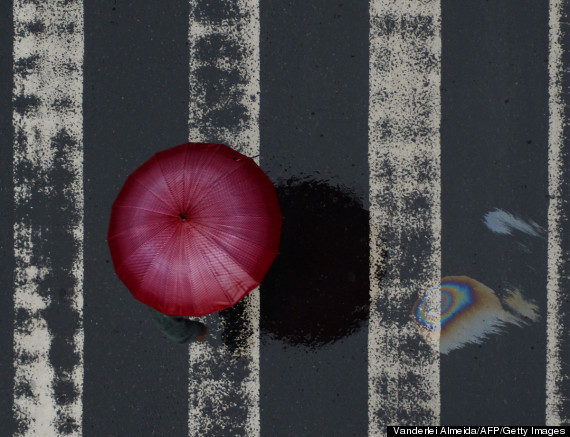 A person walks in the rain in a street of Rio de Janeiro on September 4, 2013, after temperature dropped in the last 24 hours from 32 degrees Celcius to 17. (Vanderlei Almeida/AFP/Getty Images)
2. An Indian laborer napping in New Delhi. An Indian laborer sleeps on empty plastic baskets at the Okhla Vegetable Market in New Delhi, India, Thursday, Sept. 5, 2013. India's economic growth slowed to 4.4 percent in the April-June quarter and the Indian rupee has lost more than 20 percent of its value since May. (Rajesh Kumar Singh/AP)
3. This snapshot of riot police in Romania. Romanian riot policeman prepare to confront protesters, as a woman views the scene and demonstrators gather nearby, in Bucharest, Romania, early Thursday, Sept. 5, 2013. Protesters blocked traffic in central Bucharest for the fourth day running to protest against the proposed development in the Transylvanian town of Rosia Montana. (Vadim Ghirda/AP)
4. This Rubber Duck.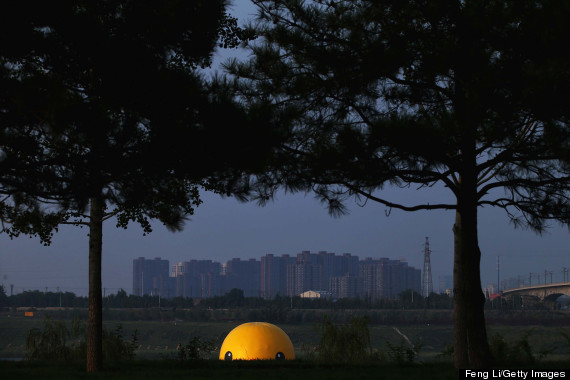 A 18 meters high rubber duck is seen at Beijing Garden Expo Park on September 6, 2013 in Beijing, China. After touring 13 cities in 10 countries, a giant rubber duck designed by Dutch artist Florentijn Hofman will float first at Beijing Garden Expo Park and then at the Summer Palace from September to October in Beijing. (Feng Li/Getty Images)
5. The first day of school in St. Petersburg. A pupil yawns as he takes part in a ceremony marking the start of classes at School No. 85 as part of the traditional opening of the school year known as "Day of Knowledge", in St.Petersburg, Russia, Monday, Sept. 2, 2013. (Dmitry Lovetsky/AP)
6. The International Military Orchestra Music Festival in Moscow. In this Tuesday, Sept. 3, 2013 photo, participants of the band of the Royal Netherlands Navy perform during the "Spasskaya Tower" International Military Orchestra Music Festival at the Red Square in Moscow, Russia. The festival started on Sunday, Sept. 1 in Moscow and would last until Sunday, Sept. 8. (Denis Tyrin/AP)
7. This man and his dog cycling in Berlin. In this picture made available Wednesday, Sept. 4, 2013, a man, name not given, rides his bike with his dog Django, in a basket through Berlin, Germany, Tuesday, Sept. 3, 2013. (Markus Schreiber/AP)
8. This photo of the grounds of an International Olympic Committee meeting. A police drives past in a three-wheeled Segway-like scooter in front of the hotel where the International Olympic Committee (IOC) Executive Board meeting in Buenos Aires, Argentina, Wednesday, Sept. 4, 2013. During the Sept. 4-10 meeting, members will elect the host city for the Summer Olympics Games of 2020. (Natacha Pisarenko/AP)
9. This harrowing shot of militia in Palestine. A Palestinian masked member of the 'Ezz Al-Din Al Qassam' militia, the military wing of Hamas, holds his weapon during a march along the streets of Gaza City, Wednesday, Sept. 4, 2013. Arabic read on a headband "No God but Allah and Mohammed is his prophet, Ezz Al-Din Al Qassam brigade". (Adel Hana/AP)
10. This baseball game in Milwaukee. Milwaukee Brewers' Jonathan Lucroy watches a foul ball during the eighth inning of a baseball game against the Los Angeles Angels, Sunday, Sept. 1, 2013, in Milwaukee. (Morry Gash/AP)
11. These women demanding the cancellation of the Miss World pageant in West Java. Muslim women chant slogans during a protest demanding the cancellation of the Miss World pageant that will be held in Bali and Sentul, West Java later this month, in Jakarta, Indonesia, Thursday, Sept. 5, 2013. Hundreds of Muslims staged the rally saying that such a competition violates Islamic teachings. (Dita Alangkara/AP)
12. These Catholic clerics in Romania. Catholic clerics wearing scarves depicting Monsignor Vladimir Ghika attend his beatification religious service in Bucharest, Romania, Saturday, Aug. 31, 2013. Thousands gathered for the beatification of a Romanian prince who died after being tortured in a Communist prison. (Grigore Popescu/Agerpres/AP)
13. This man swimming with sharks in Singapore. Nick Vujicic, right, is accompanied by a life guard as he treads water in an acrylic enclosure keeping safe while diving among sharks, Thursday, Sept. 5, 2013 in Singapore. Vujicic is a Serbian Australian evangelist and motivational speaker born with tetra-amelia syndrome, a rare disorder characterized by the absence of all four limbs. (Wong Maye-E/AP)
14. This architectural view in England.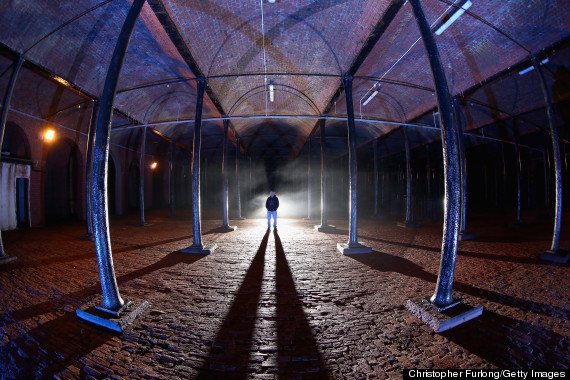 Joey Ellison, Chairman of Dingle 2000, the trustee organization for the Toxteth Reservoir, poses inside Toxteth Reservoir on September 2, 2013 in Liverpool, England. The interior of the magnificent example of Victorian architecture and engineering will be open to the public for Heritage Open Month. (Christopher Furlong/Getty Images)
15. Racing cars in Baltimore. Helio Castroneves, of Brazil, drives under a canopy of leaves during the IndyCar Grand Prix of Baltimore auto race on Sunday, Sept. 1, 2013, in Baltimore. (Patrick Semansky/AP)
Let us know your favorite photos in the comments section and check back next week to see new images.
PHOTO GALLERY
Moving Image 2013: The Year's Best Photos
REAL LIFE. REAL NEWS. REAL VOICES.
Help us tell more of the stories that matter from voices that too often remain unheard.