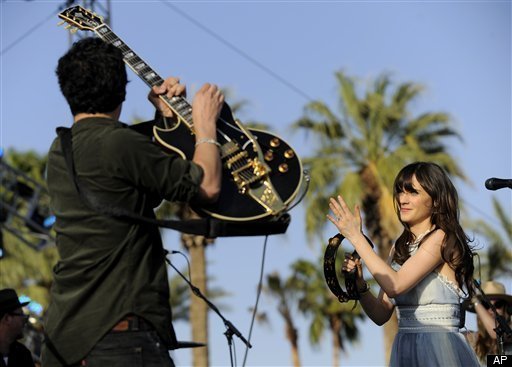 Huffington Post continues its local coverage with the help of our Citizen Journalism Unit. To join the local reporting team and receive advance assignments, click here
WhoMadeWho with Blackbells
Danish trio, WhoMadeWho, are paving their own musical path, finding room for woodwinds in their disco-punk, space-age synths within their pop-sensibilities. With a sound unlike the rest, their show is likely to stand out as well.

Who: WhoMadeWho with Blackbells
When: Monday, June 28, 7pm
Wanted: Writer, Photographer
Where: Mercury Lounge
217 East Houston Street
New York, NY‎
(212) 260-4700‎
www.mercuryloungenyc.com
We Were Promised Jetpacks and Bear Hands
Scotland's We Were Promised Jetpacks' emotion-infused, anthemic indie-rock is the perfect exhale to Bear Hands' sunnier, punkier sound.

Toro y Moi
Call it chillwave, call it glo-wave, call it summer 2010.

Who: Toro y Moi
When: Thursday, July 1, 9pm
Wanted: Writer, Photographer
Where: Glasslands
289 Kent Avenue
Brooklyn, NY 11211
(718) 599-1450
glasslands.blogspot.com


ZOOM: ZviDance and Son Lux with Lottdance
Choreographer Zvi Gotheiner uses dance, photographs and text conversations with his audience to create an interactive event.
Yellowfever and Woven Bones
Two Austin, TX bands kick off the Southstreet Seaport summer concert series: Yellowfever with their haunted girl-pop and Woven Bones with their dark and fuzzy garage rock.

Who: Yellowfever and Woven Bones
When: Friday, July 2, 6pm
Wanted: Writer, Photographer
Where: Southstreet Seaport
South St & Fulton Street
New York, NY 10038
www.seaportmusicfestival.com
The Fab 5 and Uzalo
Known as "Jamaica's #1 Showband," the Fab 5 celebrate over 4 decades of reggae by joining up with Junior "Gabu" Wedderburn and his new project, Uzalo.
P.S. 1 Warm Up Series with Delorean, Janka Nabay and the Bubu Gang, Glasser, John Talabot and Korallreven
P.S.1's famous art center starts up the first of its summer-long Saturday afternoon DJ, art and architecture party.
Portugal. The Man and Alberta Cross
Portugal. The Man take to Governor's Island with their intellect-laced, guitar driven, conceptualized classic rock.
She & Him
Zooey Deschanel and M. Ward's sweet as can be indie-pop proves that cross-overs and side projects don't have to come at half-rate.
Note:
The Huffington Post exclusively assigns stories and provides press passes to its Eyes&Ears reporters. If a reporter contacts a venue and request a press pass without explicit permission from the Huffington Post, we reserve the right to ban said reporter from being part of our New York Local team.
Popular in the Community