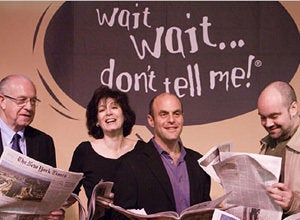 Keep this in mind, you news junkies: You will not learn useful knowledge about the week's news just because you listen to Wait, Wait... Don't Tell Me, nor will you even if you win a pink flamingo on that other public radio news quiz program, Whad'Ya Know?
Then again, you're unlikely to learn much about the news if you watch a lot of cable news, either. What you will find out is the (usually manufactured) outrage of the day. You'll also learn that you should be scared to death about the people on the opposite side of the political divide, every one of which -- if you take the cable shoutfests at face value -- is slightly less evil than Lord Voldemort and several French fries short of a Happy Meal.
So what's a well-informed person to do? It reminds me of the saying, "Everyone complains about the weather, but no one does anything about it." Similarly, everyone complains about shouting heads on cable TV and the sorry state of our political discourse, but few people seem to realize that we can do something about it.
It's a problem we're addressing with a new series of live programs at The Commonwealth Club called Week to Week. I wanted to let people come together who are interested in current affairs so they can discuss them and hear experts give information and their opinions, and do it in a fun and civil way. And I'm pleased to report that so far, the audience has understood what we're doing.
We've had panelists across the political spectrum, and one of them -- the San Francisco Chronicle's conservative columnist Debra J. Saunders -- often makes liberals fume. But immediately following the first program, in which Saunders sat on our panel (and memorably compared the Republican presidential race to a man being gutted by a Jurassic Park dino), I was approached by a woman who said, "I really expected to hate Debra Saunders, because I can't stand her column, but she was great."
Yes, she was. She was smart, funny, self-deprecating, and nothing at all like Voldemort, even if her opinions were not my own.
I've also thrown in a news quiz at the end of Week to Week, because I really do love Wait, Wait... and I even served as an assistant to the assistant producer on Whad'Ya Know when I was attending the University of Wisconsin. (Yes, we really gave away pink flamingoes so often they became the show's symbol, along with prizes such as condom-mints -- boxes of condom-shaped chocolate mints.) But both of those programs are about as educational as a game of Trivial Pursuit, in which you might well learn something, but it's rarely useful knowledge.
What those two shows do accomplish, however, is offering a fun environment for people who do know the topics and personalities being riffed on by the programs' hosts and panelists. They are magnets for news junkies, including me.
So I'm creating another magnet right here in San Francisco, where people -- young and old, conservative and moderate and liberal, straight and gay, religious or not -- who share an interest in the important topics of the day can gather for an hour and feast. (Actually, we sell box lunches, so you can literally feast, if by "feast" we mean a premade sandwich and chips. Or bring your own.)
Our panelists discuss everything from the GOP presidential primaries to the Occupy movement to Rush Limbaugh's apology-inducing behavior. Audience members can suggest their own topics for us to cover by emailing me with the subject: Week to Week topic suggestion. And if news quizzes are the big selling point for you, we end each program with a short quiz.
If that magnet attracts you, come join us on this Friday and semimonthly on future Fridays. We'll never run out of topics to cover, and you've got to eat your Friday lunch somewhere.

REAL LIFE. REAL NEWS. REAL VOICES.
Help us tell more of the stories that matter from voices that too often remain unheard.