From early spring to late fall, weekends are often filled with vows, cake cuttings, and hours of dancing. Historically, Saturdays have been the most popular day for couples to tie the knot, with Sundays following behind as a close second.
However, it appears as if the era of weekday weddings is upon us as couples are taking advantage of the benefits of celebrating midweek nuptials. In fact, Thursday nights have grown increasingly popular for to-be-weds to host their Big Day and with good reason.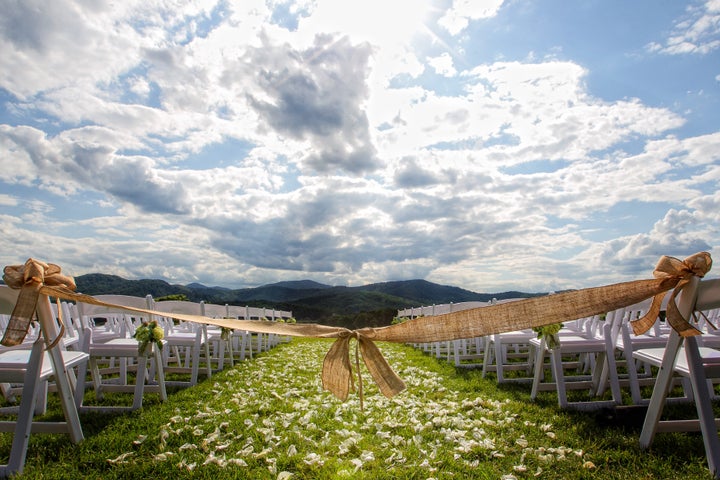 Weekday weddings yield a number of pros, with cost savings being at the top of the list for most engaged couples. "Weekday weddings are a great budget-friendly option and can be a great fit for a more intimate guest list," shares Alex Chalk of Taylor'd Events Group. "Although some guests may decide it's too difficult to join, your closest family and friends will make it happen and that's what matters," says Chalk.
In addition to major savings, choosing a weekday may be the difference in booking a highly coveted vendor who is already booked every weekend for the year. "Many weekday weddings can be done for less because it isn't considered 'prime real estate' in a booking calendar," tells Amy Kolodziej of Sunshower Photography. "You can have that upscale intimate affair you're looking for with the vendors that you want, but possibly with savings on venue and vendor costs."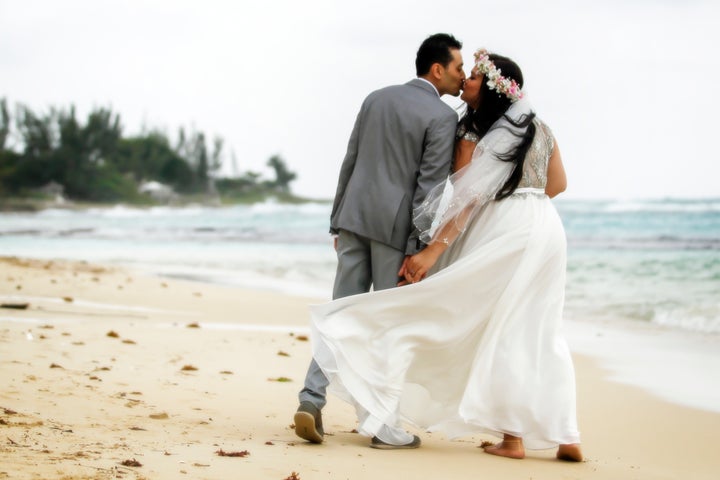 Who is a weekday wedding for?
Of course, there are always those who prefer the traditional weekend celebration. However, for some, a weekday may be just what they were looking for. "They're a great idea particularly for destination and more intimate events," explains Emily Sullivan of NOLA Weekday Weddings. "Many times, guests use events as an excuse for a mini vacation and love the idea of staying for a few extra days so the time of week isn't always a deal breaker. Weekday weddings are for couples that are flexible and a little untraditional, but still want to have an amazing event."
At the same time, it's also great for those who work in industries that are heavily used on weekends – like the wedding industry! "Weekday weddings also work great for couples that are in retail, hospitality, first responders or other professions that often work on weekends and have friends who work weekends as well," says Heather Jones of Wente Vineyards.
Destination weddings are often a popular choice for midweek celebrations, as most guests are already taking off several days for travel. "In the destination wedding market, weekday weddings are fairly common," shares James Berglie of Be Photography. "Venues offer cheaper rates or better incentives for booking during the week and, since you and your guests are on vacation in paradise, it doesn't really matter what day of the week it is – every night is a Saturday night!"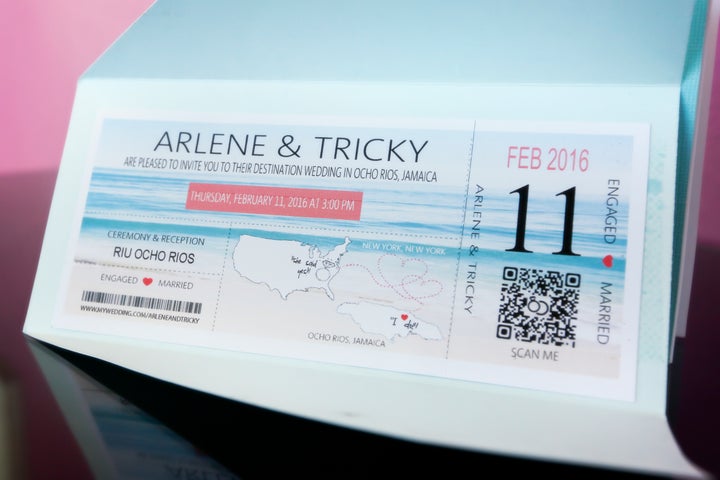 Best practices for weekday weddings
Weekday weddings often take time for guests to plan for, as they may have to take time off of work or arrange for childcare. With that in mind, "be sure to tell your guests the date well in advance," stresses Andrea Chinea Grier of Weddings Unique. "This goes for everyone, but especially those that you couldn't imagine your day without."
This is something you should be doing either way, but it's especially important with a weekday wedding! "Triple check your date on agreements with vendors," encourages Grier. "So many vendors are used to weekend weddings, so it's always best to confirm that it's the right date!"
Summer typically boasts longer days, which means more time to celebrate! "When the sun doesn't set until close to 9 PM, you can push that ceremony back and guests can still reasonably attend even after work," explains Kolodziej. "The winter months are difficult and you'd be asking even local guests to skip out on work!"
If you want to enjoy your loved ones for as long as possible, it's best to schedule your wedding accordingly. "Move your ceremony to an earlier time or be comfortable with a little bit shorter reception timeline," says Don Mears of Don Mears Photography. "It's better to have two awesome hours with your friends and family on the dance floor than leaving your reception to your three best drinkers waving lonely sparklers erratically as you exit the party!"
Host a weekend get-together
Chances are that not everyone will be able to attend your weekday wedding, but there's no reason not to host another event for everyone to come out and celebrate. "Planning a weekend event—happy hour, a round of golf, brunch—allows anyone who can't make it to still share in your nuptials," shares Chalk.
So, are weekday weddings worth it? Absolutely – but only if it's what you want! Your wedding day belongs to you, so don't be afraid to plan it however you want to.
Amanda Zack is a proud millennial and wedding PR specialist with OFD Consulting, based in Richmond, VA. She also serves as a Public Relations adjunct professor at her alma mater, Virginia Commonwealth University. Inspired by the power of words, she is an avid storyteller with a love for animals, weddings, and anything else that elicits a smile.
Related
Popular in the Community