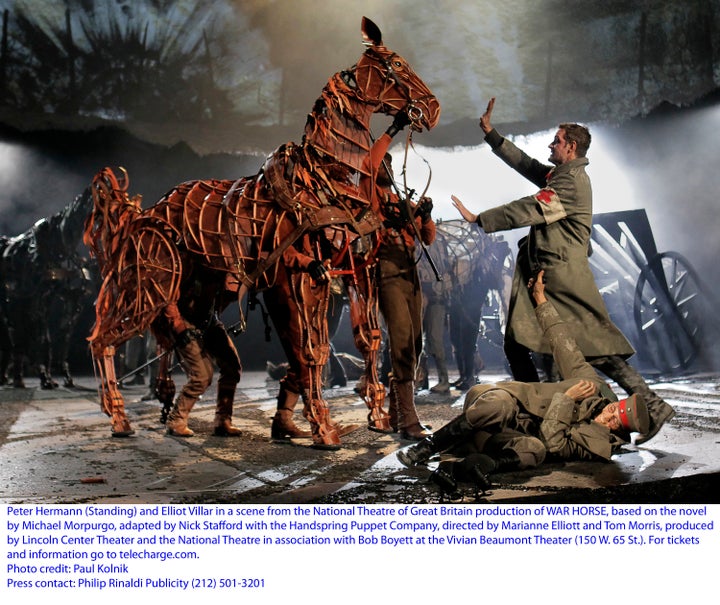 You can either hide in your air-conditoned hole all weekend, or you can grab the world by its sweaty...horns. We suggest the latter. Be you a geek, poet, foodie, or party monster, we've got a little bit of everything to distract you from that pile of ice cream sandwiches in your freezer.
World Science Festival WHAT: Get your geek on "like whoa." A bunch of sexy-nerdy talks by leaders in their fields talking about really cool $%*@. (Act fast--talks are selling out quick) WHY: 'Cause the weather's too nice to stay inside and watch TED talks all day. Who knows, you might meet a humanoid for a romantic juncture at the festival's street fair. WHEN: A bunch of different stuff, all weekend. (Festival Schedule) WHERE: All around town. See schedule linked above.
War Horse @ The Lincoln Center WHAT: Puppeteers bring giant wicker puppets of horses to astonishing life, in a war tale about a boy and his horse. WHY: It's like a giant bucket of chills and sobs waiting to be poured down your neck. WHEN: Friday, 8PM; Saturday 2PM & 8PM; Sunday, 3 PM. (tickets) WHERE: Vivian Beaumont Theatre at Lincoln Center; 150 W 65th St.; 212-362-7600.
Howl Festival WHAT: A homage to Ginsberg, his poem HOWL! and the bohemian-artist inhabitants of the East Village. Tons of free, grunge-arty-alternative events, kicking off with a group reading of HOWL! in Tompkins Sq. Park WHY: You had me at the event title: "HOT HOWL! DISCO (A Poppin' Tea Dance!)" WHEN: Happenings all weekend. Check out the schedule WHERE: Around the East Village.
L'Amour Fou @ IFC Film Center WHAT: A fascinating look at Yves Saint Laurent, his relationship with his longtime lover, Pierre Bergé, and the sale of their priceless art collection after YSL's death. WHY: The Alexander McQueen exhibit is too crowded anyways. WHEN: Showings throughout the weekend (schedule and tickets) WHERE: IFC Film Center, 323 6th Ave.; 212-924-7771
Sherry class at Brooklyn Kitchen WHAT: A sweet and boozy tour of the world of Sherry. What's what, and how to pair it. WHY: 1) to be fancy 2) to be tipsy 3) to be fancy-tipsy (plus everyone should discover Brooklyn Kitchen) WHEN: Saturday, 2 PM (tickets here) WHERE: Brooklyn Kitchen, 100 Frost St., BK; 718-389-2982
Not Your Standard Bingo WHAT: Youth-filled, risquee Bingo at the swanky Standard Grill WHY: So you can pretend you're your grandmother, act sexy, drink, and scream about balls all at the same time. WHEN: Sunday, 10PM-2AM (a good idea to call 212-645-4100 to make reservations) WHERE: The Standard Grill, 848 Washington St. @ 13 St.
REAL LIFE. REAL NEWS. REAL VOICES.
Help us tell more of the stories that matter from voices that too often remain unheard.