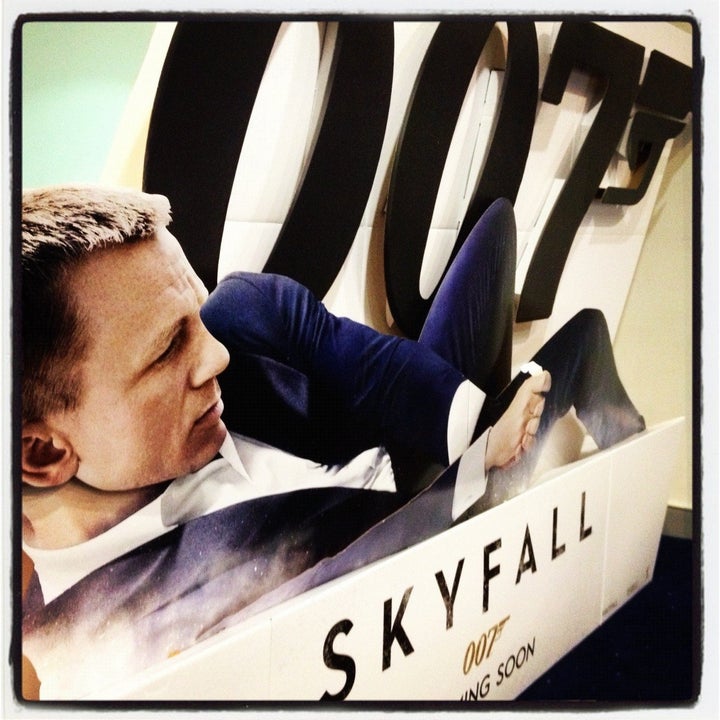 The
Twilight Saga
 ended as it began, kicking James Bond's ass to the curb with a massive opening weekend.  The fifth and final
Twilight
 film debuted with $141 million over
the weekend
.  That's a touch higher than the $138 million debut of
Breaking Dawn part 1 
and just under the $142 million opening of
New Moon
 over this weekend in 2011 and 2009 respectively, but we're still talking the kind of consistency that the
Saw
franchise would envy.  There are just ten films that have opened above $135 million and three of them are
Twilight
 films.  
Twilight 
2, 4, and 5 now holds the 7th, 9th, and 8th biggest opening weekend respectively. Yes it was possible that
Breaking Dawn part 2
(
review
/
essay
) would get a sort of series finale-bump over opening weekend, but in retrospect it was not entirely realistic.  This series frankly only plays to the fans at this point, with even casual fans coming out on opening weekend.  This isn't a series like
Harry Potter, 
where fans who maybe missed an entry or two along the way and/or saw the prior films in theaters later in their respective runs rushed out to catch the finale on opening weekend.  If you wanted to see the newest
Twilight
, you were probably a hardened fan who absolutely ventured out on opening weekend every time.  So yeah, this isn't a series that gained new fans after the second installment so there wasn't much room for growth even for this caper (it played 79 percent female and 50 percent over 25 years old).  There also isn't much to discuss in terms of domestic totals.  The series has infamously short legs, and so it's probable that the picture did 50 percent of its business already.  So let's presume a $285-295 million domestic total.  Worldwide, the film has already grossed $340 million globally putting it on track to equal the over/under $700 million totals of the last three pictures.  
The other big box office story of the weekend was the unexpectedly successful expansion of Steven Spielberg's Lincoln (review).  After earning $944,000 on eleven screens last weekend, Disney expanded to 1,775 theaters and saw a rock-solid $21 million weekend.  Inflation aside, this is easily the biggest opening weekend for one of Steven Spielberg's 'serious' films outside of the $30 million debut of Saving Private Ryan back in 1998.  Where it goes from here is dependent on the next couple weekends and its award season successes.  But, with the exception of Ang Lee's Life of Pi opening next weekend, there frankly isn't any more hardcore Oscar bait going wide for the next month.  The Silver Linings Playbook is only opening on under 500 screens next weekend and Killing Them Softly is barely being acknowledged (spoiler - it's quite good and I'll post my review on the Monday before its 11/30/12 release).  After that its clean sailing until Les Miserables and Django Unchained, which are stupidly opening against each other on Christmas Day.  Even Zero Dark Thirty saw the coming storm and moved its wide release into January (it'll open limited in late December).  Point being, especially if Lincoln becomes the consensus choice among Thanksgiving families, Spielberg's $65 million epic has a real shot at $100 million.  It will certainly out-gross Abraham Lincoln: Vampire Hunter, which stalled out at $37 million domestic but earned $114 million worldwide.
There were two major limited releases this weekend and both of them did solid-if-unexceptional business.  David O. Russell's 
The Silver Linings Playbook
, which is being touted as a major Oscar contender in certain fronts, debuted on sixteen screens and earned $458,000 for a fine $28,652 per-screen average.  The Bradley Cooper/Jennifer Lawrence/Robert De Niro romantic dramedy was supposed to expand wide next weekend but instead will open on just 420 screens, which is frankly very odd for what is allegedly a mainstream crowd pleaser (if you're going to flee Thanksgiving, just release it wide on December 7th with only Gerald Butler's
as competition).  Joe Wright's 
 is also gunning for Oscar and it too debuted on sixteen screens.  The Keira Knightley period romance earned $315,395 for a solid $19,712 per-screen debut.  It theoretically expands over December but I don't have a concrete schedule for that one.  The other major new release was the successful limited launch for
, a Bollywood film that earned $1.2 million on 116 screens for a strong $7,400 per-screen debut.  It was the final film of Yash Chopra
considered among the pioneers of what we today call Bollywood, who died just a couple weeks ago.
's unexpected strength was bad news for
(
1/
/
/
), which didn't have quite the legs most were expecting after its colossal opening weekend.  The film dropped 52 percent for a $41.5 million second weekend, which of course is a larger weekend than all but three prior 007 films' respective opening weekends.  The film's 10-day total is now $161 million, meaning it will still be the biggest-grossing 007 domestically in the next few days, give or take.  It's basically tied with the $160.1 million-grossing 
and is days away from the $167/$168 million grosses of
and
. It's at $669 million worldwide, making it already the biggest-grossing 007 film ever worldwide.  The only question now is whether it makes it to $850 million or $900 million and beyond.  Either way, next weekend will see it become the first James Bond film to clear $200 million in the states and everything after that is pretty much gravy.  $240 million still seems like the likely final figure, making it just barely leggier than
.
In other good news for adult films, Flight (review) continued to whether intense adult competition, earning another $8.6 million for a $61 million cume.  Wreck It Ralph (review/essay) dropped a somewhat large 44 percent in weekend three, but still pulled in $18.3 million for a cume of $121 million.  It's already out-grossed The Princess and the Frog ($104 million) and Bolt ($114 million) with Chicken Little's $135 million total next in its sights.  If it doesn't get whacked by Rise of the Guardians next weekend (a sadly inferior picture, review later this week), it may make it to $175 million.  But $160 million is no defeat, especially with untold worldwide riches and merchandising yet to come ($35 million overseas thus far).  Pitch Perfect crossed $60 million this weekend while Here Comes the Boom crossed $40 million and Paranormal Activity 4 now has $53 million. Taken 2 (review) just will not die as it nears $135 million domestic while Man With the Iron Fist is closing out with $14 million. Argo (review) is basically tied with The Town with $92.1 million, although final figures could it put over on Sunday rather than Monday.  Looper has crossed $65 million while Hotel Transylvania has $283 million worldwide.
That's it for this weekend.  Join us over the long Thanksgiving day holiday where we get the wide debuts of Rise of the Guardians, Life of Pi, and Red Dawn, the limited release opening of Hitchcock, along with the aforementioned expansion of The Silver Linings Playbook.
Calling all HuffPost superfans!
Sign up for membership to become a founding member and help shape HuffPost's next chapter