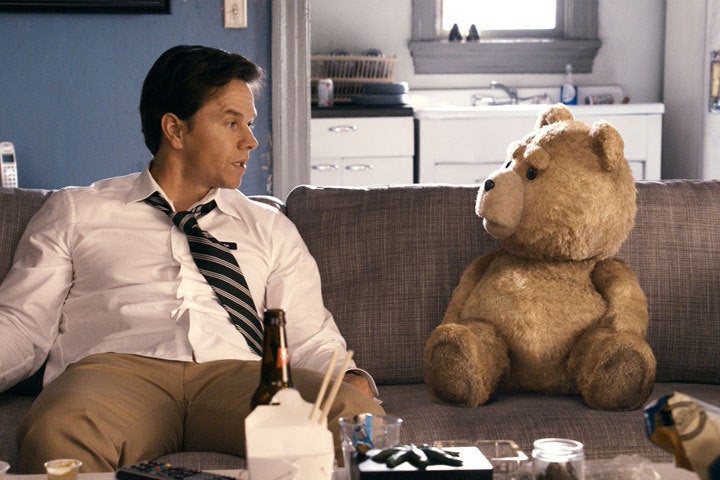 This weekend
represented a shining example of the two best trends in mainstream moviegoing this year.  As I wrote (
here
and
here
), we've seen a real upswing in both mid-to-low-budget mainstream fare that aren't especially 'tentpole-ish' as well as a huge upswing in the number of R-rated films being released by the major studios.  As such, two of the four wide releases this weekend were both R-rated and all four were relatively small-scale and in 2D.  That they mostly debuted to blockbuster numbers is an encouraging sign that not every movie need be a $150 million fantasy genre franchise entry.  The top film of the weekend is also the best mainstream picture of the summer, as Seth MacFarlane's
Ted
 (
review
) debuted to a massive $54 million.  That's the third-best debut for an R-rated comedy behind the $57 million opening of
Sex and the City
and the $87 million Fri-Sun debut of
The Hangover part II
.  Among non-sequel/spin-off R-rated comedies, it topped the $44 million record debut of
The Hangover
and is among the top-ten best R-rated debuts of all-time. This is a massive win for all involved, bringing 
Family Guy
creator Seth MacFarlane serious film-making clout, further confirming that Mark Wahlberg is an actual 'put butts in the seats' movie star and giving Universal something to laugh about. Speaking of Wahlberg, this is his second biggest opening behind the $68 million debut of
Planet of the Apes
back in 2001, and it needs only cross $133 million to supplant
The Departed
as his third-highest grossing film (
Planet of the Apes
and
The Perfect Storm
earned $180 million and $182 million respectively)
It's no secret that Universal has tried to play the mega-tentpole game this year, spending $210 million on Battleship (total worldwide cume: $300 million) while spending $175 million on Snow White and the Huntsman (which may make it to $400 million yet) with the possibly disastrous $175-million 47 Ronin waiting for next February (at that price, the Keanu Reeves action film will *have to* perform like a Matrix sequel).  But Universal has always shined brightest when producing smaller-scale and/or old-school star vehicles, especially high-concept comedies along the lines of American Pie and Meet the Parents (yes, I know Meet the Parents is a remake of a French film, but you didn't see it either).  It is comforting that they are still releasing movies like Ted (which made back its $50 million budget in three days) and Safe House ($202 million worldwide off a $85 million budget) plus the upcoming Savages, This Is Forty, and Les Miserables.  The studio took a bath over the last few years as it went against the 'all tentpoles all the time' current while overspending on non-sure things like State of Play, The Wolfman, and Dream House while wildly overspending on would-be franchise pictures such as Land of the Lost, Scott Pilgrim Vs. the World, and Cowboys Vs. Aliens.  Occasional forays into franchises aside (Jurassic Park, The Mummy, The Fast and the Furious, The Bourne Identity), Universal has always been strongest when concentrating on old-school movies (think Bridesmaids, The Adjustment Bureau, and American Gangster) and leaving the mega-tentpoles to Warner Bros. or Paramount.  Anyway, back to Ted, it played 56 percent male and 52 percent 30 years old and over, with an A- from Cinemascore.  It's a terrific comedy, a new classic I would argue, so I'm quite happy for its somewhat unexpected mega-success.
The next opener was an equally unexpected blockbuster, as Steven Soderbergh's male-stripper drama Magic Mike opened with $39 million, Soderbergh's biggest opening weekend ever.  The Channing Tatum vehicle, his third major smash in 2012 (after The Vow and 21 Jump Street) proves that he too is a genuine box office draw.  The film played heavily female, with front-loading on par with the first Sex and the City film.  It opened with $19 million on Friday but dropped -41 percent on Saturday, suggesting that the film may be a one-weekend wonder (it had a frankly awful 2.1x weekend multiplier).  But since Warner Bros. film cost just $7 million to produce (and around $20 million to market), who cares?  This is going to be another mainstream smash for Steven Soderbergh and the only question is whether it can sustain enough legs to surpass the $75 million gross of Contagion and/or pass the $100 million mark.  Ironically, since there is such a divide between Soderbergh's seventh-highest grossing film (Out of Sight with $37 million) and his sixth-biggest grosser (Contagion), Magic Mike may well end the weekend (or depending on final weekend figures, its fourth day) and its domestic run in the number six slot just past Out of Sight.  Anyway, it's always encouraging when such an anti-blockbuster does big numbers (it's one of the reasons I have defended the Twilight Saga), so this is a win for all parties and arguably a win for all moviegoers in the long run.
Tyler Perry's Madea's Witness Protection was no slouch either, earning a scorching $26.4 million, giving Mr. Perry his fourth-biggest debut yet, behind Why Did I Get Married Too? ($29 million), Madea's Family Reunion ($30 million), and Madea Goes To Jail ($41 million).  The only longterm question is whether it will end up closer to $50 million or $60 million and above.  It's no secret that Perry isn't terribly fond of the Madea character, finding her costume and make-up uncomfortable and being somewhat unnerved by how she is perceived by fans and foes alike.  But Madea is clearly Tyler Perry's flagship character, as efforts to break out of the mold, with the exception of the Why Did I Get Married? series, have resulted in his lowest-grossing efforts.  Daddy's Little Girls ($31 million), Good Deeds ($35 million), The Family That Preys and For Colored Girls ($37 million each respectively) may be among Perry's better films, but they are all his lowest grossing films, followed by the $41 million-earning Meet the Browns (where Madea had a heavily-touted cameo) and the awfully good I Can Do Bad All By Myself (earning $51 million, it's easily the best film featuring Madea).  Like Adam Sandler prior to last year, Tyler Perry's films generally perform better the worse they are, while fans seemingly sniff out quality and stay away.  Still, Perry is a multi-millionaire and one of the most impressive success stories of the new millennium, so hopefully Alex Cross (which frankly looks terrible) will help him finally put Madea to rest and move on to different projects.
The last new release was the lone turkey of the group, as Disney/Dreamworks' People Like Us struggled to earn $4.3 million.  The directorial debut of writer Alex Kurtzman (The Island, The Legend of Zorro, Mission: Impossible III, Transformers, Transformers: Revenge of the Fallen, Star Trek, Cowboys & Aliens) was touted as an old-school character-driven drama but the R-rated talking bear comedy and the R-rated male stripper dramedy got better reviews.  Chris Pine, Elizabeth Banks, and Olivia Wilde may be media-friendly stars, but they surely are not 'box office' at this point.  Still, the film cost just $16 million and it's the kind of title that will be a casual rental on DVD and will play forever in cable syndication.  The two big limited release debuts are also two of the best films of 2012.  Magnolia released Sarah Polley's Take This Waltz on an uncommonly large 31 screens, and the film earned $150,000, which is pretty solid for a film that's been on Video On Demand for the last month.  More impressive was the four-screen debut of Fox Searchlight's The Beasts of the Southern Wild (review). The flat-out fantastic character drama/mythical journey earned around $42,309 on each of those four screens.  Fox Searchlight is quickly expanding this one over the long holiday as it absolutely deserves your time and your money.  Quite frankly, whether you end up liking it or not, anyone who doesn't make an effort to check it out over the next month loses all rights to complain about the kinds of movies being made today.  In international debuts, The Amazing Spider-Man (review) grossed $50 million in 13 territories while Ice Age: Continental Drift earned a whopping $78 million in its international debut (34 markets).
For holdover information, including the wide expansion of one of 2012's best films, go to Mendelson's Memos.
Calling all HuffPost superfans!
Sign up for membership to become a founding member and help shape HuffPost's next chapter