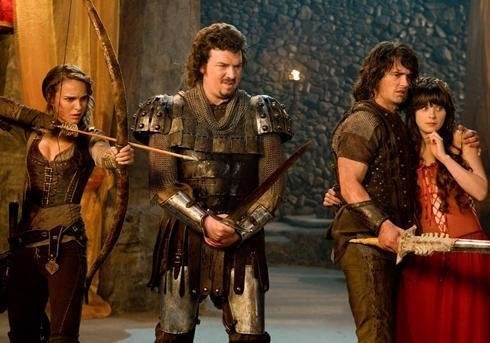 For the second weekend in a row, Universal's Hop was the number one film of the weekend. The Easter Bunny animated epic dropped 42% in its second weekend, grossing $21.6 million. That's a bit heavy for an animated film, but the lack of school for many kids has meant decent midweek showings, draining the 'must see on the weekend' factor. Regardless, the $63 million-budgeted film has already grossed $68 million in the first ten days. If it can fend off Rio next weekend (which is basically being sold by Fox as 'Angry Birds: the Movie'), it positions itself for a strong fourth weekend, which is of course Easter itself. Frankly, it will be fun to watch, as agnostic, atheist, and/or not-Christian families will check out Hop over that holiday weekend, while the more overtly Christian families will opt for Tyler Perry's Madea's Big Happy Family. This is another big win for Illumination and a solid hit for Universal. $100 million seems guaranteed and beyond that is mainly a matter of demo competition (a bunch of kid-friendly films over the next month) and whether it can keep screens as summer starts. As for those who read last week's roundup, I did see the film that Sunday, and it's relatively mediocre but utterly harmless. My three-year old enjoyed it, which counts for something, and it does make an effort to go in a different direction than many other talking-animal films (too bad it literally gives away the ending in the first scene of the film... WHY???).
There were four new releases this weekend and frankly none of them did all that well. Oddly enough, all four releases were at-least partially female-driven, which likely means that they should have been spread out a little. Instead they all hurt each other. The top of the new releases was Warner Bros' Arthur remake. The Russell Brand romantic comedy pitched hard to the older crowd that remembered and/or cared about the 1981 Dudley Moore original. But the film grossed just $12.6 million, which is brutal for a romantic comedy that somehow cost $85 million (as rival studios claimed), unless it only cost $40 million (as Warner Bros claims), which makes it a mediocre debut but not a disaster. Russell Brand may be funny and a genuine asset, but he's not an 'open the film' movie star yet. Jennifer Garner has a supporting role, and the initial marketing tried to convince audiences that she was the main female lead/love interest, but eventually they had to fess up that the real lead was little-known Greta Gerwig (they even kept Gerwig off the first poster). The film scored a 'B' from Cinemascore, so legs are not likely. The film had a tough time selling the idea of a childish and spoiled billionaire in a time of severe economic suffering, but maybe it's a simple case of the world just not needing a new version of Arthur.
The next big opener was Joe Wright's action thriller Hanna (trailer/review). The Focus Features picture cost just $30 million, so its $12.3 million opening qualifies as an okay debut. The film scored a 'C+' from Cinemascore, which makes sense since the film is not quite as action-packed as the marketing suggests (it's also a clear case of an arsty action picture being wildly overrated by critics on account of its arthouse pretensions). Anyway, my misgivings about the picture, it's just the kind of mid-budget, adult-skewing genre film that I always whine about. In fact, while other pundits complain about the overall drop in box office from this period last year (when we had mega-hits like Avatar, Alice in Wonderland, and How to Train Your Dragon), I will instead celebrate the Winter/Spring season as a strong one for mid-budget genre pictures that didn't quite open huge but didn't plummet to earth on weekend two either. Hanna and Source Code (review), which dropped just 38% in weekend two for a $28 million ten-day cum, and entries like The Lincoln Lawyer (review) and Limitless (which sit at $46 million and $64 million respectively) show a strong appatite for adult-driven movies, as long as they are budgeted accordingly.
The next big opener was the somewhat surprising success of Soul Surfer, a low-on-the-radar 'inspiration true story' that Sony sold hard to Christian audiences (which makes sense, since the lead character's faith is a major component of the story). The 'young female surfer gets her arm bitten off by a shark but becomes a champion anyway' tale grossed $11.1 million and received an 'A+' from Cinemascore, suggesting that this $15 million production is going to be a very leggy and very profitable little picture. Speaking of legs and cheap profitability, Insidious parlayed strong reviews and 'geez, it really IS scary!' word of mouth into an astonishingly small (for a horror film) drop of 26%. The $1 million pickup from newbie FilmDistrict has now grossed $27 million and could very well end up the most profitable film of the year. Of course, it's probably going to get horribly stabbed to death by Scream 4 next weekend, but it's already a genuine smash in regards to cost and expectations.
The last and least of the four new openers was Universal's Your Highness (review). The $50 million medieval comedy grossed just $9.5 million. Despite the presence of Oscar-winner Natalie Portman and Oscar-host James Franco, the film couldn't get past the somewhat hard sell. The film received a 'C+' from Cinemascore, which is frankly surprising as, quality issues aside it DOES deliver what the marketing promises. Alas, Universal will again get smacked for trying something different and original, and we wonder why they won't fund At the Mountains of Madness. Portman will be fine, as she has Thor coming next month and she spends more time in low-budget, artier projects than she does in the mainstream (I'd imagine that her last three commercial ventures, Thor included, were a vacation after the grueling Black Swan shoot). This does clarify a couple things: Seth Rogen is a genuine movie star, as he apparently gets the credit for director David Gordon Green's last film, The Pineapple Express (which also starred James Franco and grossed $87 million). And Ashton Kutcher probably deserves more credit for the $20 million opening weekend and $70 million domestic cum of No Strings Attached from a few months ago.
Not much holdover news this weekend. The Adjustment Bureau crossed the $60 million mark, while Battle: Los Angeles (review) crossed $80 million and Paul crossed $35 million. Diary of a Wimpy Kid 2 is at $45 million and looks to come within $5 million of the first film, so expect part III this time next year. Sucker Punch (review and review) continues to get hammered and has grossed just $33 million in seventeen days. And that wraps up this addition. Next weekend sees the domestic release of Fox's Rio, which already pulled in a massive $50 million this weekend in foreign markets. It squares off again Scream 4 (teaser and trailer), which I would have been seeing on Tuesday except the meanies at Dimension won't let me bring my wife to the press screening. Noble gentleman that I am, I shall wait until opening weekend (best I can offer is a series retrospective later this week). Just for kicks, let's pay close attention to the weekend-to-weekend drops for non R-rated movies next weekend. If Hanna and Source Code and Soul Surfer end up dropping 10% a piece, we'll know a lot of kids are buying tickets to something other than Scream 4, and then sneaking into Scream 4.

Calling all HuffPost superfans!
Sign up for membership to become a founding member and help shape HuffPost's next chapter