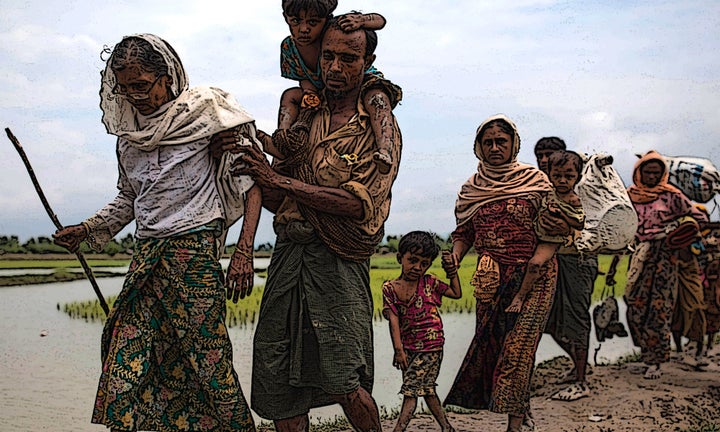 Ethnic cleansing. Genocide. Apartheid. Once again, these terrible words have leapt into the headlines. This time, the concern arises in Asia, where a brutal military crackdown in Myanmar's Rakhine state has forced some 400,000 Rohingya to flee to neighboring Bangladesh in less than a month. The latest spate of violence follows decades of exclusion and persecution of Rohingya Muslims in Buddhist-majority Myanmar.
"The horrors we're seeing in Rakhine," writes Farahnaz Ispahani, "are similar to those we witnessed in the 1990s during the slaughter of the Tutsi minority in Rwanda and the ethnic cleansing of Bosnia's Muslims and Croats." Yet another fledgling democracy, she fears, has yielded to the siren call of "communal majoritarianism." "Majorities," Ispahani pleads, "must not be allowed to attack minorities to create religiously or ethnically pure societies." She also calls for intervention by United Nations peacekeeping forces to stem the violence.
Aung San Suu Kyi, the Nobel peace laureate who is Myanmar's nominal leader, has been the focus of international outrage for failing to condemn and stop the assault on the Rohingya. But as Mark Farmaner explains, "under Myanmar's military-drafted constitution, Suu Kyi does not have control over the army. It is independent of her civilian-led government. The army controls the police, security services, prisons, border affairs and most of the civil service, and also appoints 25 percent of the members of parliament." The one person who can stop the violence, says Farmaner, is the commander-in-chief of the military, Senior General Min Aung Hlaing. "Because 75 percent of [members of parliament] need to vote in favor of a constitutional change," Farmaner further explains, "Min Aung Hlaing effectively has a veto. He leads a second government in Myanmar, one armed with guns."
Writing from Paris, Saskia Sassen notes that the current crisis in Rakhine state isn't "only about religion ― it's also about land." "The military may be supporting extremist Buddhist sects who are spurring the persecution of the Rohingya," she writes, because "invoking prejudice against the Muslim population and the 'criminality' of the Rohingya community may well suit military leaders' ultimate goal better than if they truthfully declared what they're really after ― the business of development."
Yet another troubling aspect of the Rohingya story, according to a recent U.N. survey released even before the current convulsion of refugees, is that "more than half of Rohingya Muslim girls who fled violence in western Myanmar [earlier] ended up becoming child brides." The so-called "bride market" that has capitalized on vulnerable young Rohingya girls flourishes elsewhere under various circumstances and in different forms.
Reporting from Kampong Cham, Cambodia, Cristina Maza tells the sad tale of three girls who end up forced into marriages while searching for a way to help their families. Lured by the promise of greater economic opportunity, they become pawns in a market of dozens of Cambodian women trafficked each year to China and sold as brides to Chinese men who cannot find a wife due to their country's gender imbalance. When they realize life in China is not what they signed up for, the Cambodians luckily make their escape ― but not without trauma. One woman finds out she is pregnant after fleeing. Another is held in a Chinese detention center for a year while she awaits repatriation. And the third, who was told she'd get a good job in China, didn't, and is now back home and unemployed, still "recalls sitting at a dinner table and watching her new husband pay the equivalent of $10,300 for her." The money, Maza reports, never made it back to the girls or their families.
Ilgin Yorulmaz reports from Van, in southeastern Turkey, where child marriage is particularly high, and economics and tradition help keep the practice alive. She follows the story of one woman who, years earlier, had been attacked in the middle of the night after she tried to escape from a forced marriage. Today, the woman, now divorced, has an ingenious way to stamp out child marriage ― by "hit[ting] business owners where they feel it the most: their pockets." She's targeting one wedding-related business at a time, from hairdressers and caterers to entertainers and florists, in an effort to appeal to their conscience and put a stop to the financing of underage marriage. It hasn't been easy ― weddings "are an especially big business" in Turkey, Yorulmaz explains ― and people in Van are stretched thin for cash as it is. But she's seen progress. During the latest wedding season, a local hair salon prominently displayed a sign that read: "In our premises, we do not offer hairdressing services to brides under 18."
Turning back to Myanmar, Alan Davis reminds us that civil society and democracy are often also threatened by unchecked social media. Hate speech and fake news ― widely disseminated by social media in Myanmar ― he explains, have inflamed passions that spurred this latest round of violence. In Europe and America, debates about how to regulate social media occur regularly. Italy's antitrust chief, Giovanni Pitruzzella, delineates the divergence between American and European concepts of free speech when it comes to social media. He rejects the long-held American notion that robust competition in the "marketplace of ideas" will sort it all out, that the good will somehow drive out the bad. But beyond this, he points out that the focus of the United States and European Union constitutions are substantively different.
"While the First Amendment mainly addresses the active dimension to the right to freely express one's own thoughts," Pitruzzella writes from Rome, "Article 10 of the European Convention on Human Rights and Article 11 of the European Union Charter of Fundamental Rights, emphasize the passive dimension to the right to be pluralistically informed. In this respect, it could be argued that fake news is not constitutionally covered by the European vision of free speech." This European view suggests governments there will have few qualms in regulating social media to limit fake news. In the U.S., where the First Amendment is absolute, the likely remedy will involve self-regulation by the big media platforms instead of the government. In both cases, the latest technology is taking us back to the reexamination of first principles.
Finally, in the wake of Hurricanes Irma and Harvey, Scott Knowles proposes a "National Hurricane Memorial And Museum" like other national memorials for soldiers and the casualties of terrorism to commemorate the victims and destruction of communities, linking them to human-induced climate change instead of only recalling them as "natural" disasters.
Other highlights in The WorldPost this week:
MISSION STATEMENT: The WorldPost is a global media platform published by the Berggruen Institute that aims to make sense of an interdependent yet fragmenting world. We publish news, features and first-person voices from all corners of the planet, looking around with a global perspective rather than looking out from a national viewpoint. Follow us on Facebook (and Twitter, Instagram, YouTube and LinkedIn).
EDITORIAL BOARD: Nicolas Berggruen, Nathan Gardels, Eric Schmidt, Pierre Omidyar, Arianna Huffington, Juan Luis Cebrian, Walter Isaacson, John Elkann, Wadah Khanfar, Yoichi Funabashi
CONTRIBUTING EDITORS: Moises Naim, Nayan Chanda, Katherine Keating, Sergio Munoz Bata, Parag Khanna, Seung-yoon Lee, Jared Cohen, Bruce Mau, Patrick Soon-Shiong
ADVISORY COUNCIL: Jacques Attali, Shaukat Aziz, Gordon Brown, Fernando Henrique Cardoso, Jack Dorsey, Mohamed El-Erian, Francis Fukuyama, Felipe Gonzalez, John Gray, Reid Hoffman, Fred Hu, Mo Ibrahim, Alexei Kudrin, Pascal Lamy, Kishore Mahbubani, Alain Minc, Dambisa Moyo, Laura Tyson, Elon Musk, Raghuram Rajan, Nouriel Roubini, Nicolas Sarkozy, Gerhard Schroeder, Peter Schwartz, Amartya Sen, Jeff Skoll, Michael Spence, Joe Stiglitz, Larry Summers, George Yeo, Fareed Zakaria, Ernesto Zedillo, Zheng Bijian, Marek Belka, Tony Blair, Jacques Delors, Niall Ferguson, Anthony Giddens, Otmar Issing, Mario Monti, Robert Mundell, Peter Sutherland, Guy Verhofstadt
Support HuffPost
The Stakes Have Never Been Higher
Related
Popular in the Community