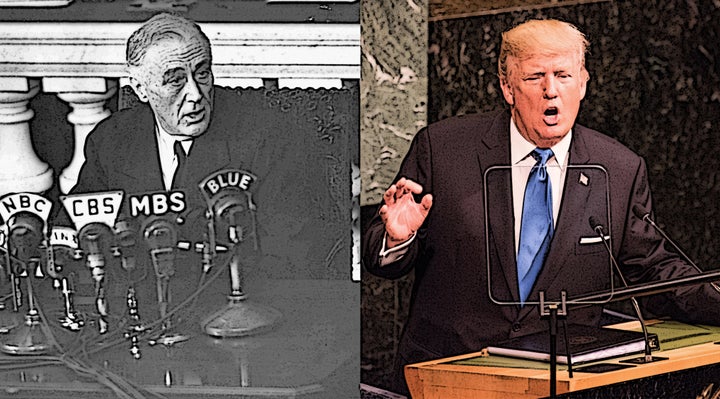 In 1942, when war was still raging across Europe and Asia, U.S. President Franklin D. Roosevelt was already envisioning a new body of global cooperation he hoped could avoid future world conflagrations. He understood from experience that divisive and exclusive politics let loose in the world were a threat to everyone ― including in America. FDR called that vision the "United Nations," which he and his advisers took the lead in designing before his death. With other postwar powers, the United States founded the organization on Oct. 24, 1945.
Even as the long postwar era of peace and stability still mostly endures, at the U.N. this week, U.S. President Donald Trump abandoned the spirit of FDR's vision for the very kind of small-minded nationalist mentality the great mid-20th-century statesman believed would inevitably ignite conflict and war. In doing so, Trump has also abandoned America's leadership role in fostering a partnership among nations at the very moment when the interdependence wrought by globalization most demands it.
To be sure, the U.N. is in many ways an outdated and ineffective institution. And Trump is not wrong, as he proclaimed in his speech, to discard the imperial impulse to shape the governing systems of other nations in the American mold. But until renovated institutions embodying the spirit of global cooperation are in place ― which the present American leadership displays no interest in building ― the perilous vacuum that opens will invite the darkest forces to set the agenda.
To the extent the ethos of cooperation is diminished, the prospect of conflict leading to violence and war is enhanced. Receding from the spirit of the postwar order brings the danger of prewar disorder ever closer.
One of the most dire consequences of this vacuum in world order in recent years has been the rise of the self-proclaimed Islamic State and the atrocities it has committed. In an exclusive commentary for The WorldPost, Amal Clooney lauds a United Nations Security Council resolution passed this week that will create an investigation into war crimes by ISIS against the Yazidis, a long-persecuted Kurdish-speaking ethno-religious minority community massacred by the extremist group in Iraq. Clooney, who is legal counsel to Yazidi victims of ISIS violence, hopes these perpetrators can be brought to justice before the courts. "Unless evidence is properly collected now, justice will forever remain out of reach. This is why the Security Council's intervention is so critical: not just for the Yazidis, but for all victims of ISIS' brutality."
Last week, The WorldPost looked at another case of growing global disorder, in Myanmar, where the Rohingya tragedy continues to unfold despite international outrage. This week, we focus on other disruptive undercurrents in Asia ― the disturbing rise of Islamist populism in Indonesia, which has long been one of the most tolerant Muslim-majority nations in the world.
"Unlike in the West, where the rise of populism is characterized by nationalism, anti-foreign and anti-Islam rhetoric," Umar Juoro writes from the Indonesian capital of Jakarta, "populism in Indonesia has taken on a very different form. Here, we see the rise of radical Islam, which endorses both anti-Chinese sentiment and economic nationalism."
Also writing from Jakarta, Rainer Heufers sees a parallel with the eruption of populism in the West. "What American right-wing populists and Indonesian Islamists have in common," he argues, "is their sense of deprivation, the feeling they are losing power and drifting into a marginalized existence." As in the West, he goes on, populism in Indonesia is as much about cultural as economic concerns. It "feeds on the fear of those who feel disenfranchised and who sense a loss of power to set and maintain norms and values in society," he writes.
David Hill and Krishna Sen take a more sanguine, even hopeful, view of events. For now, they don't believe Islamist populism can become a movement that will transform Indonesia's political institutions, in part because of how important tolerance is to the nation's core identity. This failure for such momentum to take a permanent hold "is a testament to how deeply pluralist values are engrained in Indonesian identity and how resistant they are to right-wing nationalist surges," they write from Perth, Australia.
"It's extremely dangerous in the 21st century to say you do not have a future, you are not part of our vision," Gandhi, who is the great-grandson of India's first prime minister, Jawaharlal Nehru, told Nicolas Berggruen in a conversation last week. "They will find another vision."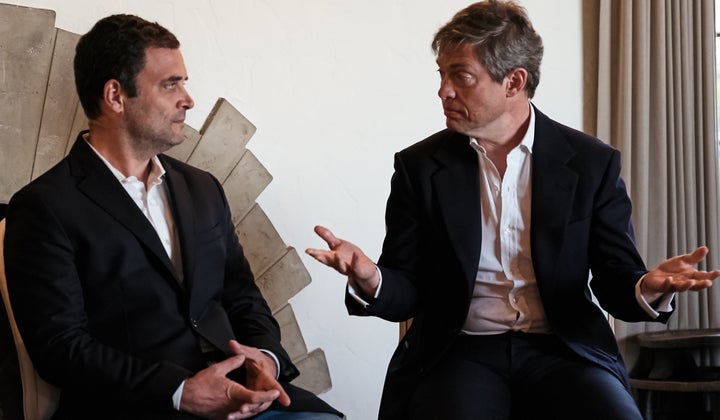 Other highlights in The WorldPost this week:
In continuing our examination of cinema in the world, Rosa O'Hara draws from a series of video interviews with producer Mike Medavoy to present his view that "the new Hollywood will never live up to the old" one. Watch one video below.
MISSION STATEMENT: The WorldPost is a global media platform published by the Berggruen Institute that aims to make sense of an interdependent yet fragmenting world. We publish news, features and first-person voices from all corners of the planet, looking around with a global perspective rather than looking out from a national viewpoint. Follow us on Facebook (and Twitter, Instagram , YouTube and LinkedIn).
EDITORIAL BOARD: Nicolas Berggruen, Nathan Gardels, Eric Schmidt, Pierre Omidyar, Arianna Huffington, Juan Luis Cebrian, Walter Isaacson, John Elkann, Wadah Khanfar, Yoichi Funabashi
CONTRIBUTING EDITORS: Moises Naim, Nayan Chanda, Katherine Keating, Sergio Munoz Bata, Parag Khanna, Seung-yoon Lee, Jared Cohen, Bruce Mau, Patrick Soon-Shiong
ADVISORY COUNCIL: Jacques Attali, Shaukat Aziz, Gordon Brown, Fernando Henrique Cardoso, Jack Dorsey, Mohamed El-Erian, Francis Fukuyama, Felipe Gonzalez, John Gray, Reid Hoffman, Fred Hu, Mo Ibrahim, Alexei Kudrin, Pascal Lamy, Kishore Mahbubani, Alain Minc, Dambisa Moyo, Laura Tyson, Elon Musk, Raghuram Rajan, Nouriel Roubini, Nicolas Sarkozy, Gerhard Schroeder, Peter Schwartz, Amartya Sen, Jeff Skoll, Michael Spence, Joe Stiglitz, Larry Summers, George Yeo, Fareed Zakaria, Ernesto Zedillo, Zheng Bijian, Marek Belka, Tony Blair, Jacques Delors, Niall Ferguson, Anthony Giddens, Otmar Issing, Mario Monti, Robert Mundell, Peter Sutherland, Guy Verhofstadt
Support HuffPost
The Stakes Have Never Been Higher
Related
Popular in the Community