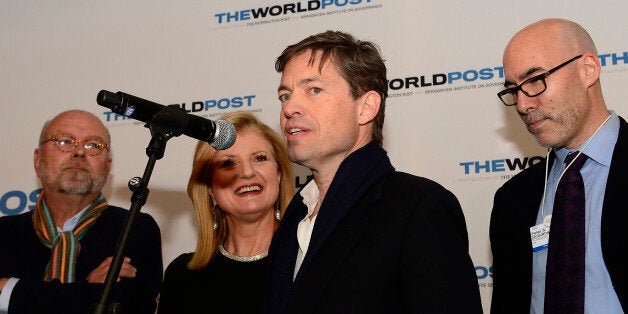 The WorldPost got off to a running start with our launch high in the Alps last week in Davos, Switzerland.
Our content in these early days has been true to our aspiration to create a site where the whole world can meet -- connecting the dots and connecting the world -- not looking out with a national perspective, but looking around with a global view.
The WorldPost correspondents reported from around the world. Sophia Jones contrasted the twists and turns of the Egyptian and Tunisian revolutions; Max Rosenthal chronicled the ongoing tragedy in Syria. Executive Editor Peter Goodman addressed the need for intervention to address the humanitarian crisis there. Kim Bhasin looked inside Uniqlo, the Japanese company "dressing the world."
Taking a cue from Pope Francis and President Obama, we published a series on growth, jobs and inequality. Chrystia Freeland argued that "the revolt against the global super-rich is underway." Tom Friedman and MIT's Eric Brynjolfsson and his colleagues looked into the impact of technology in demoting the middle class. Former US Treasury Secretary Larry Summers called for more investment in infrastructure to boost job growth and the World Bank's Branko Milanovic showed how equality was actually increasing globally, mainly due to the rise of China's middle class even as the fortunes of the American middle class declined and the rich got richer.
On the literary front, Turkish Nobel laureate Orhan Pamuk discussed his "museum for the person, not for power" in Istanbul and American novelist Jonathan Franzen expressed his deep discomfort with social media. From South Korea, Seung-yoon Lee and Daniel Tudor looked at a new hybrid form of media in that most wired of countries: wall posters gone viral.