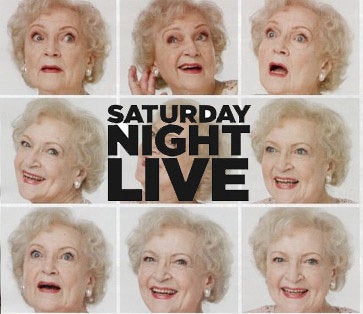 Typical comments: "They let January Jones host and she has the personality of a doorknob ... go Betty!" and "For the Love of GOD!!! This is a reason to actually watch SNL again!!!"
Word among the "Whities" is that both Lorne Michaels and the 88-year-old Golden Girl are taking the drive seriously. If that's true, Betty and her fevered, quarter-million-strong base will have landed a longer shot than even they might know.
Let me play oddsmaker. These numbers are real. Accurate? Well, I used my cell phone calculator, and that's pretty much where my methodology begins and ends.
By my count, there have been about 487 hosts since SNL debuted in 1975, not including return visits, of course, so Steve Martin gets the same count as Fran Tarkenton. The Rolling Stones count as one host, as do the Smothers Brothers. Richard Benjamin and Paula Prentiss, on the other hand, are two. And I included Edwin Newman, though his 1984 performance is little more than a rumor at this point.
Now, of those 487 hosts, approximately 154 were female, or about 32 percent. (Correct me if I'm wrong. I mean it.)
So far, so good for Betty. Not great, but good, at least until we hit the age wall. At 88, Betty would be the oldest host in SNL history. By a mile. By many, many miles.
Only two octogenarians have taken that 30 Rock stage, and both when Elvis, Harvey Milk and all of Lynyrd Skynyrd were still breathing. The first was Ruth Gordon, who hosted on January 22, 1977. The second was Miskel Spillman, a grandmother from New Orleans who won SNL's only "Anyone Can Host" contest. She appeared December 17, 1977, pretending to share a joint with John Belushi. Whom she outlived by 10 years.
The ensuing decades would see, by my quick count and totally subjective interpretation of the description, fewer than 20 old folks -- all male, all younger than Ruth or Miskel. Again, methodology: I'm not checking I.D.s, so if they looked likely to recall the summit at Yalta, they were in. Apologies, Ian McKellen.
Certainly age isn't Betty's only hurdle. Of the 487 hosts, only 141 have been primarily known for comedy (stand-up, film, television). Sixty-six of those were, or had been, sitcom stars, and of those 66 only 25 were female.
So as a funny lady with a sitcom past, Betty falls in a measly 5 percent of SNL's hosting population. (Sidenote: What or who constitutes a sitcom star is nearly as tricky as determining age, and is equally "my baseball, my rules." Susan Dey rose to fame on The Partridge Family, but landed on SNL after her L.A. Law period, so no sitcom status. Same for Janet Jackson, despite the fact that her only memorable SNL moment was a Good Times parody. The Olsens, on the other hand, seemed stuck at Full House even in 2004, though it was four years before the whole Heath Ledger thing.)
On Betty's plus side, three of her costars from The Mary Tyler Moore Show have hosted (Moore, Ted Knight and Ed Asner) On the minus: Bea Arthur was the only SNL Golden Girl, and that was in 1979, when she was still known as Maude, not Dorothy.
Another force of one: Cast members of sitcoms with theme songs either written or performed by Andrew Gold. That would be Helen Hunt, even though Mad About You's "The Final Frontier," originally sung by Gold, is nowhere as catchy as his Golden Girls theme, "Thank You for Being a Friend."
But an old oddsmaker like myself has gotta love Betty's status as an alum of CBS's classic 1970s Saturday night line-up. That SNL subgroup includes the Moore show pals, Rob Reiner (All in the Family) and Bob Newhart (The Bob Newhart Show). We can even toss in Norman Lear for good measure.
Could White's post-sitcom career be of any help? Unlikely. Her recent stint on The Bold and The Beautiful would put her in the very limited company of Louise Lasser and Mary Kay Place (hosts in 1976 and 1977, during the Mary Hartman, Mary Hartman days) and All My Children's Susan Lucci.
White's Super Bowl commercial? Keep it off the application. No pitchmen -- not even Clara "Where's the Beef?" Peller or Mrs. "I've fallen and I can't get up!" Fletcher at the height of their pop ubiquity -- have made the SNL grade.
Karen Black? Tom Green? Jack Black? Pretty pathetic record for hosts of color, name-wise.
Bettys? Only one: Hill Street Blues' Ms. Thomas, class of '83.
Game show vets? The password is "zilch."
Still and all, I'd put my money on the dark horse, gray or not. Victory is always sweeter for a struggle, and if Betty White gets her chance on that stage (Kristen Wiig to play Mary Richards, please!) it really will be a golden achievement, for her and, as of 8:30 pm/ET February 13, 286,750 thankful friends.

Popular in the Community