As the hot days of summer hit NYC, July officially brings one thing to my house -- visitors. Every year around this time friends and family start to take up residence in our second bedroom, so much so that we've lovingly dubbed this room 'Hotel Hatoum' (my husband's last name) and created a calendar to keep track of our reservations. For years our guests have asked for neighborhood suggestions and off the tourist track recommendations. With wellness being my career path, the itinerary I created keeps the key aspects of local, culture and fitness in mind as a way for visitors to see some of my favorite New York spots while adding in this healthy spin. Whether you're visiting NYC or live here, use this guide to maximum your wellness this weekend.
The NYC bike share program just launched and it's the perfect way to see the city while you get some exercise. Download the smartphone app for information on bike stations and availability. If you can't travel with a helmet, then I suggest sticking to the East/West side bike paths that run parallel to the highway. Remember you have 30 minutes before you have to exchange the bike for another ride, but since you're able to leave it street-side, it makes breaks for dining and museums so easy.
10am - Battery Park/ West Side Highway
Peddle down to Battery Park to get the iconic view of the Statue of Liberty without having to navigate the waterways. Continue on the bike path up the West Side highway making sure you stop to marvel at the yachts at North Cove Marina and the beach volleyball courts at Pier 25.
12pm - Highline Park
Walk the elevated park for a different NYC perspective. This beautifully landscaped park offers various events and art exhibits throughout the year. Start up at the 30th Street & 10th Avenue entrance and walk south. Smell the wildflowers, grab a sun chair and lounge for a bit of R&R in the concrete jungle.
2pm - Chelsea Market
Hop off the Highline at 14th Street and make your way to this indoor market. In the last 15 years this space has grown and changed, but it has consistently offered some of the best local food vendors around. Spend time browsing the market and try to pick your favorite spot for lunch. Just save room for a consistent favorite, those bite sized Fat Witch brownies.
4pm - West Side Walking Tour
Be your own tour guide when you download any one of the available smart phone apps that give you a little NYC history. Start with the Meatpacking District and work your way through the tree-lined streets of the West Village.
7pm - Smorgasbar in the South Street Seaport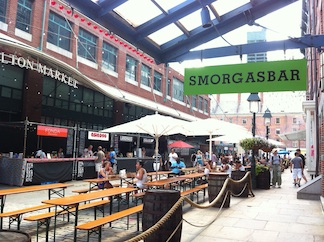 In an effort to revitalize the Seaport in the aftermath of Hurricane Sandy, Smorgasbar has set up shop with a street full of food and drink vendors. Order up your meal of choice, a cold beer and sit at the picnic tables to enjoy. Stick around for the live music and the evening cinema screenings of summer blockbusters.
Sunday
Sleep in! Hours of activity are great for your body, but sleep repairs and de-stresses your system. Since you probably don't get enough sleep in your regular schedule, take advantage of it on vacation.
11:30am - New Amsterdam Market
This gem of a local market showcases small local businesses from around the tri-state area. Selling everything from tea and sweets to pop-up food stands offering favorites like Luke's Lobster and The Bent Spoon. Make this your first stop for brunch and a taste of the market community.
1pm - East Side Ferry to Williamsburg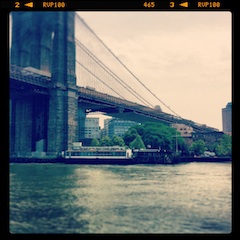 Grab NY's newest waterway service at Wall St (Pier 11) and feel the wind in your hair as you head to Williamsburg for a visit to Brooklyn Flea. This outdoor market has everything from antiques to vintage clothing and more. You'll spend a couple of hours wandering around looking at the goods as well as the people.
3pm - The Meatball Shop
Run, don't walk to this choose your own food journey hotspot and same the local, sustainable cuisine. Don't worry, there's plenty for vegetarians to consume and if you sit at a communal table, you might make new friends.
5pm - Brooklyn Bridge
Work off that late lunch when you grab your Citibike and head down to Brooklyn Bridge Park in Dumbo. Take in the view, hop on the carousel for a ride and walk to the famous Brooklyn Ice Cream Factory for a treat. Stroll over the bridge at sunset back into Manhattan and take in the history of this must-see landmark.
8pm - Dinner at Acqua
Tuck in for a final weekend meal and enjoy the authentic organic ingredients in these Italian dishes. Having eaten at this local spot for years, I can tell you that you will not be disappointed in anything from the Insalata di Asparagi to the Salmone al Carpoine. Enjoy a final toast to a weekend spent enjoying wellness in the concrete jungle.
Calling all HuffPost superfans!
Sign up for membership to become a founding member and help shape HuffPost's next chapter