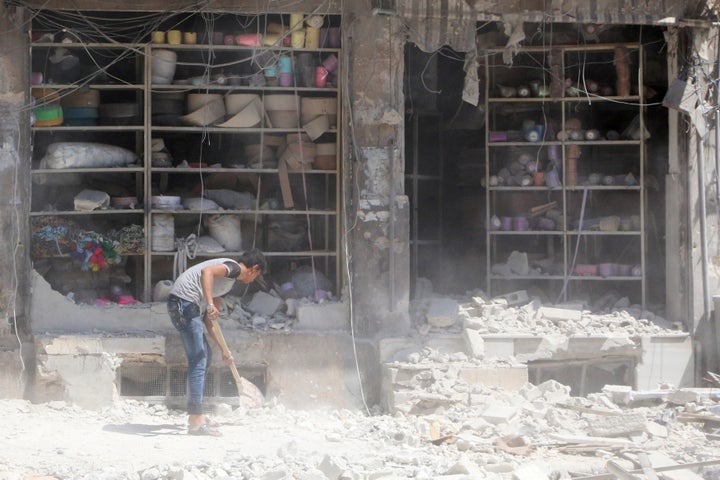 BEIRUT/GENEVA (Reuters) - The main umbrella group for the Syrian opposition on Friday cautiously welcomed a proposal for a weekly pause in fighting in Aleppo to allow aid to reach besieged areas, provided this would be monitored by the United Nations.
International concern has mounted over the fate of up to two million civilians in the city amid an intensification of fighting, with the World Food Programme warning on Friday that the situation was "inhumane, awful, disgusting, nightmarish".
Russia, Syrian President Bashar al-Assad's most powerful military ally, said on Thursday it supported a longstanding U.N. call for a 48-hour truce each week in the city, and that it was ready to start the first one next week. Syria's government has not yet commented on the idea.
"The High Negotiating Committee welcomes any initiative to staunch the blood of Syrians and to contribute to the arrival of aid to besieged areas," said the statement from the umbrella group, which includes representatives of many rebel factions.
However, it hinged its welcome on a U.N. mechanism to monitor and enforce compliance of the truce. During a previous humanitarian pause this year, both sides complained the other had broken the truce as fighting escalated again.
Rebel groups, including one that was formally aligned with al Qaeda until last month, stormed a Syrian army complex in southwest Aleppo two weeks ago, breaking a siege on opposition-held parts of Aleppo and prompting fierce counter attacks.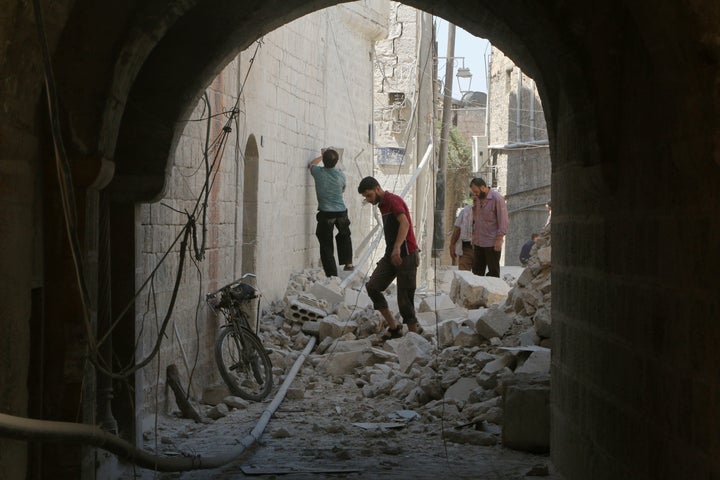 INTENSE FIGHTING
A senior rebel commander said there was a "positive atmosphere" surrounding talk of a ceasefire. "But so far there are no details."
Another rebel official, Zakaria Malahifji of the Aleppo-based Fastaqim group, said the opposition had expressed its willingness to cooperate with a truce, but Russian warplanes had been bombing the city heavily since the morning.
"The regime is trying to advance in the air force academy and elsewhere," he added, referring to one of the areas that the rebels had captured.
Syrian warplanes had carried out 46 sorties in the last 24 hours, including strikes in Aleppo that destroyed a tank, a vehicle loaded with ammunition and three mortar emplacements, and killed dozens of rebel fighters, a military source said.
Continuing clashes between rebels and the Syrian army and allied militias were fiercest in the southwest of city, the Syrian Observatory for Human Rights, a U.K.-based monitor of the five-year-old civil war, said on Friday.
It added that air strikes and shelling in and around Aleppo had killed 422 civilians, including 142 children, this month. Pictures of a dazed, bloodied child pulled from the rubble after an air raid stirred international outrage on Thursday.
"We need a 48-hour pause, we need it now," WFP spokeswoman Bettina Luescher told a briefing in Geneva on Friday. While the rebel advance this month opened a narrow corridor into opposition-held areas of Aleppo, access remains very limited and dangerous, meaning aid supplies are scarce.
"It's crucially important that we go in there because people are absolutely desperate," Luescher added. "From both sides, these sieges have to stop - it's inhumane, awful, disgusting,nightmarish. Not necessarily U.N. words, but that's what it is."
(Reporting by Angus McDowall and Tom Perry in Beirut, Stephanie Nebehay in Geneva; editing by Mark Heinrich)
REAL LIFE. REAL NEWS. REAL VOICES.
Help us tell more of the stories that matter from voices that too often remain unheard.