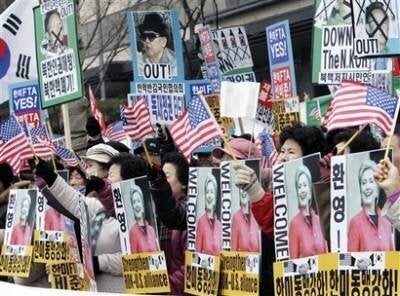 By Christopher Herbert and Victoria Kataoka Rebuffet
The Week's Top Stories in Foreign Affairs:
Facts: US commander in Afghanistan David McKiernan welcomed the 17,000 additional US troops to the NATO effort. He insists that these troop levels are not a "surge," that the next year will be a great challenge and that they could be needed for the next five years. US and NATO hope the increase will tip the scales in their favor and end a "stalemate" with the Taliban. The 17,000 additional American troops will join the 36,000 US troops and the 30,000 international NATO forces already on the ground in Afghanistan. Troops will not arrive before late spring or early summer. At the meeting of NATO defense ministers in Krakow, Poland, US Secretary of Defense Robert Gates asks other NATO members for more troops but most dissapoint him, giving few troops, if any . NATO Secretary General Jaap de Hoop Scheffer says that failure in Afghanistan is "not an option".SI Analysis: With the troop increase, analysts agree that Afghanistan has officially become "Obama's War". While the troop increase signals a strategic military shift (though not everyone is clear on what the strategy is), some regional experts call for a more developed political and economic agenda in Afghanistan. Moreover, in light of the current economic crisis, many wonder whether the American and international public has the stomach for a sustained fight, while others express concern of the American military's ability to sustain its effectiveness. With the US now shouldering most of the combat burden, some suggest that NATO has lost its credibility as an effective partner for military operations.
Facts: The Pakistani government agreed with the Taliban on Monday to allow strict Islamic Law to govern in the Swat Valley. This concession was made in exchange for a ceasefire. The Swat Valley, formerly known as the Switzerland of Pakistan, is famous for its beautiful landscape, moderate population and proximate location 100 miles from Islamabad. Over the past few years, the Swat Valley has fallen under the influence of the Pakistani Taliban and has become a theatre for violent conflict between insurgents and the Pakistani military. The ceasefire agreement has yet to end all violence.SI Analysis: Analysts are divided on whether this move will truly reduce the risk of Islamist militant extremism in the region or whether Pakistan is giving up. While many believe that move will negatively impact American interests in the region, others argue that it is American military and political intervention in Pakistan that has brought it to the brink of chaos. Pakistan has rebuffed international criticism of its actions as appeasement insisting that is proactively forging peace within its sovereign borders.
Facts: Hillary Clinton is making her first trip abroad as US Secretary of State, visiting Japan, Indonesia, South Korea and China. The visits highlight Asia's strategic importance, diplomatically, econ0mically and politically for Washington. Issues at forefront of her agenda include: North Korea's nuclear program, constructively engaging the Islamic world, and China - now the US' most important economic partner. SI Analysis: Most commentators see Clinton's visits to Japan, Indonesia and South Korea as a warm-up to the "real" reason for the trip: establishing a working rapport with her Chinese counterparts. China fervently desires continuity from the Bush Administration with the US, particularly regarding currency, Taiwan, sovereignty over Tibet, climate change and trade. Clinton seeks to reassure China on the US economic stimulus plan and that Washington is not aiming to be "protectionist" or to start a trade war.
Facts: After much speculation and delay, Israel rejected the Egyptian-brokered, Hamas-proposed 18-month ceasefire. The sticking point is as usual: Gilad Shalit, the Israeli soldier captured by Hamas in 2006. Israel says that there will no ceasefire unless Shalit is released as either part of a prison-swap or other deal. Egypt has responded to Israel's condition with "indignation". Hamas has in response called for the release of Marwan Barghouti.SI Analysis: This event in concert with Avigdor Lieberman's endorsement and President Shimon Peres' order to former PM Binyamin Netanyahu's Likud, to form a leading coalition in Israel (making the Labor Party and the Kadima Party minority factions), analysts believe that peace with the Palestinians is ever-more elusive.
Speculation of the Week:
Russia as Broker on Iranian Nuclear Agenda
Under the Radar:
China and Russia Broker Major Energy DealFacts: China and Russia sign a massive $25 billion energy deal. The agreement guarantees oil to China for 20 years in return for loans to Moscow. The $25 million deal includes $15 million for Rosneft, the Russian state-controlled oil producer and $10 million for Transneft, the state-owned pipeline company. Some analysts expect 2.2 billion barrels of Russian oil to go to China over the next 20 years (that's 5% of Russian oil exports at a price of roughly $20 a barrel). Construction of the ESPO (East Siberia Pacific Ocean Pipeline) could begin as early as April according to Russia.
SI Analysis: For Russia to strike such a deal that is strategically and economically to China's advantage highlights Russia's current economic and political fragility. Russia needs cash as inflation, unemployment, currency devaluation and protests over tariffs are rocking the Kremlin at its core. Some analysts, however, play down Moscow's sacrifice, as they are skeptical that Russia will honor the deal over time, given its patchy history in honoring similar types of agreements (Ukraine, BP anyone?)
Grand Bargain of the Week:
Latvia replaces Kyrgyzstan On Thursday, the Kyrgyz Parliament voted to terminate the US lease of the Manas Air Base critical to the NATO mission in Afghanistan. Kyrgystan was supposedly under pressure from Russia to suspend the lease in exchange for a $2 billion loan. US Secretary of Defense Robert Gates insists that negotiations to keep the base open continue. However, NATO officials were quick to point out that a train of supplies for Afghanistan had left Riga, Latvia on Thursday (via Russian, Kazakh and Uzbek territory). These convoys could potentially offset some of the inconvenience posed by the closing of the Manas Air Base and the obstruction of the Khyber Pass. If successful, there could be 20-30 trainloads a week.
Related
Popular in the Community