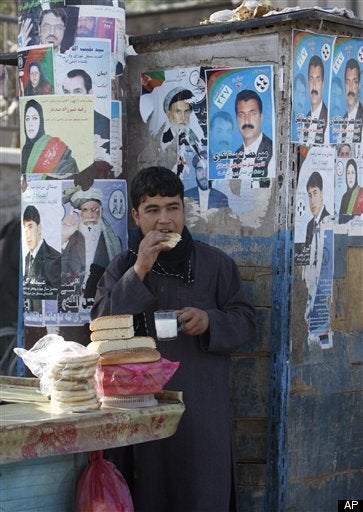 These Past Two Week's Top Stories in Foreign Affairs:
Fatah Reforming SI Analysis: For the first time in 20 years, Fatah -- the Palestinian party with leadership in the West Bank and the only Palestinian party recognized by Israel and the US (and much of the world) -- held a congress in Bethlehem to elect new leadership and discuss party reforms. Though Palestinian President Mahmoud Abbas was re-elected unanimously as party leader, 14 out of 18 leading posts went to "new" leaders. Analysts hailed this as a turning point for Fatah, whose reputation for corruption and cronyism have often been cited as barriers to peace and effective Palestinian statehood (as well as the reason for Hamas' emergent popularity). Most notably two possible future leaders of Fatah emerged, Marwan Barghouti (currently in an Israeli jail) and Muhammed Dahlan. Analysts agree that Barghouti whose militant past yet current dovish posture may be the best hope to reunite Palestinians and push forward to a peace deal with Israel. In the short terms, Fatah's new leadership may make Palestinian reconciliation talks that will continue later in the month less likely to proceed (since Fatah has made a commitment to the two-state solution, which Hamas has categorically rejected). For real change and progress to be made, the new Fatah leadership must prove to the Palestinians, to the Americans and to the Israelis that now they are different . This will be accomplished for enhanced security in the West Bank and more effective statesmanship and management. (Then all that has to happen is for Hamas to accept new elections in Gaza, for Fatah to win, for the Israelis to release Marwan Barghouti and agree to substantive peace talks, and for both sides agree to a two-state solution that clearly outlines borders, a position on the right of return for Palestinian refugees and the long term status of Jerusalem. Simple right?)
SI Analysis on Pakistan and Afghanistan: As more intelligence is gathered, it appears that CIA drone attack in South Waziristan have indeed killed the chief of Pakistan's Taliban Baitullah Mehsud. This is the latest victory for the Pakistani Army's concerted effort to rout Taliban militias hostile to Pakistan in the Federally Administered Tribal Area (FATA) and its North-West Frontier Province (NWFP). At least a third of the 2 million displaced refugees have begun to return home, after strategic gains in the Swat Valley seemed to take hold. The continued action in South Waziristan however may see a strategic rift between Pakistan and its American ally, as Pakistan will seek to close deals with militias and Taliban that are hostile to Afghanistan but not Pakistan, in order to ensure supply routes and safe passage for its troops. Meanwhile, a new judiciary crisis (that could evolve into a political leadership crisis) seemed afoot as Pakistan's supreme court found that former President Musharraf's declared state of emergency in 2007 was illegal; and thus calling into question the legitimacy of proclamations, judgments and decrees made during this period, including the pardoning of current President Zardari of corruption charges. The decision also prompted the sacking and reprimanding of numerous judges. Also a report has emerged suggesting that at least three documented attempts on Pakistan's nuclear arsenal by extremist militias have occurred in recent past, prompting concern over the true safety of Pakistan's nuclear arsenal?
Russian Posturing SI Analysis: Tensions between Russia and Ukraine are heating up as disputes over Russian gas transit to Europe via the Ukraine are revived, undermining a comprehensive agreement that was reached only in January and placing more duress on a struggling Ukrainian economy. Moscow has delayed diplomatic appointments to Kiev citing the conflict and says it is eagerly awaiting new Ukrainian leadership. This is a blatant attempt to influence next January's Ukrainian presidential elections. Also of note: Russia reached agreements to set up a military base in Kyrgyzstan; the head of Russia's strategic nuclear-missile forces Nikolai Solovtsov was fired as a start of an extensive reform of Russia's armed forces; also Russia oversaw peace talks between Azerbaijan and Armenia over the disputed region of Nagorno-Karabakh.
Why the Spate of Spanish Bombings? SI Analysis: After a double bombing two weeks ago, four additional bombs exploded in Spain near Majorca. The Basque separatist group ETA claimed responsibility. This is the 50th anniversary of its inception.
North Korean Negotiations? SI Analysis: After former President Clinton's ace rescuing of the two feckless journalists from North Korea, there has been much speculation whether or not the DPRK was guaranteed direct talks with the US. The US has staunchly insisted that six-party negotiations will be the only order of the day (especially since it seems to have Russia and China on its side following Pyongyang's most recent nuclear missile test). North Korea may have given up its biggest international card in exchange for a domestic victory to ensure a hold on power and a clear succession to leader Kim Jong-il's third son Kim Jong-un.
South Asian Terrorism on the Rise? SI Analysis: Following the Jakarta attacks of late July and the Indonesian crackdown on Jemaah Islamiya and the disputed death of Indonesia's chief terrorist Noordin M. Top, there were reports of fighting between the Philippine Army and the terrorist group Abu Sayyaf on the island of Basilan in the southern Philippines. Both Indonesia and the Philippines have made a concerted effort to crackdown on the radical extremist militias over the past few years and violence seemed to lull. However, recent activity could indicate a resurgence of these groups that were forced to go underground, reorganize and reequip following the crackdowns.
China Seeking Indian Division? SI Analysis: Despite recent bilateral talks, latent tensions between China and India endure. Notably, a recent report from the China International Institute of Strategic Studies actually suggested that China support independent movements in Assamese, Tamils and Kashmiris in an effort to divide the Indian State.
Calling all HuffPost superfans!
Sign up for membership to become a founding member and help shape HuffPost's next chapter