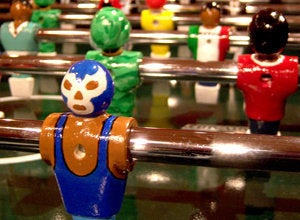 We are living in unsure times, filled with drastic transitions that shift our perspectives from day to day. In one sense, immigration is about groups of people shifting in size and moving from place to place. It is also about the formation of new groups, how we live through the transitions, and who we are on the other side. For this week's Immigration Wire, I'd like to look at how different social groups are dealing with issues related to immigration--and all of its accompanying cultural shifts. There is much talk, still, of Jose O. Sucuzhanay, the Ecuadorean immigrant who was killed by a homophobe in Brooklyn. ColorLine's RaceWire blog reminds us that Sucuzhanay is the fourth (reported North Eastern) Latino hate crime victim since July, and Jonathan Adams reports on how Jose's family is coping in "Vigil in Brooklyn for Jose Sucuzhanay":
The victim's family is reaching out to the public to bring the hateful attackers to justice. Diego Sucuzhanay says, "It shows how far we must still come to address the devastating problem of hate crimes in our communities. Only by exposing these crimes and working together will we be able to make a difference."
Hundreds of Brooklynites marched to support the Sucuzhanay family, and to "condemn the recent anti-immigrant and homophobic hate crimes." Over 16 organizations were represented at the march, as reported by New America Media in "New Yorkers March Against Hate Crimes." In "The Good, the Bad, and the Promoter", New America Media examines one solution for migra-related tensions: Lucha Libre!
Mexicans love a good fight, or at least seeing one. And when it reflects a social reality, like pitting them against the U.S. Border Patrol, the seats are going to be sold out. Gabriel Ramirez, owner and founder of the independent wrestling promotion Pro Wrestling Revolution has taken advantage of this, presenting as his most popular attraction a wrestling match between Mexican legends of lucha libre and American wrestlers who are dressed as Border Patrol agents.

The Good, the Bad, and the Promoter from
on
.
On the topic of entertainment and the Latino community, Nothing Like the Holidays, a major studio release focused on a Puerto Rican family, is out just in time for Navidad (Christmas). RaceWire features the trailer in "Dreaming of a Latino Holiday?" Film production houses aren't the only ones profiting from our changing national demographics. In an upsetting find, "Products Marketed to Latinos Can Be More Expensive", New America Media reveals that some retail outlets are taking advantage of their customers. Also a sign of changing times and relationships, Latin American leaders held a summit in Brazil to "discuss a post-U.S. hegemonic world." They met to discuss the global economic crisis and Latin America's growing independence from "the empire" of the United States. Among them were Argentina's Cristina Kirchner, Venezuela's Hugo Chavez, and Bolivia's Evo Morales. From Truthdig's "Latin Leaders Rebuke U.S.":
The talks, which centered on the "demise" of the capitalist model, also snubbed former colonizing nations Portugal and Spain in a further demonstration of the increasing political autonomy of the region.
And in health-related news, Asian American Donor Program (AADP) Executive director Carol Gillespie put out a call for multi-ethnic and mixed-race heritage people to "step forward and volunteer to become [bone marrow] donors" in New America Media's "Asian American Bone Marrow Donor Program Expands to Include Latinos." The article touches on the difficulty in getting much of the Latino community to register and participate and directly addresses the community's fears of giving out their personal information. This week's collection of stories can be broken down in a few ways. Over here, you have people working together to overcome changes that scare just about everyone. And over there, people are taking advantage of the fear that often accompanies these changes. In this season of giving and love and familia, may you and yours be surrounded by those who fight with and for you.
Popular in the Community