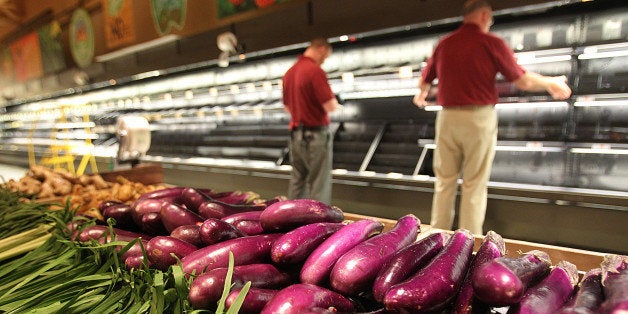 Happy employees make for good business -- and happy customers, too.
Wegmans nabbed the top spot on Consumer Reports' annual list of the best supermarkets in America, and it wasn't just cleanliness or customer service that made it stand out from its competitors -- it was the quality of its produce that customers loved. It also happens to be a great place to work.
The chain received strong reviews across the board for the freshness its products, from vegetables and meats to bakery items and prepared foods. CEO Danny Wegman credits the company's employees for these results.
"A big thank you goes to our employees," CEO Danny Wegman said in a statement. "Results like these are only possible because of our people and because we are paying attention to the things that matter most to our customers."
For a relatively small chain with just 85 stores, Wegmans does a stellar job of taking care of its workers. It recently edged out Amazon to earn the top ranking for company reputation, and it's known for offering school scholarships and other benefits to its employees. It also dedicates resources to ensuring its workers move up the ladder: 66 percent of its promotions are internal.
Consumer Reports' supermarket rankings come from an annual survey, which received nearly 63,000 reader responses on 68 chains. Wegmans was voted number one last year, as well.
Publix and Trader Joe's rounded out the top three supermarkets in overall score, though they fell behind in produce freshness. The only other two chains that earned top marks for freshness were The Fresh Market and Whole Foods.
Warehouse stores like BJ's, Target, Walmart and Sam's Club got below-average ratings on produce freshness and sat in the bottom half of the list. But Costco fared better, with sixth place overall and an average ranking for produce quality.
Whole Foods is known for having a strong benefits program, with even part-time employees eligible for insurance. Workers can also earn rewards for productivity at work.
Costco also treats its employees well: they earn around 40 percent more than staff at competitor chains. And at Trader Joe's, the starting pay for a full-time worker is between $40,000 and $60,000 a year, more than double the salary at some other stores.
Retail giants like Walmart and Target, however, have been continuously lambasted by critics and labor unions for their low wages. Under growing pressure, they are among a number of retailers that have moved to increase hourly wages in recent months.
Clarification: Language has been added to specify that the starting pay range at Trader Joe's stated above is for full-time employees, not all employees.
Popular in the Community