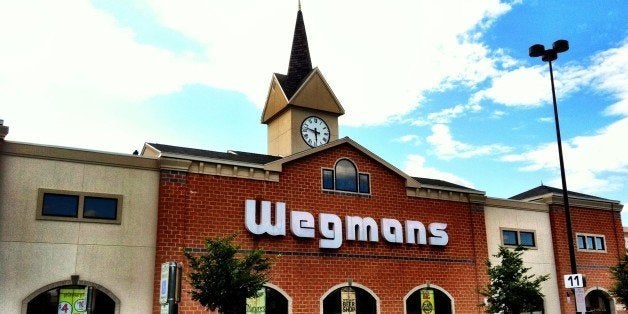 The announcement that Wegmans plans to open a Brooklyn store sent a wave of excitement through New Yorkers on Wednesday. The proposed grocery store, slotted to open in 2017, would bring affordable food prices to a segment of the Fort Greene neighborhood that has long been waiting for its own high-quality supermarket.
The site sits next to the Farragut Houses, a public housing project near the Brooklyn Navy Yard, a city-owned industrial park on the East River. For many years, residents had little access to cheap grocery stores with large selections of fresh foods, even as new buyers poured money into historic townhouses and luxury condos several blocks away.
Back in 2010, former Mayor Michael Bloomberg's administration committed to a redevelopment plan for the dilapidated houses along Admiral's Row at the Navy Yard. The plan included the construction of a supermarket, but it never got off the ground. Two potential developers had already pulled out by the time Steiner NYC secured its bid this week, with a Wegmans store anchoring the project.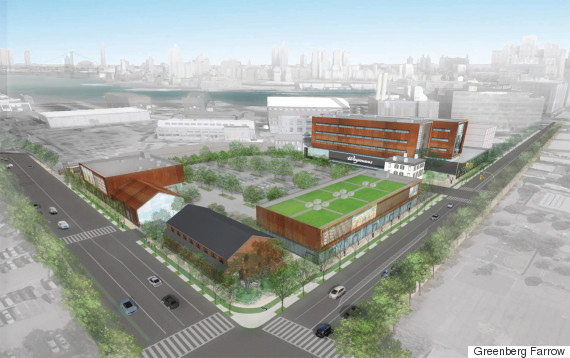 The Navy Yard is situated along the northern border of Fort Greene, where home prices have climbed steadily over the last five years, according to market data from real estate website Trulia.
Townhouses within a quarter-mile of city housing are selling for around $1,100 per square foot, said Jerry Minsky, a broker at Douglas Elliman who also lives in Fort Greene. "You're getting a lot of people from Europe and Manhattan with an extreme level of wealth," Minsky said, adding that the area is "going through this Shangri-La now of being great for young professionals" who are making investments with parental support.
As a result, goods and services are also becoming more costly. A few affordable grocery stores in Fort Greene have already or will soon be shuttered, and public housing residents often travel several miles to Costco and Pathmark for lower prices, according to The New York Times.
"It's hard for people on a lower income to deal with the cost of living when the neighborhood reaches a crescendo like in Fort Greene," Minsky said. "I can go to a bodega and get organic if I choose it, but some people can't afford that."
The arrival of Wegmans, known for its fresh produce and low prices, will likely be a relief for its new neighbors. The store is also looking forward to serving the local community, said Jo Natale, a spokeswoman for the chain. It will begin by creating jobs, with an initial hiring round of 450 employees, many of them locals. Wegmans hopes its Brooklyn store will eventually employ as many as 600 people.
The chain had been looking to open a store in New York, but first needed a substantial plot of land. "This one is 74,000 square feet and large by New York standards," Natale said of the Admiral's Row location.
The retailer was eager to settle in the Navy Yard when the site was proposed, having previously worked with the developer Steiner NYC on two New Jersey stores in Bridgewater and Manalapan.
Wegmans is still a relatively small retailer, with just 85 stores, mostly located in upstate New York and the mid-Atlantic region. But its popularity is buoyed by a cult-like following of devoted customers and a strong reputation for employee compensation. It's been named the best supermarket in the country several times.
"Even this morning, we've been surprised by the reaction on social media," Natale said Wednesday. "It's very heartwarming. We are by most measures a small regional supermarket chain, and it makes it even more exciting to look forward to the opening."
For now, Steiner doesn't expect the $140 million redevelopment project to impact nearby housing prices.
"New York is so dense that I don't think it will change the fundamental dynamics of the neighborhood," said Doug Steiner, chairman of Steiner NYC and Steiner Studios, one of the largest soundstages outside Hollywood and the set of several HBO shows, including "Girls."
As part of the redevelopment deal, Steiner NYC will preserve two buildings on the site. One will be converted into a community facility, and the other set aside for retail or light industrial space, Steiner said.
In addition, the firm will restore an area of around 20 acres near Kent Ave. as part of a studio expansion.
"Wegmans checks all the boxes in terms of affordability and quality, and they're fantastic employers," Steiner said. "They're the ideal supermarket, and it's long overdue for the area, both for shopping and job opportunities."