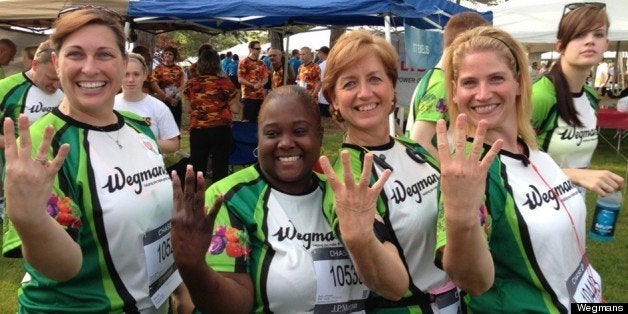 Mark Novelli just lost 35 pounds. He says the credit goes to his colleagues and his boss's boss's boss.
Novelli, a 55-year-old maintenance worker at a Wegmans supermarket in Western, N.Y., attended one of the company's optional health screenings several months ago and got a strong warning from an in-house pharmacist after finding out his blood pressure was "out of control" at 180/120.
In the months since, Novelli has gotten counseling from Wegmans nutritionists and his own doctors on the best way to bring his numbers down. Now his blood pressure is at a much healthier 119/79 and he says he keeps tabs on it, along with his cholesterol, thanks to monthly screenings offered by the supermarket chain.
"It's just a lifestyle change that Wegmans helped initiate for me," Novelli said. "I just needed help in not eating cake and pizza every day. I was large, now I'm medium or small." He's down to just one candy bar a week, he said.
Several years ago, Wegmans CEO Danny Wegman, grandson of the chain's co-founder, decided to help the company's nearly 45,000 workers stay fit and healthy. As a result, the 96-year-old grocery chain, which took in $6.6 billion in sales in last year, now offers a range of wellness programs, including blood pressure and nutrition coaching as well as on-site yoga and Zumba classes.
It's not uncommon for cash-rich tech giants like Google to offer wellness benefits to attract sought-after engineering talent, but Gates, N.Y.-based Wegmans stands out for providing such perks to a more diverse workforce. Everyone from executives working at corporate headquarters down to the checkout staff has access to health advice and fitness programs.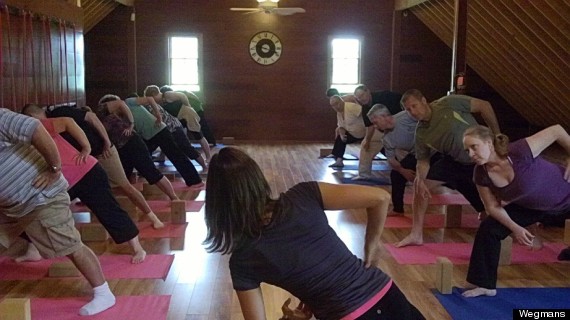 Employees at a Buffalo, N.Y., Wegmans participate in a yoga class.
Danny Wegman speaks frankly about a responsibility to society, but the company's efforts are also aimed at the bottom line. Employees' poor health can hit businesses in the pocketbook, and cost companies more than half a trillion dollars last year. Becky Lyons, Wegmans' director of health and wellness, told The Huffington Post the company doesn't keep track of how much money it saves by boosting employee health, but said, "We believe that there is an impact."
Between 2008 and 2013, the share of the Wegmans' 44,000 employees with high blood pressure has dropped from 24 percent to 14 percent, according to the company. Wegmans saw a similar drop in the share of its workers with high body mass index, a measure of body fat, during the same period.
Wegmans isn't the only company to prioritize employee wellness in recent years, but its approach is more holistic than most. Nearly 90 percent of employers now offer programs like financial incentives and prizes to push workers to get healthy, up from 57 percent in 2009, according to a recent survey conducted by Fidelity and the National Business Group on Health.
For Wegmans, employee health screenings and fitness classes are an extension of the same healthy-living message the company tries to sell to customers. Wegmans helpfully marks some of its own branded foods with keys like "high fiber" and "high calcium" to help consumers make healthy choices. And you won't find tobacco products in any of the chain's 81 stores across six states; the company decided to stop selling them in 2008.
"It aligns with our mission as a business," Lyons said of the employee wellness programs. "We're a food company and we see it as part of our role to make healthier meals available, and for us that extends to our employees as well."
Rita Pasono, an IT worker in her 50s, is one of the thousands of Wegmans employees who's taken advantage of a variety of the company's programs. When she first decided a few years ago to focus on losing weight to prepare for her son's wedding, she turned to her employer for help.
Pasono said she joined a 5K training group offered through the company. Its members ran with a Wegmans-provided trainer on a regular basis for months, and despite their varying levels of experience when they started, they were prepared once race time came around, Pasono said. She kept it up dropped and 50 pounds in two years.
But Pasono started to see the weight creep back on, so she joined the Weight Watchers program offered at company headquarters. She credits the program, partly subsidized by Wegmans, with helping her lose 25 pounds since January.
And that's just the help she gets with her physical well-being; Pasono also uses Wegmans' at-work yoga classes to get an hour of "just me" time each week, she said.
"I'm much healthier. I can't remember the last time I took a sick day," Pasono said. "I'm feeling more energetic so it helps me perform my job better."
Before You Go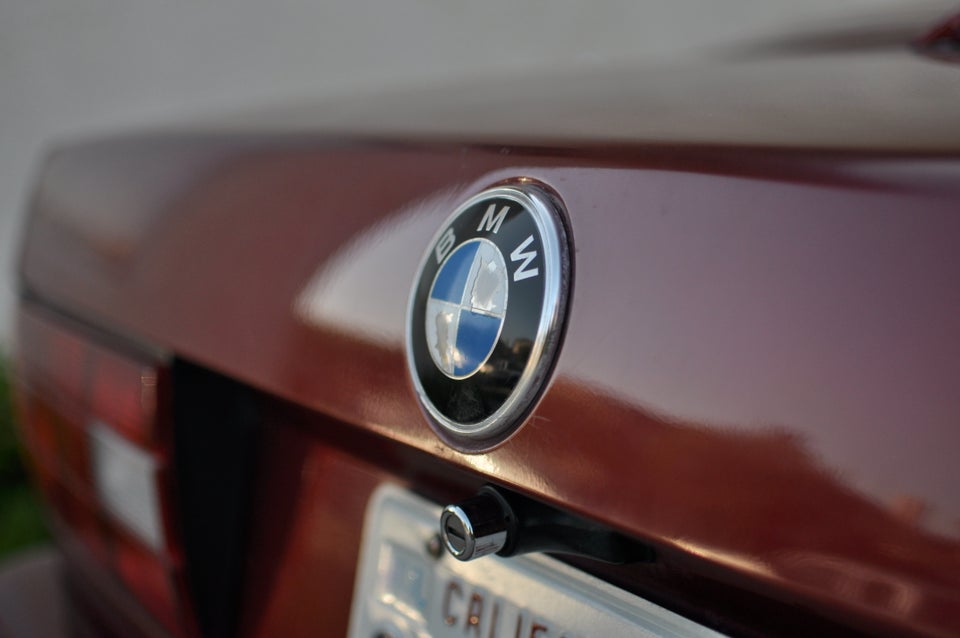 The 13 Most Popular Companies To Work For
Popular in the Community