In the current climate of hypersensitivity, trigger warnings and (mis)perceived microagressions, this Saturday, September 26, the City of West Hollywood presents "WeHo Reads: Banned Books" a full day dedicated to controversial authors and their works.
Books get banned, or challenged, for lots of reasons: presentations of race, gender, sex, anti-authoritarian concepts, violence, religion and somehow offending precious special snowflakes who can't handle reading anything that goes against the grain of their personal belief system. Well-loved classics and pop literature like The Adventures of Huckleberry Finn, The Hunger Games, To Kill a Mockingbird, The Perks of Being a Wallflower, Are you There God, It's Me Margaret and Of Mice and Men have all been banned or challenged at some point over the years. Oddly one very popular book, which features murder, incest, rape, masturbation, beheadings, torture, crucifixion and a zombie hasn't been torn from the shelves of libraries or banned, but yet Lord of the Rings has been targeted for banning, along with Captain Underpants and My Mom Is Having a Baby.
In recognition of September as National Literacy Month and in honor of Banned Books Week (the last week of the month), the City of West Hollywood hosts "WeHo Reads: Banned Books" on Saturday, September 26 from 11AM to 6:30PM. Actors, artists, authors, poets, writers and filmmakers -- many of whom have had their own works banned or challenged -- will participate in a full day of literary and artistic events exploring censorship and celebrating "forbidden" books. "WeHo Reads: Banned Books" takes place at the City of West Hollywood's City Council Chambers/Public Meeting Room and adjacent Auto Court at West Hollywood Library (625 N. San Vicente Boulevard, 90069). Admission is free and open to the public.
"WeHo Reads: Banned Books" kicks off with a unique literary activity for children featuring readings by actors including Vanessa Marano (Switched at Birth), Pam Dawber (Mork and Mindy, My Sister Sam) and Colin Egglesfield (All My Children, Melrose Place).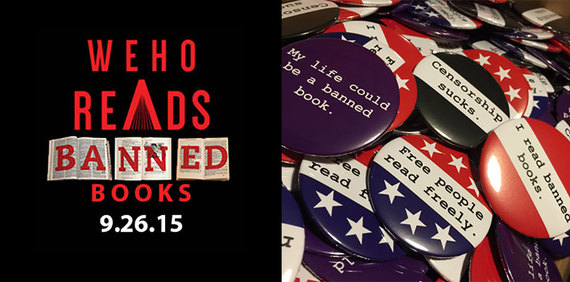 For those interested in an a more interactive experience, "WeHoReads" presents "Storytime," Los Angeles-based artist Dani Dodge's performance piece on censorship and banned books. Beginning at 11:30AM, Dodge will act as Librarian in the fictional "Fitzgerald-Orwell Memorial Library," where she will ask visitors to tell her their story. Dodge will then choose a different passage from one of ten banned books for each participant to transform, pulling a library card at random from a library file in the performance space. Titles from which passages will be used include The Catcher in the Rye, The Grapes of Wrath, The Color Purple, Ulysses and Lolita. The "library patrons"/participants will tape the banned book passage to one of the boards that make up the outside of the "library" and transform it into a new story with the provided Sharpies of assorted colors. Participants will receive one of four anti-censorship buttons to acknowledge their transformation, and the new stories will be read aloud at 2:45PM and 4:45PM.
Dodge who has also done performance pieces for LA Pride in 2014 and 2015, explains:

When people tell you 'their' story, they share much more about themselves than what they do for a living or what they had for breakfast. In what they don't tell you, they reveal what they have censored, the part of themselves they wish they could erase, so when I hand them a passage from a banned book, and ask them to change that story, I implicitly give them permission to change their own. To be the story they want to live.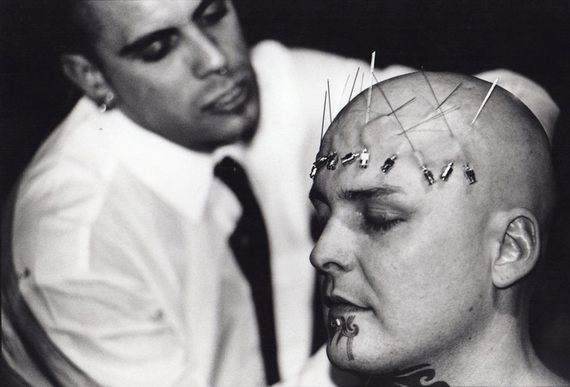 Additional events for "WeHo Reads: Banned Books" include screening of The Perks of Being a Wallflower. The coming-of-age film was written and directed by Stephen Chbosky, author of the book on which he based the film, who will be featured in conversation with young-adult author Cecil Castellucci at 5:15pm before the 6:30 screening. A New York Times best-seller, the book has appeared at least six times on the American Library Association's list of 10 most frequently challenged books. Chbosky has said,
Banning books gives us silence when we need speech. It closes our ears when we need to listen. It makes us blind when we need sight.
"WeHo Reads: Banned Books"
Saturday September 26, 2015, 11:00am to 6:30pm
City of West Hollywood's City Council Chambers/Public Meeting Room and adjacent Auto Court at West Hollywood Library
625 N. San Vicente Boulevard, 90069
Admission is free and open to the public
Top photo: Courtesy of the City of West Hollywood. Photo of Ron Athey, 1994 by Jeremy Chaplin, used by permission.
REAL LIFE. REAL NEWS. REAL VOICES.
Help us tell more of the stories that matter from voices that too often remain unheard.