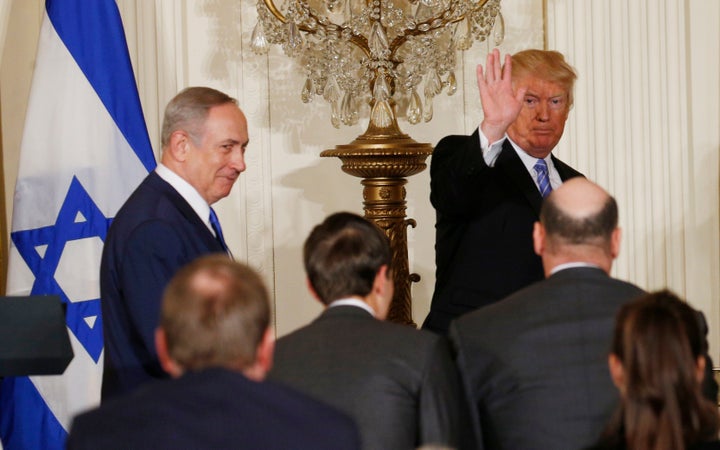 American Jews have been rocked in recent weeks by a growing wave of anti-Semitic threats and incidents, culminating in this week's shocking desecration of a Jewish cemetery in St. Louis.
In light of this, it is not too soon to evaluating President Trump's response to this new wave of action intended to express hatred of Jews and to intimidate them.
On the plus side, the President this week finally delivered a denunciation of these developments, which has included four separate and coordinated waves of bomb threats against scores of Jewish Community Centers across the entire nation in the past two months.
"The anti-Semitic threats targeting our Jewish community and community centers are horrible and are painful and a very sad reminder of the work that still must be done to root out hate and prejudice and evil," Trump said Tuesday during a visit to the National Museum of African American History and Culture.
On the minus side, there was the long delay in saying these words, when President Trump spurned several open invitations and clear opportunities to do so.
The President passed up two opportunities the previous week, one in a joint appearance with Israeli Prime Minister Benjamin Netanyahu. When asked about the wave of anti-Semitism, he first touted his election victory last November and then the fact that his daughter had married an orthodox Jew.
"As far as people, Jewish people, so many friends; a daughter who happens to be here right now; a son-in-law, and three beautiful grandchildren. I think that you're going to see a lot different United States of America over the next three, four or eight years. I think a lot of good things are happening," Trump said, perhaps unaware of how tone deaf his words were.
The second came a couple of days later when he halted a very friendly question from an orthodox Jewish reporter and made him sit down and stop talking. Trump had apparently jumped to the conclusion he himself was being accused of bigotry, despite the fact the reporter took steps to assure him that was not the case.
"Quiet, quiet, quiet," Trump said as the reporter tried to explain his question.
"I hate the charge, I find it repulsive." Trump's behavior gave new meaning to the words "bully pulpit."
Also on the minus side of the ledger was the administration's awful statement on Holocaust Memorial Day, which left out mention of the Jews as the prime targets and victims of the Holocaust, as well as his spokesman's defense of this indefensible error.
In this statement and other actions taken in the first days of the Trump administration, the influence of chief White House strategist Steve Bannon has been clearly felt. Before joining the Trump campaign, Bannon ran the alt-right Breitbart News, which was notorious for tolerating and spreading anti-Semitic lies and slanders. For example, during Bannon's reign over Breitbart, the website ran articles referring to conservative commentator Bill Kristol as a "renegade Jew" and 'Washington Post' columnist Anne Applebaum as "a Polish, Jewish, American elitist scorned."
After Bannon joined Trump's campaign, it too started flirting with anti-Semitic tropes, including tweeting an image of a star of David with Hillary Clinton's face superimposed on a pile of money. His closing ad warned of a shadowy cabal of bankers and international elites.
In each case, Trump refused to back down or apologize, and his anti-Semitic fans took heart from the coded signals in their favor.
Unfortunately, President Trump and his administration have a penchant for demonizing entire groups of people whom they see as a threat. Jews, as canaries in the coalmine, are especially sensitive to such acts of stereotyping and know where can lead. We must all hope the President sees that his words – as well as his silence – have immense power and that he learns to use them carefully and with more sensitivity than he has shown hitherto.
A month is a short time in terms of an administration that will serve for 48 months. There is still time to rewrite the record. But as of now, on this issue, we can paraphrase from the Book of Daniel: "You have been weighed in the balance and found wanting."
Popular in the Community